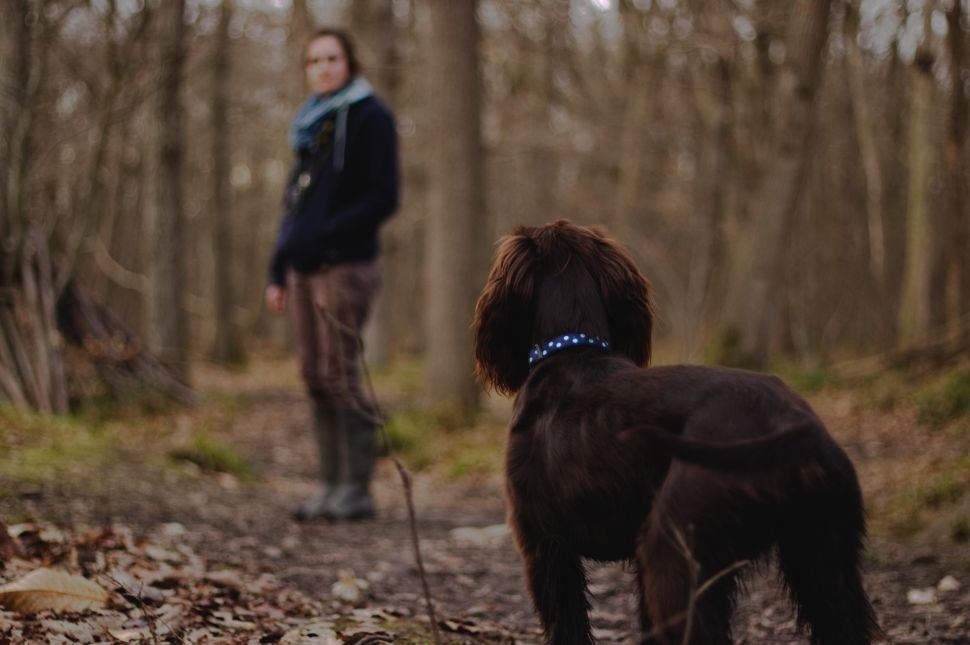 There was only one thing standing between Joan and her new man: Harley. Petite with luxurious, black curly hair and expressive brown eyes, she was obviously devoted to the guy Joan had just started seeing.
I should probably mention that Harley is a miniature toy poodle.
"I always thought a man who loved animals would be a good thing," she said. I sat in front of the espresso machine, visiting Joan at work, while she anxiously steamed soy milk for a latte. "But he shares custody of the dog with his ex. They have a schedule for weekends and holidays. It's just too much."
"How long did they have the dog for?" I asked. I could understand being attached to a pet. I had a dog with my ex.
"Two years. He FaceTimes with the dog twice a week, which means he's really talking to his ex-girlfriend. I think it's an excuse," she worries.
"Who broke up with who?"
"She dumped him because she cheated. He was devastated and almost took her to court over Harley."
"Do you want to meet the dog?" I asked her. It was like we were talking about a kid.
"Maybe. He said he's not ready for that yet. He doesn't want Harley to get attached. I think that's bullshit. He's going to have to choose."
I thought Joan was overreacting; they'd barely been going out for two weeks. That's nothing in the scheme of modern dating timeframes. By this stage, you're often lucky if you've met your new potential mate's friends yet. So why would she expect to have a say in how he conducts his relationship with an estranged poodle?
"What did you do about your dog when you got a divorce?" she asked me.
"Nothing. I had to walk away from that entire part of my life," I said, while fighting not to fall into that emotional hole and the welling tears that would follow. But I kept my cool as I proceeded to tell Joan about the furry casualty of my broken marriage, the dog I will refer to as "Bob" to protect his identity.
Quite honestly, I didn't want any pets to begin with. Usually, you hear stories of women fawning over baby animals and bringing them home to a cranky significant other. In our marriage, the traditional gender dynamic was often swapped, and this was one of those instances. I was leaning toward a hard no when he suggested we adopt a dog. He sent me a picture of Bob, then just a puppy with a wistful look in his eye. He was found in an alley in North Carolina, huddled together with his brother. And then, inevitably, once I met the little canine, I was in love. Yet my practical side still nagged. Financially, it would be a strain. But I was basically going through the motions with everything in my life, and I already had firmly cemented the habit of not quite thinking things through completely (i.e. getting married to begin with), so why stop now?  I was sucked into the cuteness of Bob the puppy.
As precious as he was, the first few weeks were hard. He went through my closet, chewing on shoe after shoe, but inevitably just one in a pair, leaving the other in an impeccable but totally unwearable state due to the loss of its mate. He pooped all over my white West Elm duvet, and seemed to target the items to which I was emotionally attached for destruction—almost like he knew.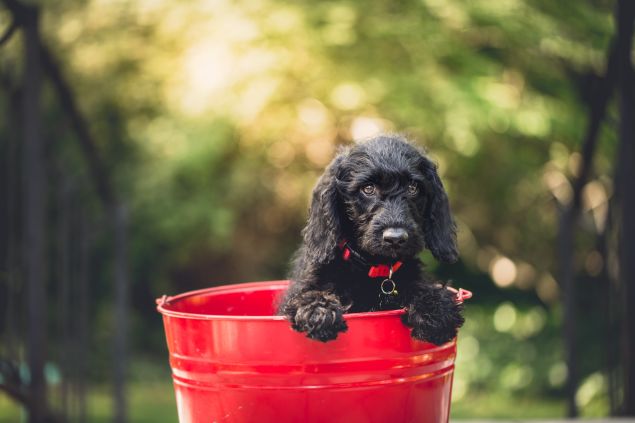 But I couldn't be mad at a puppy, he was as charming as he was destructive. Though it was putting a definite cramp in my style. I could no longer just get up and go at my leisure in the mornings. I couldn't hang out with my girlfriends after work because I had to go home and walk Bob. My ex had timed Bob's adoption horribly—he had just started a new job with such long hours that it left me, at least at first, as the sole parent. I felt such frustration every time he misbehaved. I loved that dog, but still doubted the decision to adopt him because I was so totally out of my depth.
My feelings about Bob changed dramatically when we had to take him to the Animal Medical Center emergency room one night after he became very ill. He would have to stay overnight, they told us. The nurse brought him out so we could say goodbye until the next day, and I broke down crying when I saw the tiny IV they had inserted into his little leg. I no longer cared about the damage done to my material items. I was all about Bob. He soon recovered and grew up into a handsome dog. Yes, he continued to ruin my shoes and the few pairs of designer sunglasses I had purchased off of Rue La La, but I also learned to put things out of reach.
Dogs are always happy to see you no matter what. It was a guarantee that I'd come home to him wagging his tail at the end of a long day. Animals feed off of the emotions around them. When you're happy, they're happy with you. When you're not, they notice. As things became strained at home, Bob grew depressed. The air was always thick with tension and drama. We were living in a non-stop argument loop. Everyone was in low spirits. Seeing an animal overwhelmed with sadness because it's owners hated each other just added to my need to break our unhealthy cycle.
Then the night came when I finally had the courage to leave. I sat with my bags packed for two hours before I actually did, terrified of what would lie ahead.
I knew that once I left that apartment I would never be able to go back. Leaving is always the last thing one wants to do in a relationship. There are no set formulas; breakups are emotional shit storms. If the relationship was complicated, our split was even more so. We were involved for almost seven years, and Bob was a part of my life for five. Seeing Bob after the split would have meant revisiting emotions and memories that were best left in the past, for everyone involved.  So to move on from my ex, I had to move on from Bob, too.
"Oh my God, that's so sad," said Joan, when I'd finished, her eyes brimming with tears. "This guy only had Harley for two years, you had Harley for five. He doesn't need to see his dog!"
"Nah, don't take that away from him," I said. "I'd wait another month to see how it plays out. It's been barely two weeks, and when did they break up?"
"Six weeks ago," she said, looking angry.
Maybe it's not surprising to say that a week later when Joan gave the guy an ultimatum, her or Harley, he chose Harley. Then he chose to get back with his ex a few weeks afterwards. Even if her demands weren't quite fair, it seems her instincts were certainly on track. Luckily, Joan's next man was an animal lover with sole custody of his dog, no exes included.
Do I regret not throwing a custody battle? I honestly can't say with certainty. Of course I'm sad I can't see Bob again. I've toyed with the idea of finding a neutral party that could transport Bob back and forth, and trying to reach an agreement with my ex, but for now I'm leaving things the way they are. I still don't know that it would be wise to bring Bob, and the memories that come with him, back into my life. It takes a little longer for the dust to settle in the wake of some relationships than in others. That's if it ever settles at all.