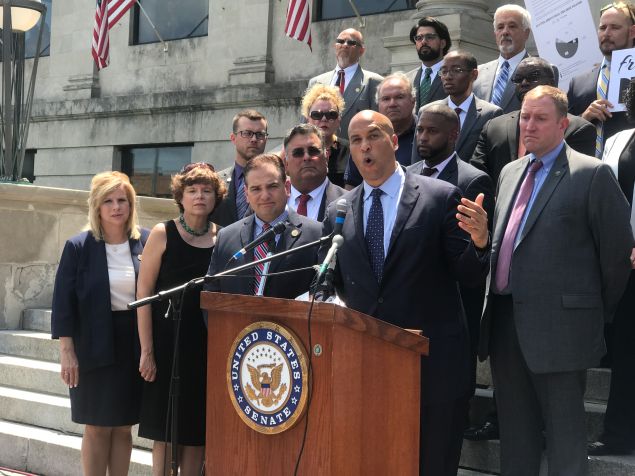 Sen. Cory Booker has become the highest-ranking official in Washington advocating marijuana legalization, taking up a cause that has been gaining ground in more states even as the Trump administration vows a crackdown.
Booker, the first-term New Jersey senator, last week introduced perhaps the most ambitious piece of marijuana legislation in Congress. It would remove marijuana from the federal government's list of controlled dangerous substances, ending a prohibition that began in the late 1930s.
As a spokesman and advocate, Booker brings considerable assets to the pro-legalization crowd: detailed policy arguments, national celebrity and in-the-trenches knowledge after seven years as the mayor of Newark. What he lacks for now are co-sponsors or a real shot at getting the bill through a Republican Congress and White House.
"I think this is going to be one of those things like marriage equality," Booker told Observer in an interview on Friday after rallying with legalization advocates and supporters in Union County. "Remember the days that Hillary Clinton and Barack Obama refused to step out on this issue even though one might imagine they were OK with it, but they didn't think the politics were right. Well, I want to go out there, jump out on this ledge, one might say, and show people it's OK. Let's say what we all know is right. This is a drug that's potentially less harmful than alcohol."
Marijuana is currently on Schedule I, the federal government's category for the most dangerous controlled dangerous substances. That makes it the same as heroin and acid in the eyes of the law. Crystal meth is on Schedule II and therefore considered less dangerous under federal law.
Booker's Marijuana Justice Act would remove it altogether from the government's list of dangerous drugs. It also would allow people to clear marijuana-related offenses from criminal records and let judges review and cut prison sentences for marijuana offenders.
However, most marijuana offenses are prosecuted at the state or local levels. Although it's up to the states to decide whether to legalize the drug under their own criminal laws, Booker's bill would give the federal government a powerful set of carrots and sticks to induce legalization.
Any state that arrested or imprisoned minorities or the poor at disproportionate rates for marijuana offenses would lose federal funds for law enforcement and prison construction. Those states also could be sued. And any funding they lost would be sent to a reinvestment initiative for programs such as job training, prisoner reentry and community centers.
"This is the single most far-reaching marijuana bill that's ever been filed in either chamber of Congress," said Tom Angell, chairman of Marijuana Majority, a pro-legalization group. "More than just getting the federal government out of the way so that states can legalize without DEA harassment, this new proposal goes even further by actually punishing states that have bad marijuana laws."
Some medical experts say marijuana does not bring the same level of risks as regular use of alcohol or cigarettes, and the American Journal of Public Health recently found that car crash rates were not statistically different in two states that have legalized pot, Colorado and Washington, after three years of legalization. But there are open questions about the long-term adverse impacts marijuana use can have on the developing brain. According to an analysis by the American Psychological Association, one longitudinal study in New Zealand found that persistent marijuana use correlated with a significant decline in IQ. But studies mostly have focused on heavy users, the APA noted, and it's not known whether there is a safe level of marijuana use or whether the brain changes are reversible with time.
Booker has heard the concerns. In 2015, he favored a more gradual approach — moving marijuana to Schedule II — but now, he says, it's an urgent issue.
Legalizing marijuana could be a big step toward achieving racial justice in the U.S. legal system and help alleviate the deadly opioid epidemic in the United States, he argues.
"There's still research going on about the effects of alcohol on the development of a brain, or fast food and the links to cancer and the like," Booker said. "This is the time. The time is now. We see a lot of great data coming out about marijuana not being a gateway drug, but an offramp drug. I was just looking at some New York Times articles citing a lot of the research that's being done on helping people wean off of opioids. In places where they've legalized marijuana, you see opioid deaths go down, overdose deaths go down."
"There's so much compelling evidence out there," he said. "What are we waiting for?"
Eight states and Washington, D.C., have legalized marijuana, and 29 states including New Jersey have medical marijuana programs in place, according to the Drug Policy Alliance. The movement has been gaining ground recently — four states passed constitutional amendments allowing recreational marijuana use last year, and another four passed measures for medical marijuana.
In New Jersey, the Democratic nominee for governor, Phil Murphy, who has a wide lead in the polls, supports marijuana legalization. State Sen. Nick Scutari (D-Union), the chairman of the Senate Judiciary Committee, has introduced legislation to regulate and tax the drug at the state level. Advocates say it would generate $300 million in state tax revenue and free up $127 million in terms of police and prosecutors' costs.
U.S. Attorney General Jeff Sessions, meanwhile, has signaled that he may toughen the federal government's enforcement of marijuana laws in states that have legalized the drug. Last week, he sent a letter to Washington state listing a series of public health concerns with their marijuana laws. But Sessions declined to take any new actions and his letter indicated that for now he will continue to follow Obama-era policy, which is mostly to avoid confrontation with states that have legalized the drug.
A 2013 study by the American Civil Liberties Union found that whites and minorities consumed marijuana at roughly the same rates, but blacks and Latinos accounted for 80 percent of arrests for marijuana possession.
"I'm the only U.S. senator I think in the history of our country that lives in an inner-city community that is overwhelmingly predominantly Black and Latino," Booker said at the rally Friday on the steps of the Linden municipal courthouse, joined by Scutari and other advocates. "I see it firsthand in our nation how we have very different sets of laws for different communities. That the war on drugs is a war on people, but particularly it has been a war on low income people and disproportionately a war on minorities."
Roseanne Scotti, New Jersey director of the Drug Policy Alliance, said black Garden State residents "are three times more likely to be arrested for marijuana possession than whites even though both use marijuana at similar rates."
Booker's bill, she predicted, would be a "clarion call" giving more elected officials in the states the cover they need to come out in support of legalization.
Booker charged that there's hypocrisy in Congress when it comes to drugs, claiming members of the House and Senate have openly talked about getting high. In the cities, those arrested for doing the same thing lose their access to Pell grants, business licenses and job opportunities, he said, and many times are forced into an underground economy.
"In Congress right now, there are people who serve in the Senate and the House and their staff members who readily admit their usage of drugs, that they flaunted drug laws often cavalierly, often with bravado," Booker said. "But for that teenager in my neighborhood who gets caught at 17 years old and gets that arrest record, it destroys their lives."
"Even when I was running a police department, or a mayor overseeing a police department, I just had even my police officers expressing to me their discontent with having to enforce marijuana laws having themselves experimented with marijuana when they were young," he added in the interview.
Booker doesn't drink and he has never smoked pot, he said. He does have a habit of bingeing on vegan Ben and Jerry's late at night, but that has nothing to do with any psychoactive substance, he avers. ("I definitely have the munchies in ways that people stereotypically think of as somebody that's smoking marijuana.")
Although he sidestepped any talk of running for president in 2020, Booker said he was confident that championing legalization would be no hindrance to his political career. In the 1980s, supporting marijuana legalization could be a big setback, he said, mentioning the former Baltimore mayor, Kurt Schmoke, as someone who may have gone farther in politics had he not come out for legalization in the late '80s.
"He was just decimated," Booker said. "A lot of people credit that for undermining his potential."
Times have changed, he said. "I just think that this is an idea like marriage equality that it's time has come and we're going to see a shift in this country," Booker said. "We're already seeing a shift in young Republicans, for example, in the nation believe in legalization in overwhelming rates."
A poll by Gallup in October found 60 percent support among Americans for legalizing marijuana. "This is definitely going to be the law of our land," Booker said. "It's not a matter of if. It's a matter of when."