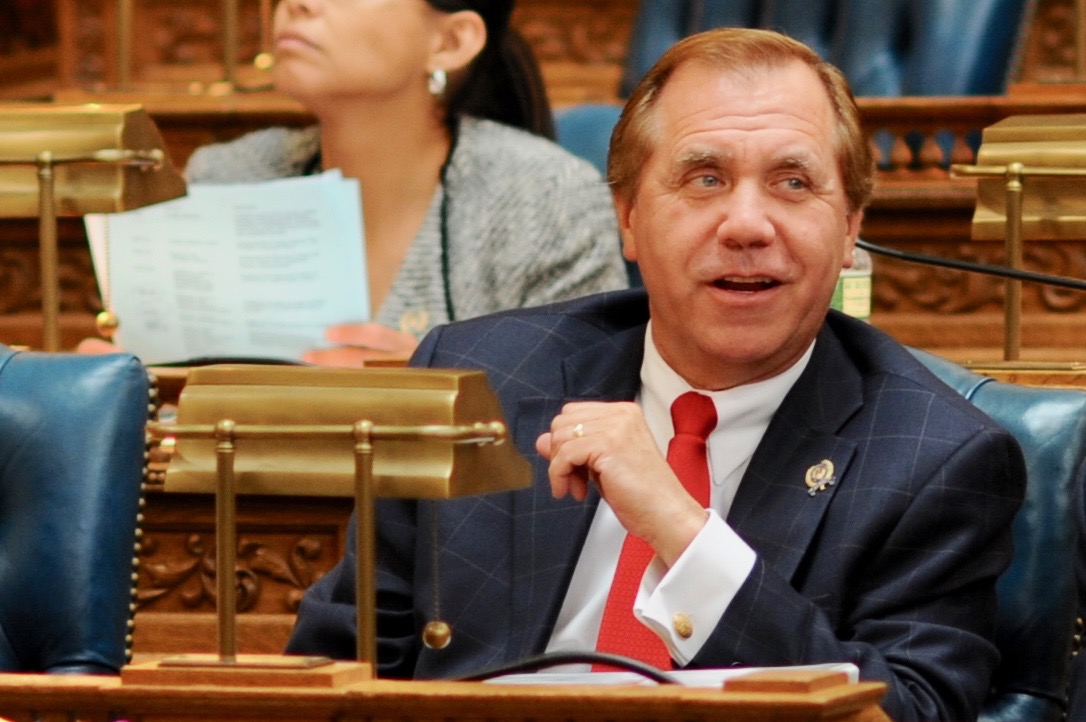 A battle among Democrats for the state Assembly is over, with Assemblyman Craig Coughlin claiming more than enough votes on Monday to oust Speaker Vincent Prieto when the chamber picks a new leader in January.
Backed by Democrats in Central and South Jersey, Coughlin (D-Middlesex) has been angling for months to replace Prieto (D-Hudson), a North Jersey Democratic boss who became speaker in 2014.
But Coughlin's previous slim advantage over Prieto could have evaporated if Democrats lost some competitive Assembly races to Republicans in November. Now, Coughlin's lead is bullet-proof under any likely scenario in which Democrats retain control of the Assembly, as is expected.
That's because all the Democrats in northern Essex County — who had not backed either man — announced Monday that they were behind Coughlin after years of supporting Prieto.
"Vinnie Prieto is a friend, will continue to be a friend," said LeRoy Jones, chairman of the Essex County Democratic Organization. "We have bigger fish to fry other than egos. It's about ensuring that the residents of the state of New Jersey have solid representation up and down the state."
As a result, New Jersey residents can expect a seismic shift in the power balance in the state Legislature, which for years has been run through a power-sharing agreement between Democrats in the north and south.
The Assembly is now poised to be run by Central Jersey — a growing region that some Democrats complain often gets overlooked by the north and south — while the Senate would remain under the control of South Jersey's Steve Sweeney, who has been Senate president since 2009 and has secured the votes for another term.
Most New Jerseyans and Democratic voters are concentrated in North Jersey cities and towns, which would be sidelined from the leadership. But Jones said he was "not at all" worried that the north would be left out of the legislative deal-making in Trenton.
As part of the new arrangement, Assemblywoman Eliana Pintor Marin (D-Essex) may end up with the powerful chairmanship of the Assembly Budget Committee. "Obviously that's been rumored but our focus right now is just moving ahead with our endorsement of Craig Coughlin," Jones said.
"I am immensely grateful that so many members from the Essex County delegation have placed their trust in me to lead the General Assembly in the next session," Coughlin said in a statement Monday. "These members represent a diverse coalition from across the state, both demographically and geographically. It is time to put the regional fights of the past behind us and to unite as Democrats and New Jerseyans to turn the page on the Christie era."
Prieto, however, remained dug in and confident he would win the speakership next year for a third term. A majority of the Essex County Democrats are behind him, regardless of what Jones says, Prieto said.
"I remain committed to running and winning another term as speaker of the New Jersey General Assembly and I am certain that I have the support of a majority of the members of the Essex County Assembly delegation, today's announcement notwithstanding," he said in a statement. "As chairman of the Hudson County Democratic Organization, I always take great caution in making political statements to ensure that my constituency is uniformly behind our position. That is not the case in Essex County as it relates to the upcoming vote for speaker."
When he first announced in May that he would be seeking the speakership, Coughlin released a list of supporters including 26 Democratic incumbents and two candidates in safe Democratic districts. That would have given him the edge over Prieto in the 52-member Democratic caucus. But several Democrats on the list, including Assemblymen Eric Houghtaling (D-Monmouth) and Andrew Zwicker (D-Mercer) and Assemblywoman Joann Downey (D-Monmouth) are running in competitive districts and could lose to Republicans.
If they all lost, Prieto would have had a shot at keeping the speaker's gavel if Essex County Democrats gave him their votes. Instead, the Essex Democrats put Coughlin way over the top on Monday, with six more votes from incumbent lawmakers and one more from a candidate expected to win in November. That gives Coughlin 32 votes from sitting Assembly Democrats and three from candidates in safe Democratic districts. In any likely scenario in which Democrats kept control of the Assembly in November, Coughlin would have the votes to claim the speakership.
"In the coming weeks, I am confident that more Assembly members will join our effort," Coughlin said. "It is critical that we work together to elect Democrats to the General Assembly and that we work with our colleagues in the state senate and our next governor, Phil Murphy, to ensure that we enact a middle-class agenda that has New Jersey's back."
What the new power dynamics will look like in practice is not yet clear. A Democrat, Phil Murphy, is the front-runner to win the governor's race in November, and that would be a radical shift from the politics of Republican Gov. Chris Christie.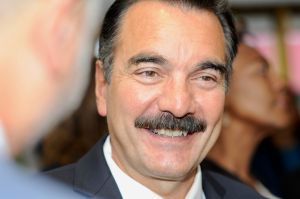 On policy issues, Coughlin and Prieto have never been far apart. The Middlesex County Democratic Organization and its chairman, Kevin McCabe, are Coughlin's strongest backers and seen as liberal on fiscal and social issues.
But Coughlin may be more favorably disposed toward South Jersey Democrats than Prieto. Sweeney (D-Gloucester) repeatedly clashed over the years with Prieto on issues such as school funding, a state takeover of Atlantic City, and an overhaul of the state's largest health insurer, Horizon Blue Cross Blue Shield. South Jersey power broker George Norcross eventually soured on Prieto and teamed up with Coughlin and McCabe to oust him.
Prieto's ouster is likely to upset some liberal and minority advocates, who noted with dissatisfaction earlier this year that Coughlin, Murphy and Sweeney are all white men of Irish descent.
"We reject a system that produces homogenous leadership and targets the one diverse member in a leadership body created to represent the voices and interests of diverse constituents," William Colon, head of the Latino Institute, said in May.
By throwing their support behind Coughlin, the Essex Democrats broke ranks with the "Quad County Alliance," an informal coalition of lawmakers and party bosses in Bergen, Essex, Hudson and Passaic counties that has at times acted as a counterweight to South Jersey in the Legislature.
Some of the lawmakers who announced they were backing Coughlin on Monday were close to Prieto or part of his inner circle, such as Assemblyman John McKeon (D-Essex).
"The quad hopefully will continue to exist," Jones said. "I'm totally all in. It's about ensuring North Jersey has a stake in the policy discussions in the state and reaps the benefits … [on] infrastructure and social issues that we deal with day-to-day."
The Essex Democrats in the Assembly who backed Coughlin were: Ralph Caputo, Thomas Giblin, Mila Jasey, Pintor Marin, McKeon, Cleopatra Tucker and candidate Shanique Speight. A source close to Prieto said on the condition of anonymity on Monday that not all of those members had agreed to back Coughlin.
Assemblywoman Sheila Oliver (D-Essex), herself a former speaker who is now running on Murphy's ticket for lieutenant governor, did not make an endorsement.