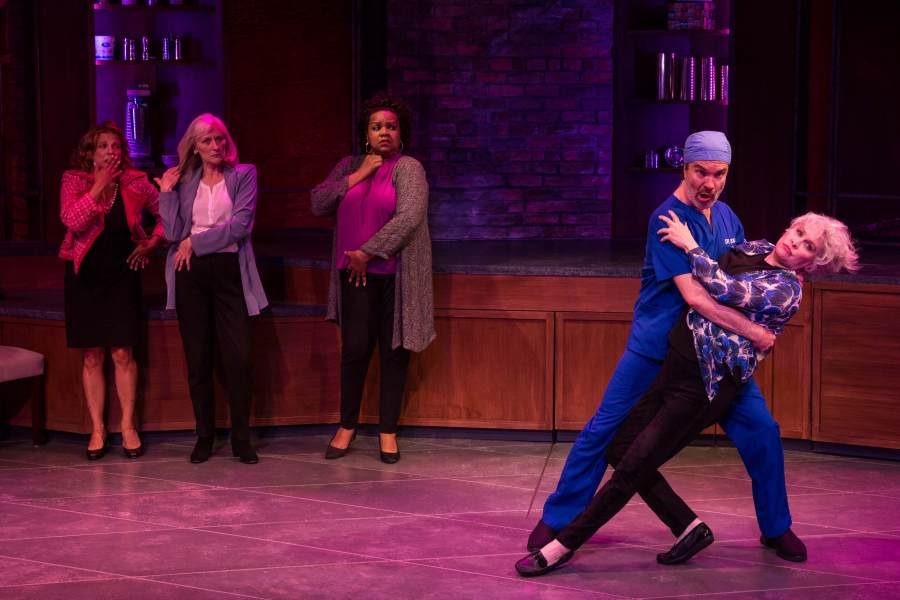 The fall theater season has not yet begun, but contrary to tradition the sultry summer season is presenting New York theatergoers with an early musical called Curvy Widow. Uneven and not entirely original, it still provides a witty riff on a vital subject indeed, exploring the question of what happens when men and women exit this mortal coil, forcing their surviving partners and spouses left behind to face the horrors of the single dating scene in a daunting digital age. The result is 85 minutes without intermission that passes a hot August night in the Apple painlessly enough for jaded New Yorkers and entertainment-seeking tourists alike. Last week's preview audiences seemed to enjoy it immensely.
When her husband of 30 years passes suddenly without warning, the newly widowed 50-something in the title goes through all the phases of mourning in the self-help manuals. Her friends bring her pills for sleep, depression, fatigue, anxiety and everything else, offering their own take on death along the way. One of them simply says she wants to be cremated and dropped off in front of Hermes. Not a bad idea, it turns out. The perils of social media the leading character endures trying to cope with living and loving alone, while searching for the proverbial Mr. Right on a website called Match.com, might make one wish for the expediency of such a final fate. Nancy Opel, a veteran performer on the New York cabaret and concert scene, plays the titular curvy widow with a certain seasoned charm that goes with her pleasant vocal range like tea and honey.
She goes to a shrink, who prescribes a revitalized sex life that borders on promiscuity. To postpone loneliness, she sips too much wine and eats everything she can fit into her purse. Nothing helps, so she finally gives in and turns to the Internet. Then the rituals that define the new rules of online dating begin. Reluctantly, she learns how to compare, shop for, purchase and struggle with condoms. Then she realizes that most of the eligible men in her age range have prostate problems. Not to mention the fetishes that raise the blood pressure of horny, potential bedmates. Under the hashtag "Curvy Widow," she gets a whole new education crammed with surprises, like an X-rated Christmas stocking. Most of the rituals are explored in occasionally amusing but mostly undistinguished songs that sound more provocative than they really are, with titles like "Gynecologist Tango," "Log On, Get Off" and lazy lyrics that rhyme urge and purge. The men she meets and experiments with in a variety of bedrooms turn out to be a sad and selfish assortment of fools, jerks, losers, and husbands who are unavailable on weekends and holidays. They finally have their say in a ditty about what guys seek in a dating ideal—a "smart, sophisticated, elegant woman, who is not my wife." To make things worse, the protagonist drags around more guilt than Dolly Levi. It's not easy for her to get on with her new life or give up her old one when she is visited periodically by her dead husband, whose ashes rest in a crematorium container labeled "Temporary." I was with Curvy Widow until the cynical finale, when the widow, unable after 65 failures to find Mr. Right, at last meets the one decent fellow who wants to marry her. But she rejects him, singing, "Why Stop Here?" in preparation for a future of Mr. Right Nows. In the end, she comes off as something of a tart.
The curvy widow brought to life by the ample Ms. Opel is named Bobby Goldman, which immediately gives away who the character is based on. The book is written by the real Bobby Goldman, widow of the great award-winning screenwriter-playwright James Goldman (A Lion in Winter, Follies). Her work towers above the follow-the-dots direction of Peter Flynn and the perfunctory score by Drew Brody. Anyone for tunes about hormone therapy and vaginal lubricants?