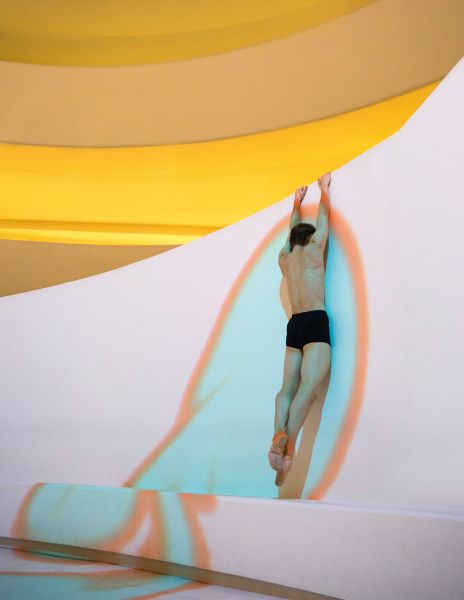 This fall, the Guggenheim Museum's iconic, spiraling rotunda will play host to more than just art hung from the walls. The museum's Frank Lloyd Wright-designed entrance hall, which is lit by skylight and comprises a wrap-around ramp that climbs seven stories, will also be the site of a newly commissioned, site-specific work by artist Daniil Simkin, titled Falls the Shadow.
The project marks the launch of the museum's Rotunda Project initiative, a new feature in the long-running Works & Process performing arts series, which commissions new works and introduces performers and creators to the museum's audiences through shows, talks and events.
Simkin's project is "much more than a dance," Works & Process general manager Duke Dang tells me. "It's an immersive work."
The American Ballet Theatre principal dancer has brought in soloist Cassandra Trenary, Hubbard Street Dance Chicago's Ana Lopez and Brett Conway to star in the newly commissioned work, which will be choreographed by Alejandro Cerrudo, according to a release. The dancers'—who will be wearing custom costumes by Dior—will be recorded using motion capture sensors, and their movements projected back onto the floor of the rotunda.
"Having the projections bridges the incongruent scale of rotunda and human body," says Dang. "Having the audience standing on the ramps takes away the 4th and 5th wall."
What makes the program unique is the fact that "the rotunda is not a studio space," Dang explains. "It's a gallery and exhibition space open six days a week." That means that selected artists like Simkin must work after museum hours to navigate and map out projects within the historic hall.
The Works & Process fall season will also feature new commissions created for museum's Peter B. Lewis Theater, including a sequel to artist Ryan McNamara's Battleground performance; a face-off between color-coded dance teams that enveloped a seated audience in the theater during its run in May 2016. For his newest work, McNamara will partner with composer John Zorn to create a performance for the album Commedia dell'arte.
Also on the schedule is a new commission from composer Nico Muhly, who has worked with the Institute for the Study of the Ancient World to create a musical interpretation of The Hurrian Hymn, the earliest known song in the world, as well as previews of operas by John Adams and Peter Sellars, and a performance by the Sarasota Ballet.
On this fall's selections for the performing arts series, Dang says the program is a "really varied, broad offering of what's happening now and is topical." Simkin's Falls and Shadow kicks off September 4 and 5, and the program's shows run through December with tickets available for purchase online.