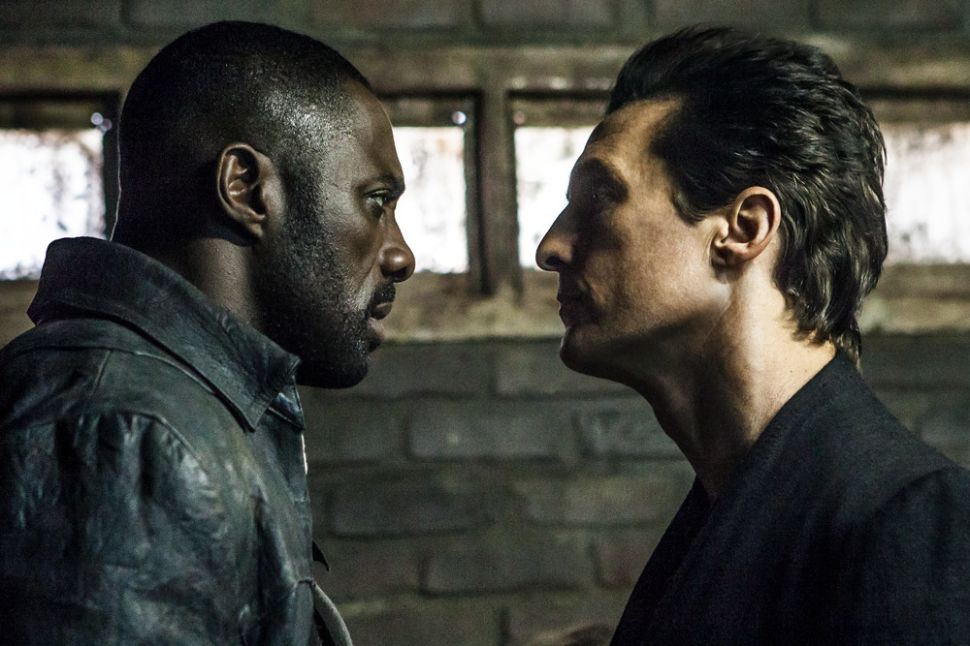 The embargo has lifted for reviews on Sony Pictures' The Dark Tower and, well, don't say we didn't warn you. While it will be very interesting to see how the film performs at the box office this weekend, it's clear that The Dark Tower won't be winning any Academy Awards. Having said that, it does sound as if the movie is slightly more enjoyable (or less terrible, depending on your point of view) than what we initially feared.
Here are what the critics are saying.
The Guardian's Charles Bramesco:
"It's rare a film so convoluted manages to be so determinedly boring. Lucky for you, it vanishes from the mind as soon as it ends…There's a point somewhere in the misshapen second act that an attentive viewer can feel all the parties involved giving up and resolving to get the rest of the movie over with as soon as possible."
"There are elements – moments, really – that work. A scene where Roland saves Jake from what appears to be a number of demons breaking through a thinny comes closest to matching the awe-inspiring weirdness dotted throughout the novels, but the scene immediately undercuts itself by having one of those demons (rendered in highly-questionable CGI) break through and chase Jake around a dilapidated amusement park (in execution, it feels like something out of a Paul WS Anderson joint). There's another fun scene where Roland finds himself being questioned by a doctor inside a NYC hospital, but they double down on that fish-outta-water angle in a later scene that's just skin-crawlingly corny (it involves Roland eating a hot dog). The movie is mostly like that, only it feels a lot more like "one step forward, four steps back" rather than a one-for-one give and take."
IGN's Marty Silva:
"…a thoroughly average take on some truly incredible source material. For a story where the literal fate of the universe is at stake, it's disappointingly easy to not really care about anything that's happening onscreen."
THR's John DeFore:
"decent but uninspiring" and "far from the muddled train wreck we've been led to expect." Though satisfying enough to please many casual moviegoers drawn in by King's name and stars Idris Elba and Matthew McConaughey, it will likely disappoint many serious fans and leave other newbies underwhelmed."
"The Dark Tower left me confused and often very annoyed, but not necessarily bored. Part of that is because the movie has been cut to the bone; at 95 minutes, it's always moving forward, often to its detriment. (A slower movie would have deepened the characters and brought out their motivations for members of the audience who don't already know that stuff from the novels.) But that's also partly because of Elba, who is one of those movie stars you can't take your eyes off of. If this movie fails, I sincerely hope he isn't the one who gets blamed, or that decision makers in Hollywood use it as the reason not to cast him as the lead in other blockbuster tentpoles. Surrounded by so much that doesn't work, he is the only person present who seems to have gotten things exactly right."
Overall, it sounds like The Dark Tower and its Gunslinger misses its mark by a mile, but at least has the courtesy to provide a few fleeting moments of coolness. Many believed the book series would never translate to film and was instead best suited for a long-haul uncensored television adaptation. Perhaps once the heat dies down on this failed attempt and enough time has passed, Hulu can work out a deal with Sony and MRC to bring a more faithful version to the small screen. This would give the studios a shot at redemption with a popular property that fans are still interested in and it would give Hulu a potential Game of Thrones-style hit to pair with its breakout drama The Handmaid's Tale. With Netflix amassing a stunning amount of debt, now is the time for the competition to strike.