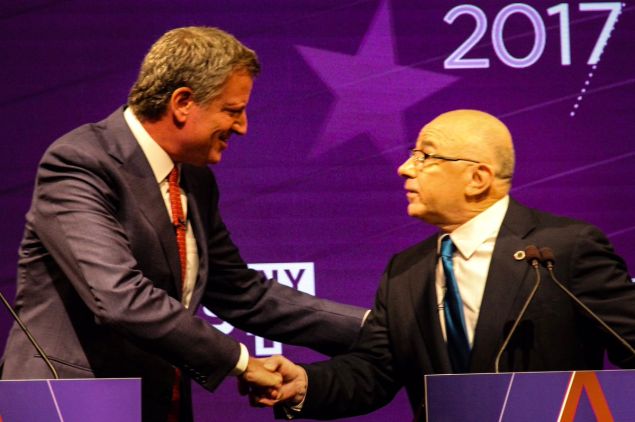 Mayor Bill de Blasio and former City Councilman Sal Albanese faced off in the first mayoral Democratic primary debate on Wednesday night, with de Blasio on defense over his first-term record on issues such as homelessness and housing while Albanese was pushed to outline clear alternatives.
Following the opening statements, tensions quickly escalated as de Blasio and Albanese argued over the best way to fix the city's flailing subway system — the mayor prefers a tax on wealthy New Yorkers to fund subway repairs and reduced fares for low-income New Yorkers — as well as the mayor's handling of the affordable housing and homelessness crises.
At the end of February, de Blasio announced his plan to contain the rapid rise of homelessness throughout the city, which seeks to reduce the record 60,000 people living in city shelters by 2,500 — about 4.17 percent — over the next five years. The mayor said the city would open 20 new shelters this year and 20 more next year, with the goal of opening 90 such facilities over the next five years.
Albanese does not support the plan.
"It's a terrible idea because first of all it's never gonna happen … because many neighborhoods don't want homeless shelters in their areas," he said. "It's about building affordable housing. Shelters are really not the place. I have a plan to pass a pied-à-terre tax, which would tax foreign investors. By the way, 50 percent of the city is owned by foreign investors."
De Blasio defended his plan, accusing Albanese of "consistently saying things that are factually untrue" and noting that he has had more than 30 town hall meetings about the issue. He stressed that homeless individuals should be able to stay in shelters in their own neighborhoods.
"I'm not going to ask them to go far, far away from their own neighborhoods," he responded.
The nearly two-hour debate, held at Symphony Space on the Upper West Side, also covered police accountability and reform, the mayor's transparency record, reforming the Administration for Children's Services, whether there is a conflict of interest inherent in accepting donations from real estate developers and whether a statue of the explorer Christopher Columbus should be taken down.
NY1 News, NY1 Noticias, POLITICO New York, WNYC and other groups served as debate sponsors. NY1's Errol Louis moderated the debate with the help of a panel of reporters.
Albanese also attacked de Blasio over his trip to Germany to support a protest against President Trump in the wake of the assassination of a police officer in the Bronx, as well as his fundraising tactics. Albanese zeroed in on de Blasio's now-defunct Campaign for One New York, a nonprofit he formed to advance his agenda, and his connections to real estate developers and lobbyists.
A perennial candidate who has run several times before for mayor, Albanese would not give de Blasio credit for an overall decline in crime during his first term, arguing that the trend began with former Mayor David Dinkins.
Despite critiquing de Blasio on a host of issues, Albanese struggled when pressed for specifics or for an alternative to de Blasio's approach to dealing with homelessness. When asked to explain how he would address the issue of black and Hispanic children being more likely to end up in foster care, Albanese struggled to deliver an answer.
He said that it "all comes down to leadership," but would not specify further.
"Case workers have a tremendous amount of children they have to look after," he said. "My administration will make sure that we have equity as it relates to black and Latino children."
The mayor took the opportunity to note the vagueness of Albanese's response and tout some of the reforms that his administration has implemented to reform ACS. The agency has been plagued by deaths of children who suffered from child abuse and neglect.
"What I've learned over the years is we have to invest a lot more in training our caseworkers," he said. "We have to reduce caseloads, which we've done."
De Blasio, for his part, was also taken to task over his transparency record, with Albanese calling him the "the least transparent mayor in history." When he ran for mayor, he promised to usher in an era of openness and transparency with the public and the media. He has faced criticism over his reluctance to disclose communications with outside advisers, Campaign for One New York and the NYPD officer disciplinary records.
Amid questions as to whether de Blasio has given preferential treatment to his donors, Albanese questioned the mayor about a list de Blasio promised to release of donors who have not received special favors from City Hall. The mayor committed to offer examples before the Sept. 12 primary. Then, two weeks ago, de Blasio said he would only commit to doing it at some point before the November general election. He first vowed to release the list to the media in May 2o16.
Throughout the debate, Albanese frequently referred to the "pay-to-play" culture he said the mayor had brought to the city, and de Blasio repeatedly accused Albanese of spreading "factual inaccuracies" and saying things that are "patently false." De Blasio also frequently focused on what he believes to be his record, including the universal prekindergarten initiative, record-low crime levels and increased high school graduation rates, insisting that New Yorkers only care about results.