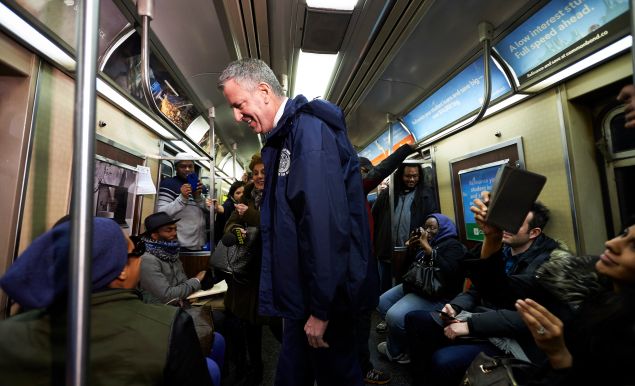 After Gov. Andrew Cuomo formally backed a congestion pricing proposal to help fund subway repairs, Mayor Bill de Blasio says that he still thinks the idea is "inconceivable" and that he's only interested in a plan that is "very different."
Cuomo recently said that congestion pricing "is an idea whose time has come." He has spent months discussing it with what he said were "interested parties" and said that the proposal would likely differ from the congestion pricing plan proposed by former Mayor Michael Bloomberg, according to the New York Times.
That plan, which called for the city charging $8 for drivers who enter Manhattan from 6 a.m. to 6 p.m. on weekdays, ultimately died in Albany. Cuomo said that he has been reviewing issues with the old plan and attempting to formulate "an updated and frankly better congestion pricing plan," the Times reported.
De Blasio, who has proposed a competing plan to tax wealthy New Yorkers to fund subway repairs and fares for low-income residents, told reporters at an unrelated press conference in Brooklyn on Monday that the governor's change of heart on congestion pricing has not changed his position on the matter.
"No, it doesn't fundamentally change my assumptions on its viability because so long as this current Republican state Senate leadership is in place, I think it's inconceivable, particularly given the focus that the current Republican leadership in the Senate has on Long Island," de Blasio said. "I think it's just inconceivable this will actually take place unless the governor is talking about something different than the previous congestion pricing plans."
Jon Weinstein, a spokesman for Cuomo, said that the congestion pricing proposal is the best solution to solving the issues affecting the city's subway system.
"Congestion pricing is an idea whose time has come and we would expect that anyone interested in real, achievable solutions to the decades long problems plaguing the city's transportation network would join with us," Weinstein said in a statement.
Melissa DeRosa, Cuomo's top aide, also took to Twitter to weigh in on the mayor's remarks.
Cuomo has not yet specified how the plan would work or how much drivers would be charged. A spokesman for the governor's office recently said that the plan is in the works and that they are working with "interested parties" and the state Legislature to come up with a solution that does not adversely affect the outer boroughs.
The mayor reiterated to reporters that he has not seen the plan and that so far, the governor has "made a broad statement." He reiterated his concerns with Bloomberg's plan as well as the Move New York plan that would place tolls on the East River crossings and charge automobiles that enter Manhattan south of 60th Street.
"It might be very different than what you're assuming right now," de Blasio continued. "So we have to see the plan and evaluate on its merits. I did not agree with Michael Bloomberg's plan. I thought it was unfair to the outer boroughs and did not address equity issues. I said that the Move New York plan was an improvement but I still think there's a huge number of outstanding issues, particularly on equity."
He again stressed that he does not see the plan gaining traction in Albany but insisted that he will review the plan.
"So I still don't see a path forward on this but if the governor comes up with a different kind of plan, we will assess it at the time," he added.
The mayor's millionaires tax would increase the city's highest income tax rate by 0.534 percent — from 3.876 percent to 4.41 percent — on taxable incomes above $500,000 for individuals and above $1 million for couples. De Blasio said that about 32,000 city residents, or 0.8 percent of the city's tax filers, fall in this category. He anticipates the tax will raise $700 million in 2018 and jump to $820 million a year by 2022.
The new tax would fund half-priced MetroCards for low-income New Yorkers by $250 million of the revenue that the tax would raise, covering as many as 800,000 New Yorkers.
Senate Majority Leader John Flanagan expressed opposition to the proposal immediately following de Blasio's announcement, and both the governor and Metropolitan Transportation Authority Chairman Joe Lhota said that it does not address the immediate problems plaguing the subway system.
Lhota's subway turnaround plan includes an $836 million short-term renewal project: signal and track maintenance, car reliability, system safety and cleanliness and customer communications. He suggested that the city and the state split the cost. The $8 billion second phase is centered on long-term improvements, including better subway cars, a new signal system and more modern communications technology.
Lhota said the MTA will have to invest $456 million in operating costs immediately and make a $380 million capital investment.
At the end of June, Cuomo said the state will contribute an extra $1 billion to the MTA capital plan, declared a state of emergency and asked Lhota to develop a reorganization plan for the MTA by July 31.
The governor said the state would fund its half of Lhota's immediate plan. He asserted that the state contributes $8.3 billion to the MTA capital plan, while the city commits $2.5 billion. He also said that the state gives out $5 billion to the annual operating fund, while the city gives $1.8 billion.
De Blasio asserted that since 2011, Cuomo has diverted $456 million of operating money earmarked for MTA riders to the MTA in 2017. And he said that the $5 billion state contribution includes $4.7 billion in dedicated taxes for MTA riders from the MTA region. He also called on the governor to shift more than $200 million for the MTA bridges light show.
This story has been updated to include a comment from the governor's office.