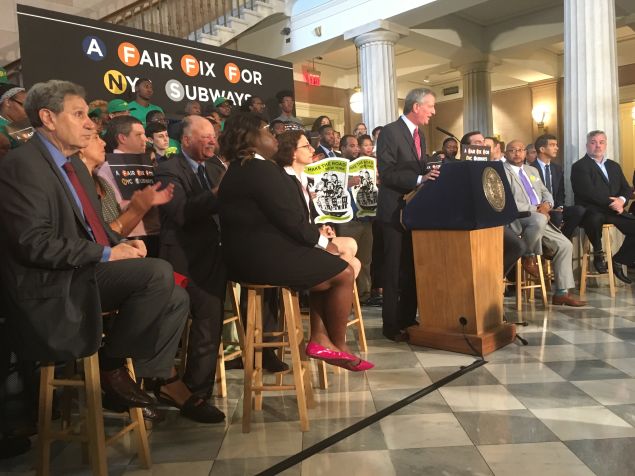 Mayor Bill de Blasio asserted today that Albany will back his proposed tax on wealthy residents to fund subway repairs and reduced fares for low-income New Yorkers because of "a lot of pressure" at the grassroots level that recognizes the state's responsibility over the Metropolitan Transportation Authority.
The "fair fix" tax would increase the city's highest income tax rate by 0.534 percent — from 3.876 percent to 4.41 percent — on taxable incomes above $500,000 for individuals and above $1 million for couples. De Blasio said that about 32,000 city residents, or 0.8 percent of the city's tax filers, fall in this category. He anticipates the tax will raise $700 million in 2018 and jump to $820 million a year by 2022.
This, he said, will be in addition to an annual $1.6 billion in city operational support for subways and buses, and a $2.5 billion commitment in 2015 to the MTA's long-term needs. And the new tax would fund half-priced MetroCards for low-income New Yorkers by $250 million of the revenue the tax would raise, covering as many as  800,000 New Yorkers based on their income levels. Advocates had called on the mayor to back a reduced fare program and he maintained it was the MTA's responsibility.
De Blasio said that in the last few years — and particularly in the last few months — the subway problems have been "driving New Yorkers crazy" and that there has been a "tremendous amount of pressure" on Albany to act.
"There's two things going on here at once," he told reporters in the Brooklyn Borough Hall rotunda today. "One, people are demanding a solution to the MTA crisis. Two, people wanna see the wealthy pay their fair share. This proposal addresses both simultaneously and I think it's gonna be very hard for a lot of people in Albany to say no."
He said that the $500 million in revenue reserved for modernizing the subways and buses could support the MTA borrowing up to $8 billion for capital upgrades — funding he says should be used for infrastructure improvements such as signal improvements, new cars and track maintenance. He believes Cuomo will sign off on the proposal.
"It's the political process," he continued. "I think there's gonna be a lot of pressure from the grassroots for this change to happen. I talked to more and more people in person who understand that the governor and the state control the MTA."
And in response to MTA Chairman Joe Lhota's assertion that he cannot wait a year to start the work, the mayor proclaimed that the money "is available right now."
"The state has to give back the money it took away from the MTA," de Blasio added.
The mayor was flanked by members of DC 37, a public union that endorses de Blasio for reelection; his MTA board appointee David Jones, who has criticized NYPD fare evasion arrests; Councilman Ydanis Rodriguez, chairman of the City Council's Committee on Transportation; former City Planning Chairman Carl Weisbrod; and a slew of elected officials and transit advocates.
De Blasio said the city got a "consistent funding line" from Albany for his pre-K initiative as well as after-school programming for middle school students, calling it a "victory" because 70,000 kids are going to pre-K and because the city doubled the number of middle school students in after-school programs. And he noted that his proposed mansion tax — a tax on sales of properties worth $2 million — "could not prevail in Albany" but will "be smiled on in the near future" in Albany.
"There's a lot of pressure on Albany to address it," he said. "We're taking a model that had a lot of support in 2013, applying it to a crisis moment, which I think adds urgency and intensity to the fact that there has to be a response from Albany."
Cuomo said that delaying repairs for at least one year "is neither responsible nor responsive to the immediate problem, or riders' pain." He is also said to be considering unveiling a congestion pricing proposal during his 2018 State of the State speech.
The governor's office did not immediately respond to a request for comment.
At a press conference today, Lhota told reporters that they have to start by stabilizing the system, which involves preventing delays and bringing about more reliability. Once that happens, he said, they have to look for additional revenue sources to modernize the system.
"He's not addressing the issue we have right now," he said. "The issue we have right now is that we have a subway system that needs to be more reliable. We have a subway system that needs to be maintained."
Lhota's plan includes an $836 million short-term renewal project: signal and track maintenance, car reliability, system safety and cleanliness and customer communications. He proposed that the city and the state split the cost. The $8 billion second phase consists of long-term improvements, including better subway cars, a new signal system and more modern communications technology.
Lhota said the MTA will have to invest $456 million in operating costs right away and make a $380 million capital investment.
At the end of June, Cuomo said the state will contribute an additional $1 billion to the MTA capital plan, declared a state of emergency and asked Lhota to develop a reorganization plan for the MTA by July 31.
Cuomo said the state would commit funds to Lhota's short-term proposal. He asserted that the state contributes $8.3 billion to the MTA capital plan, while the city commits $2.5 billion. He also said that the state gives out $5 billion to the annual operating fund, compared to $1.8 billion by the city.
De Blasio retorted that since 2011, Cuomo has diverted $456 million of operating money earmarked for MTA riders to the MTA in 2017. And h said the $5 billion state contribution includes $4.7 billion in dedicated taxes for MTA riders from the MTA region.
He also called on Cuomo to shift more than $200 million for the MTA bridges light show and wondered how much of the state's $1 billion would go toward Lhota's plan.
Queens State Senator Michael Gianaris, who has authored the legislation that would offer between $6 billion and $7 billion over three years through a temporary surcharge on those earning more than $1 million annually, said that the governor, the mayor and Senate Republicans all agree that the MTA is under-funded.
In the short-term, he said, the MTA amended its capital plan about a month and half ago and moved over $1 billion from signal fixes and new subway cars "to things like subway station beautification."
"That happened during this process," Gianaris said. "So for the MTA to say they need the money from somewhere else—how about pulling that money back that they just moved away from the exact things that were needed and making sure we can get the job done."
Lhota said the current capital plan, which expires in 2019, devotes $3 billion to signals, some of which go through Gianaris' district. The MTA also noted that the current capital plan has $1.8 billion for new cars and car-related equipment, $1.8 billion for track repairs and $2.7 billion for signals and communications—and that the money in the capital plan amendment is being applied to the next capital plan.
Members of TWU Local 100, which has to negotiate its contract with the governor, also showed up to the press conference to protest, holding signs with slogans such as "Tax the Rich, But Fix The Subway Now! DeBlasio" and "DeBlasio MUST ACT NOW!"
In a statement, Senate Majority Leader John Flanagan, a Republican, said the city already has a $4.2 billion surplus, and that the state has upped its share of Medicaid costs, subsidized hospital with new capital funds and increased education funding to "record levels."
"I'm pleased Mayor de Blasio recognizes that additional funds contributed by the city would further that goal, but raising taxes is not the answer," Flanagan said.
This story has been updated to include comments from Senate Majority Leader John Flanagan and MTA Chairman Joe Lhota.