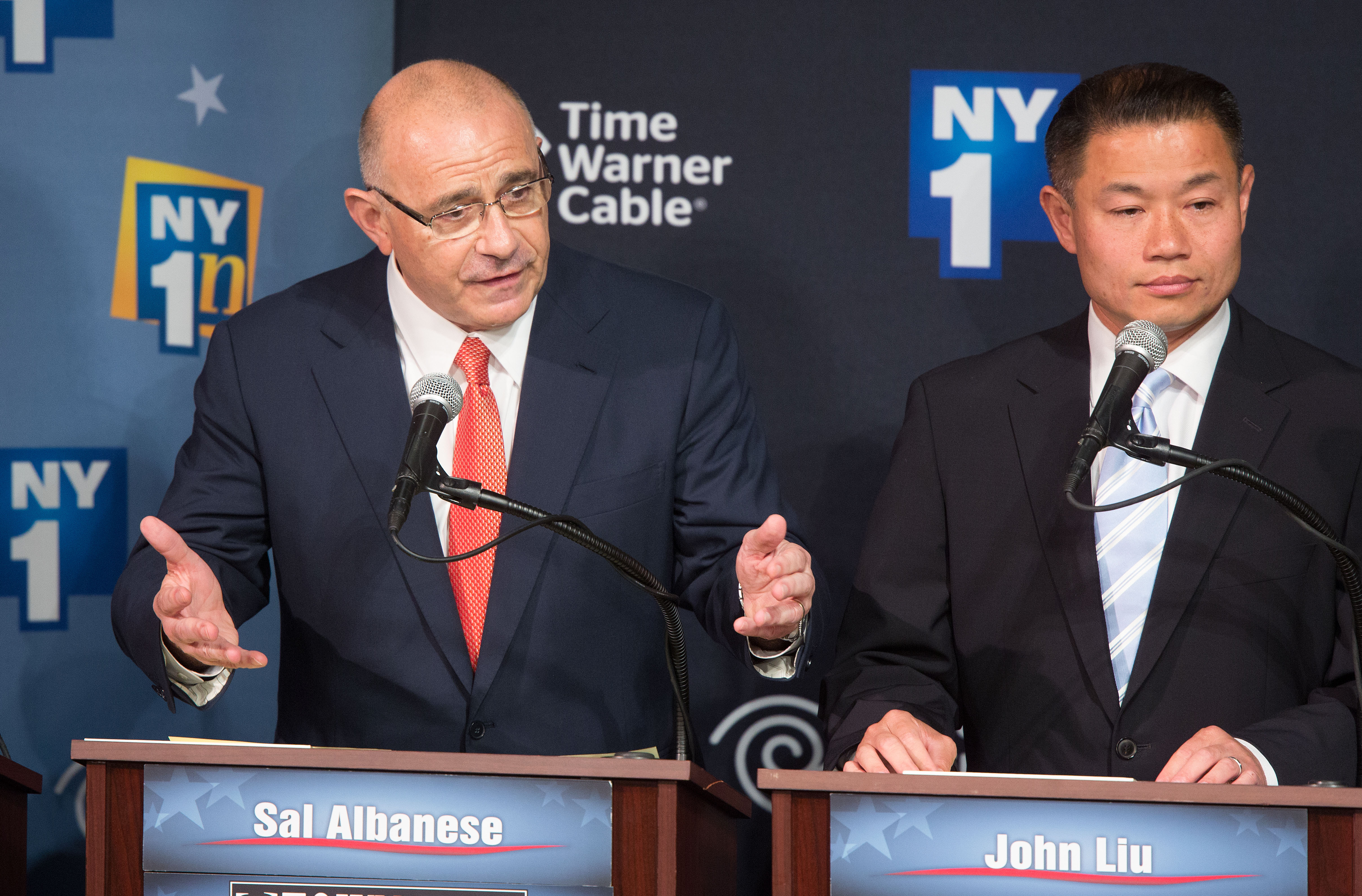 Mayor Bill de Blasio and former Brooklyn City Councilman Sal Albanese will square off in the first mayoral Democratic primary debate sponsored by the New York City Campaign Finance Board on Wednesday, after a range of other hopefuls did not meet fundraising or spending thresholds to join them onstage.
Candidates are legally required to have raised and spent 2.5 percent of the spending limit for mayor — $174,225 — as of the last filing statement before the debate, which was Aug. 11. Police reform activist Bob Gangi, entrepreneur Mike Tolkin and lawyer Richard Bashner are all challenging de Blasio in the Democratic primary on Sept. 12, but none of them qualified to participate in CFB-sponsored debates, only Albanese.
De Blasio has spent $2.48 million and received $4.8 million in private funds as well as $2.6 million in public funds, according to his latest CFB filings. Albanese, a conservative Democrat, has spent $185,803 and received $191,200 in private funds. He has not received any public funds, his filings show.
"There are very clear rules about how you qualify and they're not that onerous in the scheme of things," de Blasio told reporters Monday at an unrelated press conference in Brooklyn. "We want candidates who are going to be part of debates to have proven they're serious candidates. So those rules are in place. The sponsors will figure out how to interpret those rules. Whoever lineup is, I will be happy to meet that lineup."
The debate will take place from 7 p.m. to 8:30 pm at Symphony Space on the Upper West Side.
On Friday, the CFB said that it received documentation from Tolkin stating that he has forgiven $175,000 in personal loans made to his campaign committee and that the loans would now be considered monetary contributions by Tolkin to his campaign. The board said it would be up to the debate sponsors to decide whether he should be able to participate in the debate. Given that Tolkin is not participating in the city's public matching funds program, the debate law does not guarantee that he can participate in the debate, according to the CFB.
After Friday's ruling, NY1, one of the debate sponsors, said that it will only include de Blasio and Albanese. But the sponsor group as a whole — which also includes WNYC, Politico New York, Citizens Union, Civic Hall, NY1 Noticias, Intelligence Squared US and the Latino Leadership Institute — has not made an official decision.
NY1 noted that Tolkin is not part of the campaign finance program and added that he has not had a visible presence on the campaign trail as reasons for not including him in the debate. Tolkin blasted their decision.
"The sponsors must include me as a matter of fairness and in the interest of giving the public a wider range of choices this election," he said in a statement. "It would be grossly unfair, and set a dangerous precedent, for the media sponsors to bypass the CFB's determination and make up new rules for participation."
Gangi, another Democratic mayoral candidate, blasted what he described as a "lack of coordination" between the CFB and the primary debate sponsors. He also noted that Albanese is "more pro-current law enforcement tactics" than de Blasio and has received $16,000 in campaign donations from organizations representing law enforcement, including the legal limit of $4,950 from the Patrolmen's Benevolent Association.
Gangi, who has positioned himself as more progressive than de Blasio, launched a petition calling for his inclusion in the debate and plans to protest outside the site of the debate if he is not included.