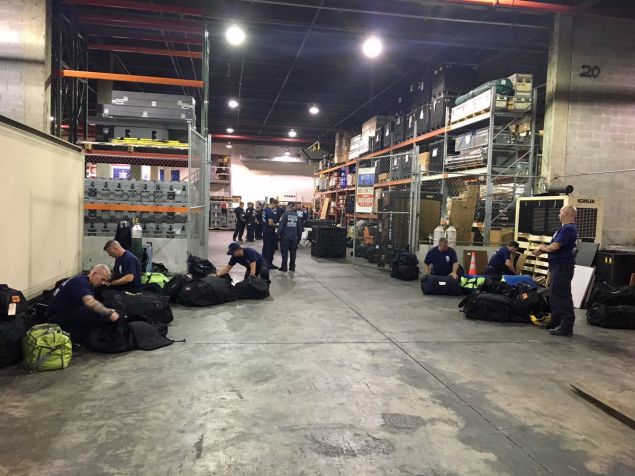 In the aftermath of Hurricane Harvey in Texas, Mayor Bill de Blasio is calling on the federal government to respond to all natural disasters with "equal willingness" a day after the city has deployed emergency personnel to assist with relief efforts.
Texas officials announced that at least eight individuals died due to the hurricane and that the death toll is likely to rise. Another 2,000 have been saved but more individuals are in need of assistance, and 30,000 will be forced out of their homes, the Washington Post reported.
On Sunday, de Blasio stated via Twitter that the city was sending 120 emergency workers to Texas from the NYPD, FDNY and EMS. Joseph Esposito, commissioner of the city's Office of Emergency Management, has led the effort. The team left at 5 a.m. on Sunday and is just reaching the affected area, the mayor said, noting that the city "will continue to respond to any requests for help from Texas." 
"We believe in helping our fellow Americans when they're in need," de Blasio said at an unrelated press conference in Brooklyn on Monday. "And I think it should be a universal standard, by the way, and I think our federal government should respond to every disaster in the same way with equal willingness to help Americans in every part of the country and we need to help each other. Cities and states have to be there for each other."
De Blasio noted the support that the city received in the aftermath of Hurricane Sandy in 2012 as well as the 9/11 terror attacks.
"We here in New York City, we've been through something like this and we understood that lots of people came here to help New York from all over the country after Sandy," de Blasio continued. "By the way, after 9/11, after our worse tragedy, people came from all 50 states to help in the rescue and recovery effort."
Esposito noted that the Urban Search and Rescue Rapid Response Team is federally funded and one of 28 teams nationwide, noting that the New York team is deployed about an average of once a year. A portion of all 28 teams have been deployed to Texas, he said.
Texas Governor Greg Abbott activated the entire National Guard to help with the recovery process. On Friday, Trump granted his request for a disaster declaration allowing the Federal Emergency Management Agency to swiftly help Texans. The president, who will be in Texas on Tuesday, said that he may go back on Saturday and visit Louisiana that day as well.
De Blasio said that he was troubled by the images that have circulated of the aftermath of the hurricane.
"Hurricane Sandy was horrific," de Blasio said. "We lost dozens of New Yorkers, the damage we're living with to this day. But this flooding in Texas is extensive in a way that we never experienced. It's over many, many cities and people's lives have just been torn apart."