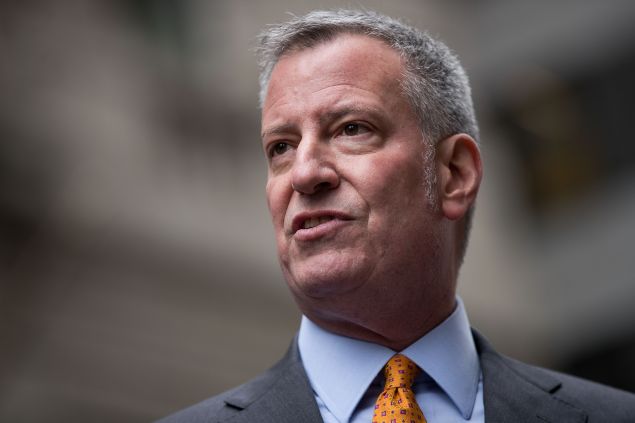 The New York City Campaign Finance Board approved Mayor Bill de Blasio's request for an additional $2 million in public matching funds — after the mayor announced early this morning that he's willing to debate any primary opponents whether they qualified under the CFB rules or not.
On Friday, de Blasio submitted a "statement of need" with the CFB asking for the funds for the Sept. 12 primary on the grounds that his opponents, former Brooklyn City Councilman Sal Albanese and activist Bob Gangi, met the board's criteria for "minimal opposition." The mayor was already allowed to receive $958,000. (Some prominent pollsters do not consider the primary to be competitive.)
This afternoon — after the he announced his intention to debate his opponents — the CFB announced that de Blasio would receive a public funds payment of $2,579,427. So far, de Blasio has raised $4,480,682 in contributions, according to CFB records.
"Public matching funds are an important investment in the political process that have defined city elections for nearly 30 years. Today's payment marks the tenth consecutive citywide election in which the CFB has administered public funds for candidates," Frederick Schaffer, chairman of the CFB, said in a statement.
The public matching funds program promotes candidates to raise small-dollar contributions to restrict the impact of large contributions from special interests. The program matches small contributions from city residents at a $6-to-$1 rate, and candidates who participate can get up to $1,050 in public funds per eligible contributor.
Early this morning, de Blasio's campaign account tweeted that he was looking forward to a primary debate. He said that he is committed to the CFB process and that "people deserve to hear from us no matter what about vision for NYC."
The CFB requires candidates to have raised and spent 2.5 percent of the spending limit for mayor — $174,225 — in accordance with the Campaign Finance Act in the last filing statement before the debate, with a filing deadline of Aug. 11. CFB filings show Albanese has raised $124,124, while Gangi has raised $12,824.
As the CFB was meeting to decide whether to grant his and other candidates' funding requests, de Blasio told reporters that he believed he needed the matching funds because he does not believe it is possible to predict the outcome of the election.
He cited the unexpected presidential victory of Donald Trump, despite polls indicating his Democratic opponent, former Secretary of State Hillary Clinton, was poised to win. He made a similar argument when asked about his thoughts on a recent poll that saw his approval rating drop to 50 percent.
"I don't believe there's any way to know what's going to happen in an election," he said at an unrelated press conference on the latest crime statistics. "I think those who believe they understand elections before they happen were rudely awakened on November 8 and I don't take anything lightly."
Indeed, he said New York City has the best campaign finance system "in the whole country." The CFB, he said, makes it very clear that people should pursue maximum small donations from city residents — and that candidates have a right to a certain amount of matching funds "if you meet a set of goals and metrics and the conditions exist."
"I think that's the way things should be and we clearly qualified and we believe, I believe, we need those resources to talk to people in this city about both what I've been doing but more importantly, the vision for the future of the city they have to make a decision on," de Blasio continued. "So the rules are clear as a bell from my point of view and we have lived up to those rules."
But the mayor told NY1's Errol Louis during his weekly "Mondays with the Mayor" segment about two weeks ago that if the other candidates did not meet the threshold under CFB rules by the Aug. 11 deadline, they would make a decision at that time. The mayor announced his decision to debate opponents about a week before the deadline.
He said he and his team were working under the assumption that someone would qualify, noting that he was "surprised that that's not clear yet" but that they "don't know."
"I just thought about it and said, 'I would be more comfortable having a debate either way' and it was just a process of thinking and discussing it," he added.
Albanese, however, took to Twitter to suggest that he is committing to a debate because he may qualify.
Gangi, who yesterday called his matching fund request a "'shameless' money grab" and urged him to hold primary debates with his Democratic opponents, seemed to praise the move.