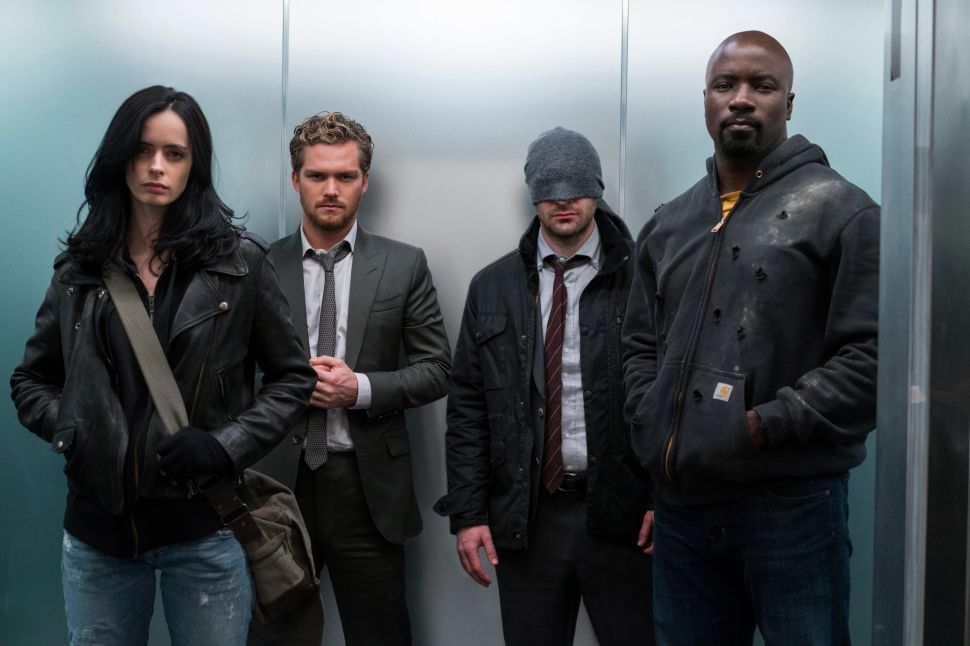 Matt Murdock's suits, Jessica Jones's jeans, Luke Cage's Henleys and Danny Rand's hoodies: all items brought to you by costume designer Stephanie Maslansky. Maslansky has been at the costume helm of at least the first season of each individual Marvel show on Netflix. Now the four heroes are coming together as a team in The Defenders, and Maslansky is along for the ride.
I spoke to Stephanie Maslansky over the phone while she took a quick break from working on Luke Cage's second season. She told me what it was like collaborating on costumes with this ensemble cast, the challenge of creating a superhero costume that is not made of spandex (or rather Eurojersey as I found out during this call) and the fun of dressing villains. Plus, I tried to get some information about Sigourney Weaver's mysterious new character Alexandra.
Maslansky is an expert when it comes to the four individual characters that make up The Defenders. Having worked on their individual shows, she relished seeing how the clothing personas she crafted meshed as they all came together to form one fighting unit. Because of the shooting schedule—as many as three of these shows could be shooting at any one time—Maslansky has sometimes had to hand over the reigns to other designers. She says, "As much as I would love to be in charge of it all, I think my head would explode." The Defenders is the best of both worlds in this respect, and Maslansky describes the process as "wonderful."
Don't expect to see the four leads uniting as a team from the outset, however. "They have a moment to breathe and to have a life," says Maslansky of the start. "Then they come together and it's a little busier for them at the end."
This isn't to say there won't be interactions between different combinations of characters, as well as supporting players such as Luke Cage's significant other, Claire, and the lawyer Foggy. And there will be some subtle costuming details to look out for when they do. Each main character has a specific color palette, and Maslansky explains that the creative decision to maintain these, and to even tighten them up, was a way of distinguishing the individuals. Luke Cage is gold, Jessica Jones is navy blue and deep purple, Matt Murdock is deep red and Danny Rand is olive green. 
The next stage was to think about where the action was taking place and whose world they were in. Switching between Hell's Kitchen, Harlem and mid-town informed supporting characters' costumes as well. "Wherever we were, and whoever was the focus of the storyline, decided the world we were in," she explained. "So every once in a while you'd see Foggy interacting with say Luke Cage and he'd be wearing a tie that was more in the orange or gold world." Specific details like this help frame the scene in ways you might not immediately notice, but play an important part in the overall look of tying these characters together.  
In terms of costumes—Matt Murdock/Daredevil aside—their everyday clothes are also their superhero clothes. There's no getting changed to fight against the bad guys. Jessica's jeans, boots and leather jacket are her superhero attire and the same can be said for Luke and Danny. From a practical point of view this means adapting regular clothing such as Danny's suit pants with stretchy fabric in the crotch and underarms and making sure there are many multiples—enough for both the actor and the stunt double to wear during fight scenes.
For season one of Jessica Jones they bought 16 or 17 of her signature Acne leather jacket, which was enough for both the first outing and The Defenders. They also had enough of the specific style of Citizens of Humanity jeans that became an iconic part of the Jessica Jones ensemble, but as with a lot of fashion, styles are constantly changing and they were no longer available when Maslansky went to buy more. We'll have to wait to see whether Elisabeth Vastola has enough for season 2, or if Jessica has a wardrobe update in store.
This wasn't a problem when it came to Luke Cage's iconic look, which Maslansky describes as "classic, working man hero clothing."
Blending in is important for our street-level heroes, but the same cannot be said for the bad guys. Their attire is just begging to be noticed. Maslansky has a brilliant explanation as to why villains like Cottonmouth, Kilgrave and Fisk have such strong sartorial game. "Villains like money. Villains like nice things, and if they can't spend the money on what they like, then they steal what they like or convince other people to give it to them."
For Cottonmouth it was Dolce & Gabbana suits. Paul Smith provided most of the sharp Kilgrave purple outfits, and in the case of Diamondback, custom suits were made because Maslansky couldn't find the look she wanted in stores. In fact, the suits Mike Colter, Charlie Cox and Finn Jones wore to The Defenders premiere were custom made by Michael Andrews Bespoke, the firm Maslansky uses to do her men's tailoring. 
Stylish bad guys aside, the character I'm most excited to learn more about is the woman being described as the the Defenders' adversary, Alexandra, played by Sigourney Weaver. Catching a glimpse of her luxurious, metallic embellished costumes only left me with more questions. There's an otherworldly quality to these pieces, and Maslansky explains, "we really just wanted to wrap her in very enigmatic garments that were simultaneously very modern, but very ancient." They have a shield-like quality. "I like clothing to feel as though it has a function other than just to make somebody not naked," says Maslansky. "I like it to have a lot of functions—to tell us who the character is. In this case it operates also like armor. It has a protective quality, which is something her character wants to convey." Armor, Masklanky shows, can be so much more than heavy breastplates and shields.
The Defenders will be available to stream Friday, August 18 on Netflix.