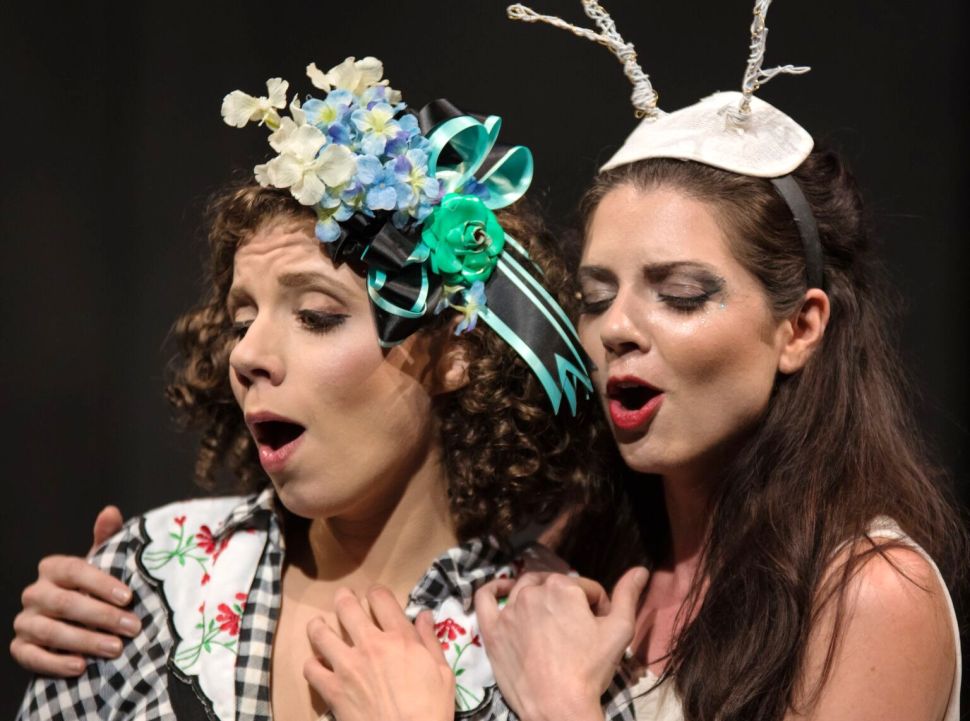 Among the fairly small group of operas from the 1650s still in circulation, Cavalli's La Calisto should make ideal summer fare. Its charming, light music deftly supports a mildly bawdy and farcical sex plot that even includes a bit of same-gender hanky-panky.
Same-gender? Well, sort of. The story, adapted from Ovid, tells how the nymph Calisto rejects the advances of the lustful god Jove, explaining to him that she worships the chaste goddess Diana. Jove then transforms himself into a semblance of that goddess and convinces Calisto that a little virgin-on-virgin canoodling never hurt anybody.
A couple of subplots involve the real Diana's infatuation with the hunky mortal Endimione and and the demigod Pane's lust for… you guessed it, Diana. It's all fun and games until Jove's consort Juno spitefully transforms Calisto into a bear. But there's a happy ending (of sorts) when the sorrowing Jove transforms Calisto yet once more, this time into the constellation Ursa Major.
What makes this piece, presented by Dell'Arte Opera Ensemble, worth the hike over to La MaMa (and the three hour running time) is primarily the superb baroque band led by Charles Weaver. On Sunday it was amazing to hear what warm and varied sounds he coaxed from the ensemble of five stringed instruments plus a harpsichord. Placed just off to the right of the playing area, the orchestra could easily maintain eye contact with the singers, creating an invigorating sense of improvisation in this recitative-intensive opera.
Outstanding too were several singers in secondary role, notably Sophie Delphis as the jealous Juno. Rocking a 1950s couture hoopskirt and a fascinator the size of Rhode Island, she tore into her opening monologue with jet-black chest tones and an attitude regal enough to daunt Patti LuPone.
Another mezzo, Adria Caffaro, brought a tangy voice and a hilarious dudebro swagger to her dual roles as the real and fake Dianas. The tiny role of the forest god Silvano became a vivid cameo as brought to life by the sinfully warm baritone of Angky Budiardjono.
Sadly, artists in leading roles were less effective. As Endimione, Padraic Costello offered a warm, rounded countertenor sadly undercut by mangled Italian diction. In the long title role of Calisto, Emily Hughes commanded the baroque style, but her straight-toned soprano sank increasingly below pitch.
It couldn't have helped that she was costumed as Vera, the bumbling waitress on the Alice TV series, but then the whole visual side of the show was weak. The hodgepodge of thrift-shop costumes and voguey posing director Brittany Goodwin imposed on the material might have seemed edgy if the opera were being performed in 1985 at the Pyramid Club. But in 2017 her take on it might as well be entitled "Desperately Seeking Concept."