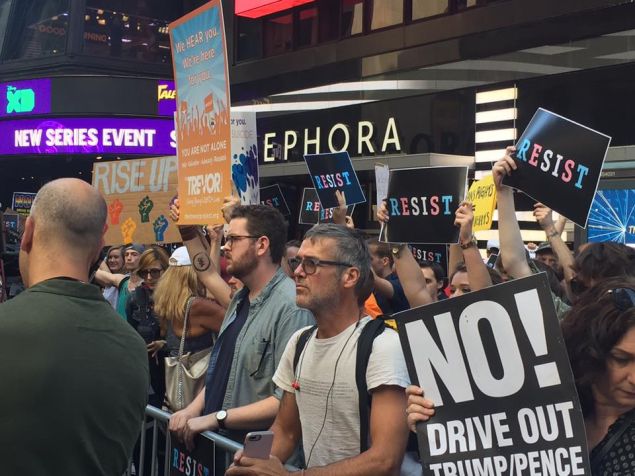 Members of New York City's congressional delegation are calling on President Trump to reverse his ban on transgender individuals serving in the U.S. military.
Last week, Trump directed Defense Secretary James Mattis to implement a ban on transgender personnel in the armed forces, after he took to Twitter last month to announce that transgender individuals would no longer be allowed to serve "in any capacity in the U.S. military." On Monday, the American Civil Liberties Union announced that it would take Trump to court to challenge the ban.
In 2016, former President Barack Obama announced that transgender people would be allowed to openly serve.
Members of Congress from New York City signed a letter urging Trump to back off, including Brooklyn Congresswoman Nydia Velázquez, Bronx Congressman José Serrano, Manhattan Congresswoman Carolyn Maloney and Queens Congressman Joseph Crowley.
In the letter, dated Tuesday, the lawmakers note that there are "thousands" of active-duty transgender service members whose sacrifices "have made our nation safer and stronger" and have served "with equal distinction."
"There is no place for discrimination in our Armed Forces or indeed anywhere else in American society," they wrote. "Enforcing your ban could mean discharging active duty soldiers, sailors, Marines, and members of the Air Force who are serving honorably. It also would mean barring other patriotic Americans from serving in the future. Both are detrimental to our national security, ill-advised, and contrary to the values upon which our nation was built."
In the letter, they reminded Trump that "voices were raised in protest" in 1948 when President Harry Truman moved to racially integrate the military and again in 2010 when Congress repealed the "Don't Ask, Don't Tell" policy.
"At every turn, those voices have been proven wrong," they continued. "Again and again, members of excluded groups have shown that they can serve with distinction; again and again, the military has proved that it can be a respectful home for all."
Minnesota Congressman Keith Ellison, who serves as deputy vice chairman of the Democratic National Committee, was also among the letter's signatories.
The lawmakers referenced a 2016 study conducted by the RAND Corporation — a nonpartisan, nonprofit military think tank established by the U.S. Air Force — at the request of the Department of Defense that found that allowing transgender people to serve openly would have "no significant impact on unit cohesion or operational readiness."
Having transgender individuals serve in the military is not costly for the government, they added, contradicting one of Trump's arguments.
"The same RAND Corporation study suggests that if transgender individuals were officially allowed to serve openly, the annual cost of resultant gender transition-related medical costs would likely not exceed $8.4 million," they added. "This is less than one-hundredth of one percent of the military's nearly $50 billion health care budget. Or, for comparison, roughly equal to the cost of taxpayers of four of your weekend trips to Mar-a-Lago resort."