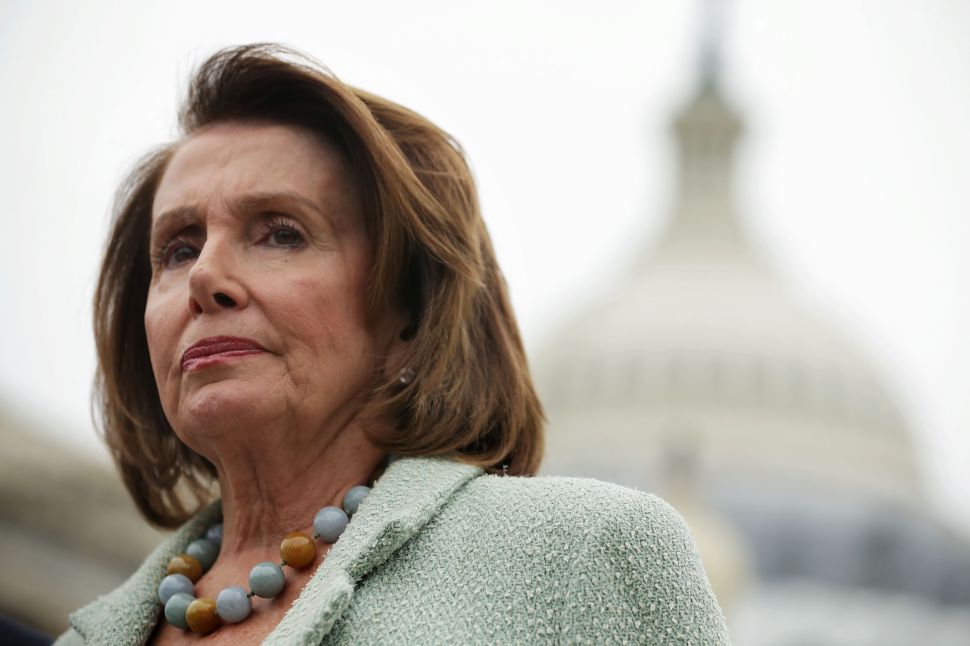 House Minority Leader Nancy Pelosi has reportedly raised $25.9 million in 2017 through hosting 124 lavish fundraising galas across the country to boost the campaign coffers of the Democratic Congressional Campaign Committee (DCCC). Herein lies the primary reason she has kept her leadership position despite her unpopularity with voters and even her own colleagues, who have lost faith in her ability to lead. In a recent survey of 20 House Democratic candidates, only one would vocally support Pelosi. This survey comes just weeks after several congressmen spoke out about the need for leadership change. "President Putin probably has a better approval rating in Georgia than Nancy Pelosi," said David Kim, a candidate in Georgia's Seventh Congressional District, in an interview with McClatchyDC.
Since the 2016 election, Pelosi has made several gaffes and contradicted the Democratic Party's messaging as she fights to preserve the party establishment's status quo.
In December 2016, she reduced calls for reform by saying in an interview, "I don't think Democrats want a new direction."
During a CNN town hall in February 2017, she condescendingly told a millennial who supported Sen. Bernie Sanders, "We're capitalists, that's just the way it is," in response to a question about why Democrats don't embrace Sanders' policies. She went on to explain that Democrats should strive for compassionate capitalism.
After Georgia special congressional election candidate Jon Ossoff lost partially due to Republicans aligning him with Pelosi, several Democrats began speaking out about the need for change in party leadership. Pelosi's abrasiveness toward progressives and Sanders supporters inspired a primary challenger, Stephen Jaffe, to face her in the 2018 Democratic primaries.
Recently, Pelosi's obliviousness to the party's problems have been even more apparent than usual. She essentially reduced the Democrats' new platform and Better Deal slogan to a marketing campaign when she said the change is "not a course correction but a presentation correction."
On July 30, she told Fox News that she is "a master legislator." Her actions and rhetoric demonstrate that she favors maintaining her own political power and that of the Democratic establishment over entertaining the possibility that her poor leadership has been poisoning the party. "We have unity in our own party. You saw it with the fight on the Affordable Care Act in the House and in the Senate," Pelosi insisted.
The only unity Pelosi has been able to achieve is with the party's donors. In November 2016, she attended a closed door conference with donors to perform an autopsy of the 2016 election. In 2017, she has used her super PAC, the Nancy Pelosi Victory Fund, to raise money for herself and the DCCC. The fund is similar in structure to Hillary Clinton's controversial Hillary Victory Fund, a joint fundraising committee with the DNC, which Politico reported was used to essentially launder money to the Clinton campaign. So far this year, about $1.2 million has passed through the Nancy Pelosi Victory Fund. Another committee, Nancy Pelosi for Congress, has received over $1.2 million in campaign contributions in 2017. Her leadership PAC, called PAC to the Future, has received over $300,000 so far this year, including $2,500 from Blue Cross/Blue Shield's super PAC.
The Washington Post reported that Pelosi racked up million-dollar fundraising hauls at "a trio of 'Speaker's Cabinet' VIP events this year in San Francisco, New York and Los Angeles." Some of the top donors listed donations of $16,200 each via employees from the investment bank Moelis & Company, private venture capital firm Ambex Venture Partners, Regis Management Investment Advising Firm, Klein Financial, Francisco Partners Private Equity Firm and DFJ Venture Capital. Max contributors and Nancy Pelosi Victory Fund donors include DNC Treasurer William Derrough, lobbyist Michael Berman, oil tycoon heirs Gordon and Ann Getty, former Bill Clinton adviser Tom Werner, billionaire George Marcus and former White House Press Secretary under Obama and now Amazon Senior VP James Carney.
The fact that Nancy Pelosi, one of the top Democratic Party leaders, is courting donors in the same manner that has poisoned the Democratic Party's reputation confirms that Democrats have learned nothing from their losses. Instead of revamping the party through grassroots organizing and fundraising, Pelosi travels the country with billionaires and corporate executives. Nothing in the Democratic Party will ever change until politicians who prefers donors over voters are removed from leadership roles.