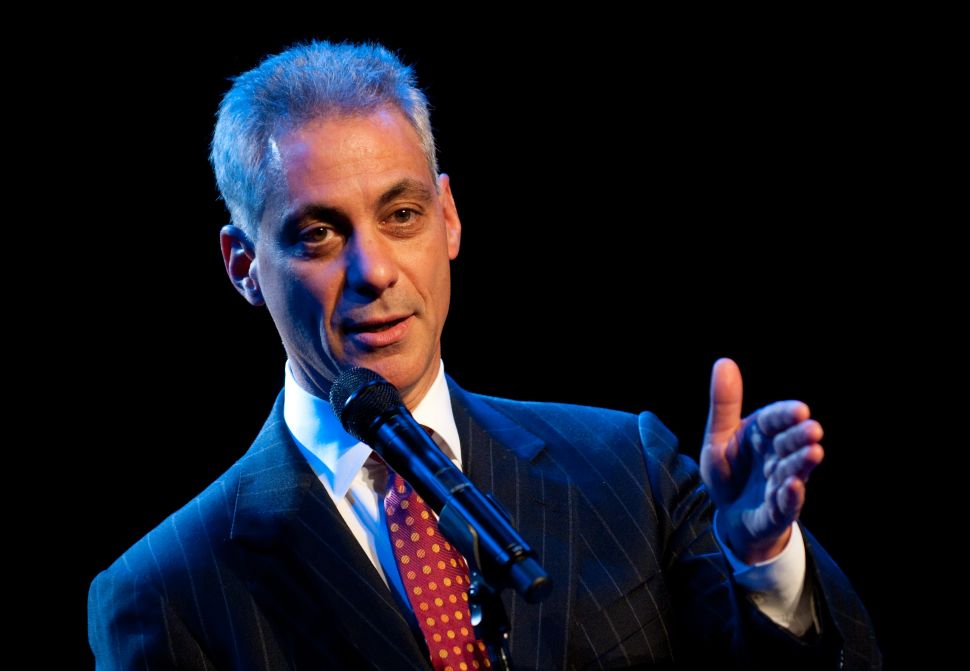 On August 16, Politico published an article claiming that Chicago Mayor Rahm Emanuel "has discovered his national voice" and is leading the party's fight against President Donald Trump: "He's on CNN. He's on The New York Times' op-ed pages. He's dispensing advice to top House Democrats on national campaign strategy. He's jetting off to Milan and London to forge mayoral alliances while brashly picking fights with New York. The biggest headlines have come from Emanuel's decision to become the first big-city mayor to legally challenge Trump's immigration policies." However, Politico's report glossed over Emanuel's political failings.
In 2015, news broke that Emanuel presided over a cover-up of the police's murder of LaQuan McDonald, a black 17-year-old shot 16 times in October 2014. The Daily Beast reported, "Emanuel's office was not just suppressing information about McDonald's death, but also controlling how the agency responsible for investigating police killings [the nominally independent Independent Police Review Authority] speaks to the press about its own processes." News of the cover-up incited calls for Emanuel's resignation, led by the Chicago Teachers Union, which has been in a constant struggle with Emanuel due to his push for school privatization.
In April 2017, Emanuel privately met with Secretary of Education Betsy Devos days after he announced a proposal to stipulate that high school graduates provide proof of a post-graduation plan before they are given their diploma.
In January 2017, President of the Chicago Teachers Union Karen Lewis wrote in an op-ed, "Emanuel led the largest mass public school closing ever in one U.S. city—mostly in African-American and Latino communities—and has been accused of fostering educational 'apartheid' by the Rev. Jesse Jackson. He also is known for his Rolodex full of prominent businessmen and wealthy entrepreneurs who have funded charter school privatization, which set the stage for the aforementioned closures." She added, "The very people driving education policy—Emanuel, DeVos, and the phalanx of wealthy philanthropists subsidizing their ideas through the campaign-finance system—are blocking the most effective education reform available: equitable funding."
Democratic leadership is consulting Emanuel to help the party win in 2018 midterm elections. In May 2017, Politico reported, "Three senior House Democrats are soon heading to Chicago to seek advice from Rahm Emanuel, the party's 2006 master strategist." However, less than half of the 41 Democrats that were elected to office in 2006 are still in office. Additionally, Emanuel didn't use his tenure at the DCCC to win elections; he used it to pick establishment candidates. Truth-Out reported in 2007, "According to Democratic candidates who ran for House of Representative seats in 2006, Rahm Emanuel, then head of the Democratic Congressional Campaign Committee, took sides during the Democratic primary elections, favoring conservative candidates, including former Republicans, and sidelining candidates who were running in favor of withdrawal from Iraq."
Earlier this year, former Obama campaign Manager David Plouffe was fined $90,000 by the Chicago Board of Ethics for illegally lobbying Emanuel on behalf of Uber. The illegal lobbying was only discovered from emails Emanuel released in fear of two open records lawsuits he faced. Additionally, while Emanuel has tried to brand himself as a Trump resistance hero, his brother Ari worked as Trump's agent for The Apprentice. The two met together shortly after Trump won the presidency.
Rahm Emanuel has been dubbed "Mayor 1%" for embracing neo-liberal union busting policies while courting wealthy and corporate donors. No amount of anti-Trump rhetoric will revitalize Emanuel's tarnished image, but the Democratic establishment is in such desperation that elevating Emanuel seems like a viable option.