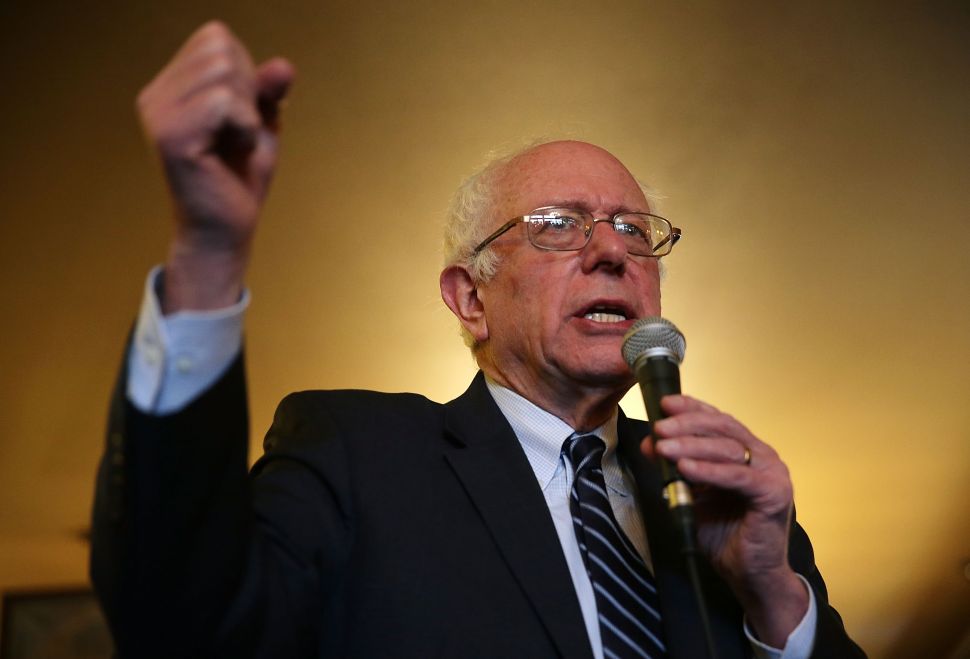 Politico reported on August 7 that former Senate Minority Leader Harry Reid called Sen. Bernie Sanders in a panic when he discovered the Nevada chapter of Our Revolution endorsed single-payer health care advocate Jesse Sbaih over establishment-backed candidate Rep. Jacky Rosen to run for Senate in 2018 against Republican incumbent Sen. Dean Heller. Sanders agreed to prevent Our Revolution's national organization from endorsing Sbaih over Rosen, but Reid's panic reveals that establishment Democrats are increasingly worried about progressives pushing for single-payer health care.
One-hundred-and-sixteen Democrats in the House have signed onto Congressman John Conyers Medicare for all bill, the highest number since Conyers began introducing the bill in 2003. He has introduced it every congressional session ever since.
"A single-payer system is inevitable. That's the first thing. This is inevitable. But just because something is inevitable doesn't mean that it will happen without an effort and that it will happen in time to help the mass of American people who are looking for better options than they have now," former Congressman Dennis Kucinich said in an interview with the Observer. Kucinich served eight terms in Congress from 1997 to 2013 and often introduced a single-payer Medicare for all health care bill with Conyers while in office. "We can't be sitting around worrying about what might happen. We have to make things happen. And if I've learned anything about Congress, it's that there is a paradox of people who are in some of the most powerful positions in our society but feel powerless to deal with these big questions. And yet each member of Congress does have real impact on the long-term health of the country. One of the complicating factors is the amount of money that comes from various interests who are promoting the current system, and they try to use that to hold members hostage. But when one considers the broader claims of our constituents, this current system cannot meet the diverse health needs of America."
One of the biggest obstacles single-payer health care faces is the amount of donations the pharmaceutical and health insurance industries pour into both parties. Both industries are against single-payer because it would negatively affect the industries' profits. In the 2016 election cycle, 30 House Democrats and nine Senate Democrats received campaign donations from Blue Cross/Blue Shield's Super PAC, one of the largest health insurers in the country. Out of those House members, only nine House Democrats have signed on to co-sponsor the Medicare for all bill. Sens. Charles Schumer, Kamala Harris and Cory Booker, who have all received donations from the PAC, have offered half-hearted support for the bill. The pressure from progressives to support single-payer continues to mount for establishment Democrats.
House Minority Leader Nancy Pelosi's 2018 Democratic primary challenger, Stephen Jaffe, is running on a single-payer health care platform.
David Hildebrand is challenging Sen. Diane Feinstein in the primaries in support of single-payer.
Tim Canova is challenging former DNC Chair Congresswoman Debbie Wasserman Schultz in Florida. Single-payer health care is a divisive issue between the two candidates, as Wasserman Schultz has yet to support the policy.
Activist Paula Jean Swearengin is primarying Sen. Joe Manchin in 2018 with the help of Brand New Congress, an organization founded by former Bernie Sanders staffers. The primary puts pressure on Manchin, one of the most conservative Democrats in the Senate, to support the policy.
In Nevada, Congressman Ruben Kihuen, a freshman representative who won his seat with the help of former Sen. Harry Reid, is facing a grieving mother, Amy Vilela, in the Democratic primary. Vilela lost her 22-year-old daughter after an emergency room refused to conduct the necessary screenings to diagnose deep vein thrombosis, which she suffered from. Kihuen refused to co-sponsor the bill after Vilela explained her experience to him at a town hall in May 2017. In her campaign announcement, Vilela said, "We don't have time to wait around for career politicians, their donors or special interests to do the right thing. We need bold action now. We need representatives in Washington that understand the stakes of this fight and who will never stop advocating for the people."
Our Revolution President Nina Turner echoed her sentiment in an interview with Politico: "Any Democrat worth their salt that doesn't unequivocally say Medicare for all is the way to go? To me, there's something wrong with them. We're not going to accept no more hemming and hawing. No more game playing. Make your stand."