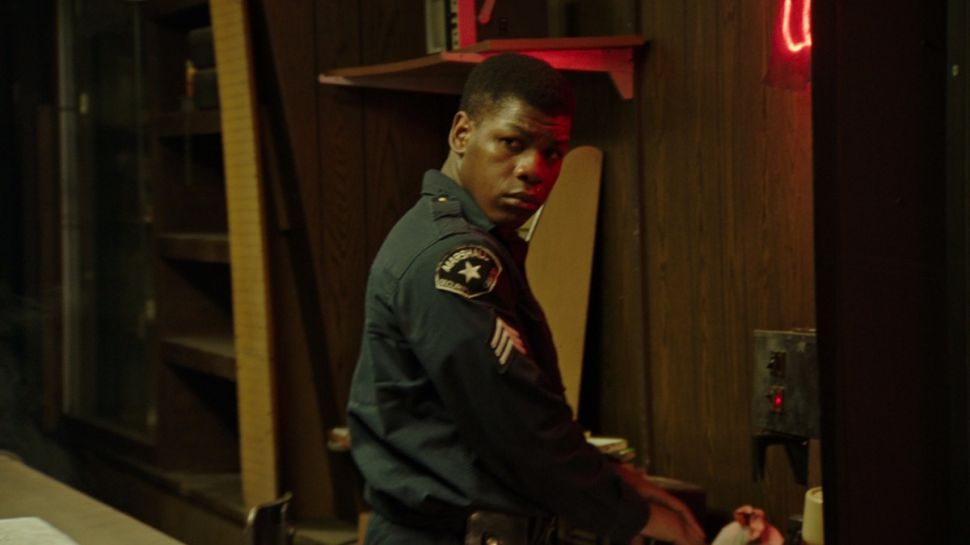 At the center of Kathryn Bigelow's devastating Detroit is a thorny historical event: the murder of three innocent black youths by panicked white cops at the Algiers Hotel during the peak of that city's devastating riots in July 1967—the summer of love. In that sharply-directed set piece a rogue white cop terrorizes a rag-tag group of black males and two mini-skirted white women, verging on torture porn because it's so raw and horrifying that it becomes hard to remain in one's seat.
In this signature sequence, there is a bogeyman—Officer Krauss (Will Poulter)—a young, racist, white policeman with a badge and nothing to lose. And a possible hero presents himself: the cautious, well-intentioned Security Guard Dismukes (Star Wars' John Boyega) who is intent on surviving the night. It recalls the raid on Osama Bin Laden in Bigelow's Zero Dark Thirty and the bomb detonation sequence in Bigelow's The Hurt Locker, for which she won the only Oscar for best director ever awarded to a woman.
Before the movie coalesces around that central event, Bigelow and her frequent screenwriter Mark Boal begin with a trenchant montage of Jacob Lawrence's paintings from his "Migration" series, a visual indictment of the Northern racism encountered by blacks fleeing Southern terror for a better life. And then there is a mosaic of scenes attempting to establish the birth of the riots themselves, jumping downtown to the Fox Theater where a soul music vocal group called The Dramatics is poised for their big break onstage, when police shut down the theater as Motown bursts into flames.
While Officer Krauss and Security Guard Dismukes emerge as characters in these early scenes, along with The Dramatics' ambitious singer Larry (Algee Smith) and beloved gofer Fred (Jacob Latimore) among others, this opening expository portion is big on chaos but leaves the audience not knowing where to look for either heroes or villains. Of course, there's panic on the streets, but the confusion among viewers who don't know which way to turn is narratively problematic.
Similarly, in the section following the bloody end of the standoff at the Algiers Hotel the movie loses its storytelling power. When the narrative shifts to a courtroom drama, as three officers and the security guard are tried for murder two years after the event, the tension has evaporated. The drama loops back to the fate of The Dramatics where we find that Larry has been radicalized following his hell-night at the Algiers, and is unable to return to performing for jiving white folks. This enters potent territory but turns saccharine and unsatisfying.
The character evolution of Larry—like Boyega's as a man who discovers that personal integrity cannot conquer institutional racism, and Anthony Mackie's as an unemployed veteran who fought for a country that refuses to fight for him all—reflect Bigelow's penchant for generating powerful performances. Game of Throne's Gilly, Hannah Murray, shows tremendous heart as a teen whose vision of the world of men and women, black and white, law and order, is shattered in one night when she abruptly grows up.
Poulter (We're the Millers), with the plastic face of the dummy Jerry Mahoney and a shotgun temper, stands out. Perhaps too much—but it's not the actor's fault. The character as written is like Jim Thompson's murderous Texas deputy sheriff Lou Ford from The Killer inside Me, a sociopath with a taste for hunting human game. Who is he—and how did he get that way? It's not a question that this film asks—and it's a break from the journalistic you-are-there approach that surrounds his character.
While Bigelow remains muscular in the action scenes, Boal's script lacks the structural elegance of Zero Dark Thirty or The Hurt Locker. His broad canvas fails to convey a vision of the big picture. Perhaps this is a factor of trying to achieve near-journalistic integrity in retelling past events that remain, fifty years later, a historical cluster-fuck.
---

DETROIT ★★★
(3/4 stars)
Directed by: Kathryn Bigelow
Written by: Mark Boal
Starring: John Boyega, Will Poulter, Anthony Mackie, Algee Smith and Hannah Murray
Running time: 143 mins.

---
Detroit, although it re-teams Bigelow and Boal, lacks the clarity of their previous collaborations. And, yet, the ambitious period drama maintains their power to disturb, and to make one question what it is to be an American. It reminds audiences that racism is corrosive, that when inequality exists so does the potential of oppressed citizens to overturn injustice by burning existing structures down in frustration. Redemption may or may not arrive, but the cost is high if we refuse to heed past mistakes and progress.