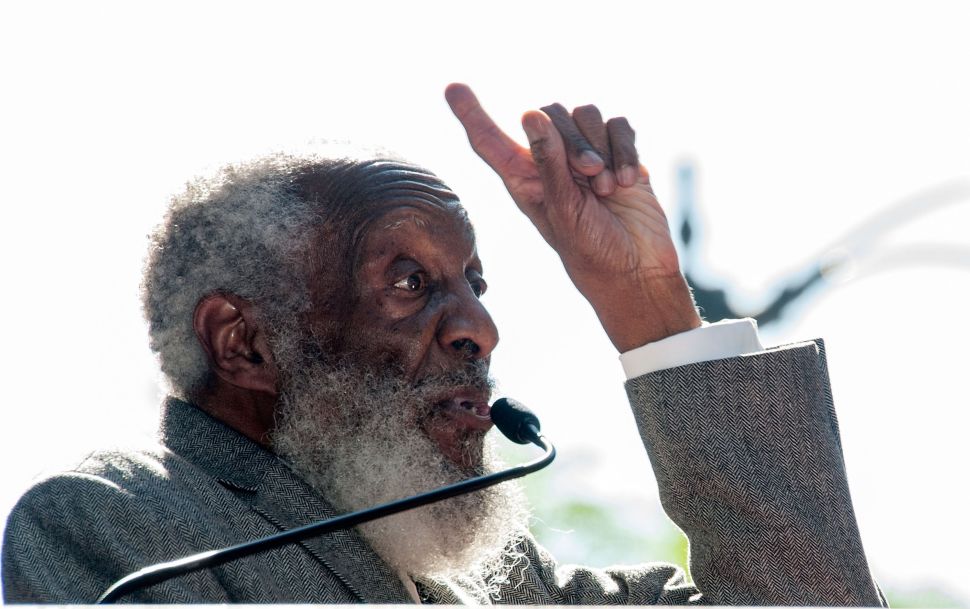 Celebrated comedian, writer and civil rights activist Dick Gregory died Saturday at the age of 84. Gregory's son Christian confirmed the news over the weekend in an Instagram post. He did not provide a cause of death, though the family did say they would provide more details shortly.
"It is with enormous sadness that the Gregory family confirms that their father, comedic legend and civil rights activist Mr. Dick Gregory departed this earth tonight in Washington, D.C.," Christian wrote Saturday. "The family appreciates the outpouring of support and love and respectfully asks for their privacy as they grieve during this very difficult time. More details will be released over the next few days."
Gregory began his career as a stand-up comedian in the 1950s and immediately began pushing boundaries with his edgy observational humor. He soon began to pepper in social commentary to his routine and eventually found himself delivering pointed racial comedy that struck at the heart of a divided America during the Civil Rights Movement.
Gregory once joked about his love of Willie Mays as the rare African-American "who can shake a stick at a white man and not cause a riot." By the 60s, Gregory was deeply involved in the fight for equality and even helped to register black voters in the south.
https://www.youtube.com/watch?v=zeQrJUMIDTQ