Parisian perfumer Diptyque creates some of the most luxurious fragrances, and the brand has developed a serious following among tastemakers since it was first established in 1961. They already have five boutiques in New York, and they opened their sixth earlier this summer, at Grand Central Terminal, where Diptyqye had a pop-up shop for two years.
It's an ideal location for the next store; Diptyque's elegant and sophisticated candles, diffusers and scents are the perfect house gift. So it will be easy for travelers to scoop up a hostess present, before catching a train to Greenwich, Connecticut or Bedford, New York.
"After the tremendous success of our pop-up store at the head of Lexington Passage—designed originally to last three months, but ultimately extending two years—we knew there was a demand for a permanent retail location," Eduardo Valadez, Diptyque's director of marketing, told the Observer. "The boutique offers Diptyque full visibility and exposure to the 750,000 daily commuters and tourists who pass through the landmark building," he added.
The store's design concept comes from a combination of the signature style of the brand as well as Grand Central's classic architecture—it also takes note of the fact that many of its customers will be running in and out, on their way to and from one destination to another. The shop has wood floors with black oak finishes, brass accents and special wallpaper made of silver leafing, with glass tables and gold embellishments, and a chandelier by Rich Brilliant Willing.
The store's opening also happens to coincide with the launch of Diptyque's newest votive, the New York City candle, which will be available starting this month. The candle brand has quite a large fanbase of A-listers, including Beyoncé, Emma Watson, Kate Moss and Victoria Beckham.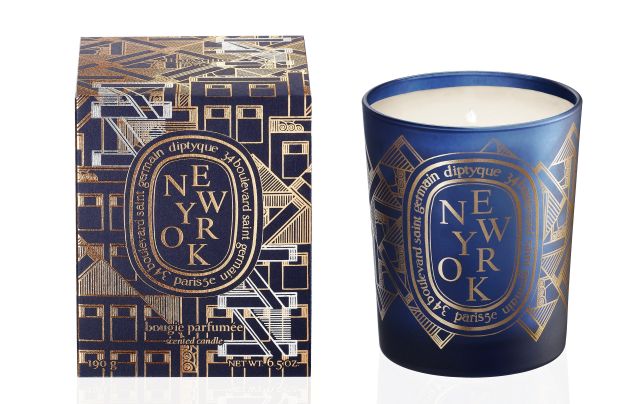 The candle is meant to celebrate the "spirit of the city," and fittingly is exclusive to the perfumers' Manhattan boutiques. The metallic, gold and silver Art Deco design, printed on dark blue, is inspired by the city itself, while the scent is a blend of woods cedar, vetiver, patchouli, incense and tobacco, intended to emulate the city's underground speakeasies of the past and present.
And don't worry if you haven't had a chance to scoop up one of the New York City candles just yet—it's a permanent addition to Diptyque's collection.