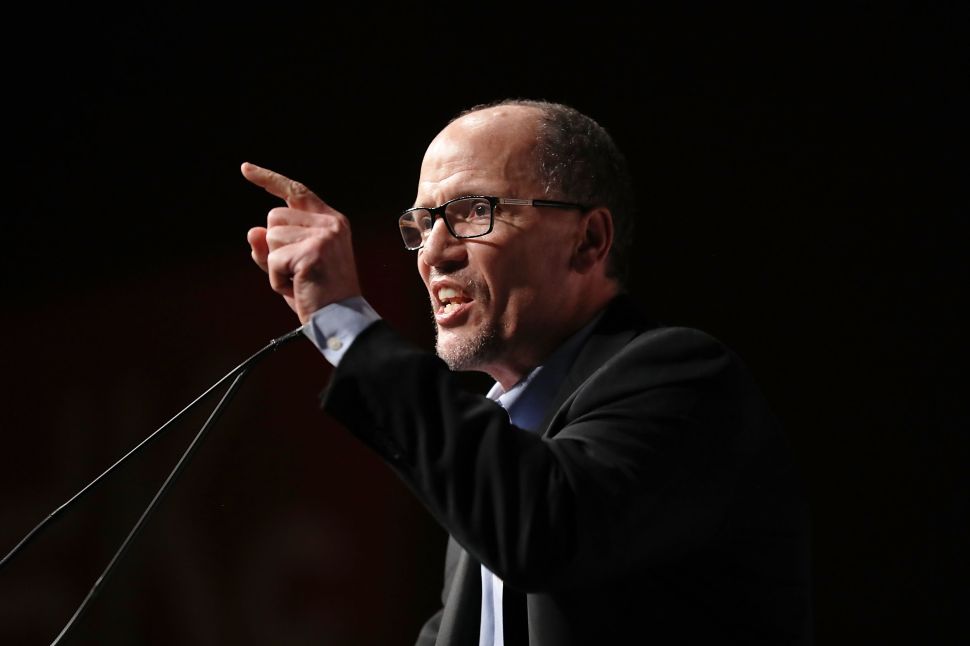 In July 2017, the Democratic National Committee (DNC) experienced their worst fundraising month of July since 2007. The organization raised only $3.8 million. For comparison, the Republican National Committee (RNC) racked in $10.2 million. The DNC also added $154,000 to its debt, which now stands at $3.4 million. The RNC has no debt. July wasn't an isolated bad month for the DNC; it's proof of a larger, looming problem that the organization faces.
April 2017 was the DNC's worst fundraising month of April since 2009. May 2017 was even worse; the DNC hadn't posted fundraising totals so low since in May since 2003. In June 2017, the DNC added $200,000 to their debt and only raised $5.5 million. The RNC raised $13.5 million in the same month. It's not just wealthy donors that are providing a boost for the RNC; their small donations have significantly out paced the DNC as well. In the first six months of 2017, the RNC received $11 million more in donations under $200 than the DNC did.
Despite this troubling trend, DNC Chair Tom Perez and the Democratic establishment continue with business as usual. If the DNC continues its downward trajectory, the party risks becoming irrelevant and blowing the 2018 midterm elections, handing the Republican Party a comfortable majority for another two years.
The DNC and Democratic leadership have repeatedly ignored their voters and the harsh realities facing the party. After Hillary Clinton lost the election, a DNC staffer reportedly let loose on DNC Interim Chair Donna Brazile for allowing Donald Trump to win.
"Why should we trust you as chair to lead us through this? You backed a flawed candidate, and your friend [former DNC chair Debbie Wasserman Schultz] plotted through this to support your own gain and yourself,"  the staffer said, according to the Huffington Post. "You are part of the problem. You and your friends will die of old age, and I'm going to die from climate change. You and your friends let this happen, which is going to cut 40 years off my life expectancy." This staffer's sentiments are a reflection of Democratic voters'. The Democratic Party has lost the trust of its supporters, and their actions since the 2016 election have conveyed that they don't care.
For example, so far in 2017, the DNC has depended solely on anti-Trump messaging to try to solicit donations, rather than engaging voters and addressing the issues that impact their lives. In a recent interview, DNC Chair Tom Perez tried to compare the Democrats' current state to the party's in 2005 under the Bush administration. Perez believes that today's political climate resembles the 2006 election midterms, in which Democrats made significant gains by running moderate, establishment backed candidates that wound up losing their seats shortly after becoming elected.
Trump is a symptom of systemic issues that enabled his ascendance and presidency. The DNC is trying to alleviate the symptom instead of addressing the root causes that they helped create. They continue manufacture outrage against Trump at every turn, while maintaining the party's status quo. The Democratic Party's social media profiles still brand themselves with former President Obama and Vice President Joe Biden, who are not only no longer in office but whose administration presided over Democrats losing majorities in both houses of Congress and over 1,000 seats in state legislatures across the country. Drowning themselves in Obama nostalgia isn't going to save the Democratic Party. The DNC and Democrats are hemorrhaging support because they refuse to acknowledge that it's not enough for a politician to have "D" next to their name.