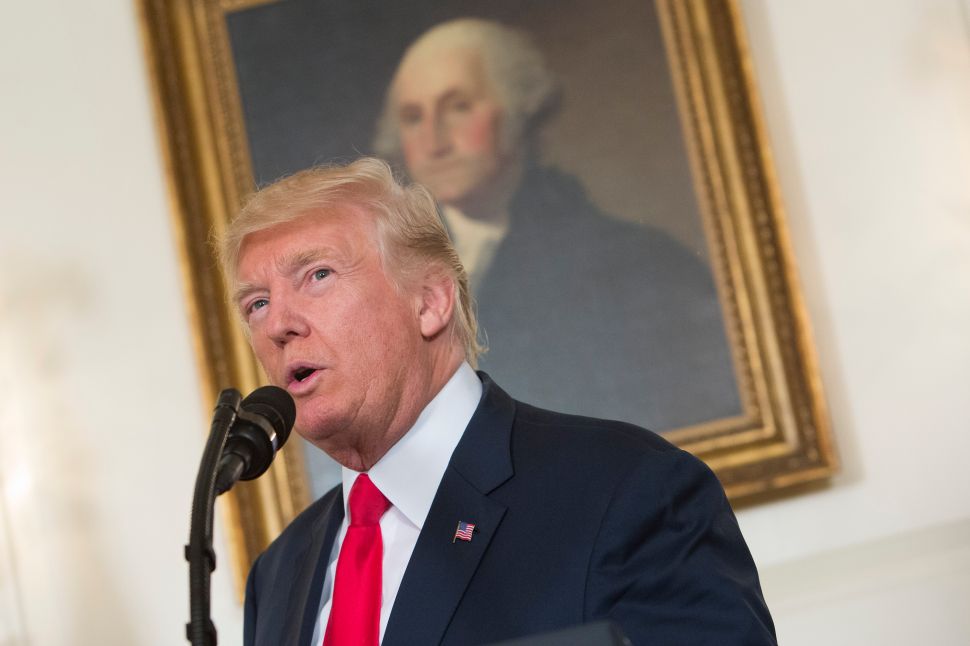 Move over, Ronald Reagan. Step aside, Barack Obama. Stephen Miller is right: Donald Trump is the greatest communicator who has ever occupied the White House.
Let me explain.
In previous administrations, countless buckets of ink and miles of chyron pixels were devoted to analyzing the president. Who is he? Where does he stand on a given issue? No, where does he really stand? Really-really?
There is no need this time around. Switch off your TVs and cancel your newspaper subscriptions (if you still have them). There is no political hide-and-seek and no hidden agenda. There is certainly no, ahem, other side, to this president. Donald Trump has been crystal-clear from day one about who he is, what he believes, his values, his North Star and his South Pole. He has been beyond on-message.
He believes that whiteness and money are the only proof of worth—especially his own. He believes that women, blacks, Hispanics and—I do not care who his daughter married and to what faith she converted—Jews are weak, sniveling, sneaky and inferior. He believes in the power of fury, the slow burn of resentments, and in tightening the vice of anger. He believes tension is to be exploited, not diffused. He believes in problems, not solutions. He believes in fear, not security. He believes in lashing out when cornered, like a rat with rabies. He believes that when someone else gets ahead, it means he has been left behind.
And his intrinsic view of what it means to be a man, and what it means to be strong, begins and ends with Archie Bunker. He has been up front about every one of these things. He thinks they are value adds to his overall value proposition.
In Charlottesville, hundreds of neo-Nazis, white supremacists, and bafflingly enraged upper middle class white teens whose only problem in life is likely an embarrassingly undescended ball, marched in his name. A woman was killed; the country saw hate and an American genie that's back out of the bottle. Donald Trump, ever self-centered (which he has also been clear about), saw evidence of his own popularity.
Later, in the gilded turd of Trump Tower, Trump doubled down and ripped a page out of Richard Spencer's playbook: He sided with white supremacists, racists and neo-Nazis who he rightly sees as "his people." And, again, he has been very clear that his people—his base, his engine, the source of his energy—come first.
All of which is to say that Donald Trump has never bullshitted us. He knows who he is and so do we. And this week he made it triply obvious. Helpfully, he has given the country a choice. Stand with him, and you're condoning Donald Trump's fear, loathing and racism. Stay silent, and you're tacitly agreeing. Wear a #MAGA hat, and you're donning 2017's white hood.
If Republican lawmakers stay privately dismayed and don't publicly disown their leader in word and deed, they demonstrate that they are coming down on the side of white supremacy, anti-Semitism and racism. No arguments. It's mortifying that the Republican Party has to make a choice, but it's undeniable who the party's base is and that office-holders are scared shitless of primaries. So what. Shoot high. This is a yes-or-no moment like no other for Republicans who have been absolutely derelict at rooting racism out of their own ranks and letting it be their rudder during an eight-year Obama freak-out during which many of their voters had a nervous breakdown when presented with a black authority figure. For them, this current choice can be thought of and communicated simplistically: Do you stand with the boys of Pointe du Hoc, or the armies they defeated? Lincoln or Davis?
Mainstream voters who took a chance on Donald Trump because he was "a dealmaker" can't say that anymore. The only deal he has made in office is with the white power movement. And they can't say "he's a business guy" because CEO's of America's biggest companies from Wal-Mart to Merck are abandoning him in droves, realizing that, contrarily, Donald Trump is very bad for business—unless you happen to run a Confederate flag factory or a 4Chan message board or a company that makes cheap bronzer and low-cost synthetic hair.
Finally, if rich Jews, like Gary Cohn, Steven Mnuchin and the president's own son-in-law and daughter—who, not for nothing are raising the descendants of Holocaust survivors—continue to stand with a man who has boosted the anti-Semitic movement in this country like no leader has since Father Coughlin and Henry Ford, they are collaborationists. And if Republican Jews who seem today to be Republican first and Jewish dead last (looking at you, Sheldon), stay silent or give Donald Trump cover, they are also complicit. Newsflash: When the mob comes for you, your money won't protect you. Don't claim to venerate Elie Wiesel or Anne Frank when the warnings their lives provided are staring you in the face.
Donald Trump has been clear who he is. Now it's on us to be clear who we are.
Jon Reinish is a native New Yorker who works in political communications, strategy and media. His opinions are his own and can be taken with a deer lick's worth of salt. Follow him on Twitter or Instagram: @jonreinish