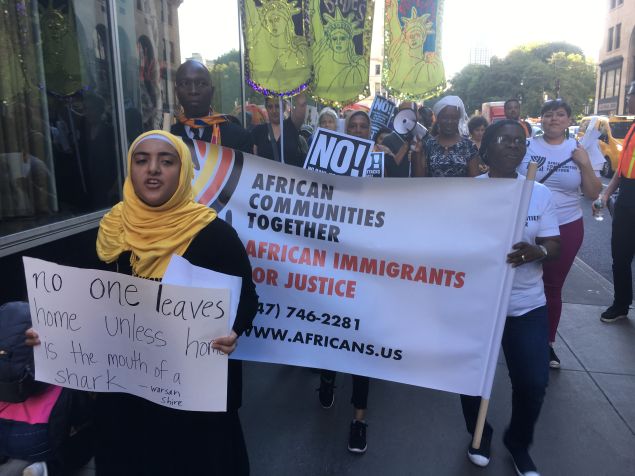 As President Trump moves forward with a campaign promise to increase deportations, a prominent immigrant advocacy group is rolling out an expanded set of "Know Your Rights," training and community defense materials in multiple languages for undocumented immigrants and advocates.
The Immigrant Defense Project, a nonprofit organization that advocates for fairness for immigrants accused of or convicted of crimes, has been tracking, seeking information about and training community members on ICE raids and arrests for years. They argue that communities have to recognize ICE tactics, help individuals facing possible deportation be prepared and fight back through organizing or in the courts.
Michelle Parris, staff attorney and director of training and resources for the Immigrant Defense Project, said the guidance reflects the Trump administration's approach — and that the structure was already in place under former Presidents Barack Obama and George W. Bush.
"We updated information about what we've already seen and what we anticipate based on the history of ICE tactics, which is information that appears in the toolkit," Parris said. "We've already seen a return to some of the wild and problematic tactics of ICE that existed under Bush and even under Obama before 2014 and so we wanted to make sure that people understood the shifts in how immigration agents are doing their jobs."
The organization launched a campaign to get ICE out of the courts in New York state. A coalition of legal services and community-based organizations surveyed advocates and attorneys throughout the state, with many reporting ICE agents or vehicles in and around the courts and people being afraid to go because of ICE.
On Wednesday, Trump backed legislation calling for merit-based immigration, reducing green card levels and ending the "diversity visa" program. The latest ICE raids netted 650 people throughout the country, most of whom do not have criminal records. And at the end of July, ICE also arrested 114 undocumented immigrants in New York City. His immigration enforcement agenda has included executive orders barring entry to people from Muslim-majority countries that is partially in effect ahead of a Supreme Court hearing in October and a proposal to build a wall along the Mexican border.
The group's raids resources index includes a toolkit created with the Center for Constitutional Rights that outlines the country's massive detention and deportation system and ICE's internal training documents and guidance to agents on how to conduct home raids—obtained through an ongoing Freedom of Information Act request CCR is litigating.
The general "Know Your Rights" materials on ICE raids for community members consist of a flyer for community members on rights during encounters with ICE in the community and a poster outlining people's rights in different languages. The guide also includes a one-hour webinar and free slides co-created with WITNESS on the right to film ICE and a "Train the Trainers" video.
They will launch an interactive raids map that shows how and where ICE has been conducting raids in the city soon. Parris said local law enforcement collaboration with federal immigration agents manifests itself differently throughout the country, including people's fingerprints being shared with federal immigration authorities when they are arrested for low-level offenses, police working with immigration authorities and jails allowing immigration agents into interviews.
"There's a real variety of collaboration that goes on that advocates need to challenge," she said.
The guide points out that ICE typically arrests people at home, at work, at courthouses, at homeless shelters and also pulls people over while they are driving, and usually shows up early in the morning, though they may come at any time or multiple times. The organization also recommends that people not give ICE their passport or consular documents unless they have a search warrant by a judge listing those items.