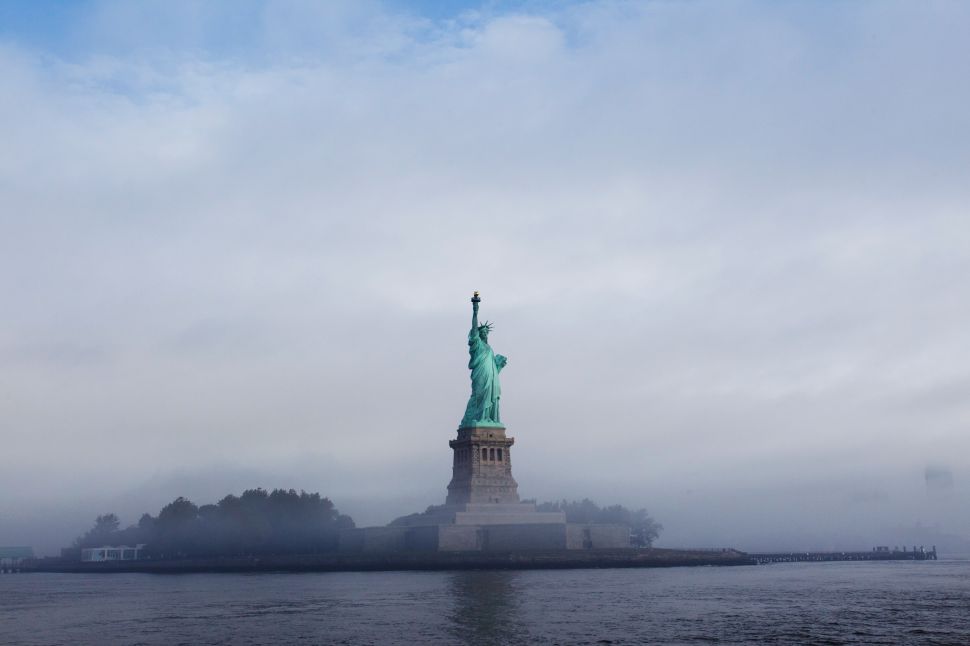 Senior Advisor to the President Stephen Miller recently argued with CNN Senior White House Correspondent Jim Acosta over immigration. Acosta cited the Statue of Liberty's Emma Lazarus poem, which reads, "Give me your tired, your poor, your huddled masses yearning to breathe free." Acosta's concerns over Trump's immigration policies are valid, but his reference to Lazarus' poem fails to address that xenophobia and racism have dictated U.S. immigration policy since the poem was added to the Statue of Liberty in 1903. The poem serves as an ideal for what America should aspire to be, but throughout history its sentiment has not been reflected in policy.
The same year the poem was added to the Statue of Liberty, the Anarchist Exclusion Act was passed. The legislation regulated immigration, banning not only perceived anarchists but also "people with epilepsy, beggars and importers of prostitutes." Three years later, President Theodore Roosevelt signed the 1906 Naturalization Act, which required that immigrants learn English in order to become eligible to be a naturalized U.S. citizen. Roosevelt signed another immigration act in 1907 that banned immigrants with disabilities and several different diseases, giving medical examiners and commissioners greater authority to turn away immigrants they perceived to be ill or unfit to enter the United States. In 1917, President Woodrow Wilson signed the Asiatic Barred Zone Act into law, which banned immigrants from parts of Eastern Asia and the Pacific Islands, all immigrants over 16 who were illiterate, and other groups deemed "undesirables."
In 1918, the Anarchist Exclusion Act was expanded through the Dillingham-Hardwick Act to include anti-war protesters and radical labor union members. The 1921 Emergency Quota Act limited the number of immigrants to three percent of the residents already in the United States from whichever country an immigrant came from. The 1922 Married Women's Act stipulated that any female U.S. citizen who married an immigrant ineligible for citizenship would lose her own citizenship. The 1924 Johnson-Reed Act established a border patrol and decreased the Emergency Quota Act to 2 percent. The same year, a National Origins Formula was developed, which capped total annual immigration to 150,000 people.
In the early 1930s, nearly 2 million Mexicans and Mexican-Americans who were U.S. citizens were deported through a policy that blamed Mexicans for the Great Depression.
Under President Dwight Eisenhower, Operation Wetback was initiated in 1954 as a mass deportation program targeting Mexicans.
The 1965 Immigration and Nationality Act capped all immigrants in the Eastern Hemisphere to 170,000 a year, and no country could exceed more than 20,000 a year. The same year, homosexuals were banned from being eligible to immigrate to the United States. In 1976, the annual immigration quota was increased to 290,000 a year.
In 1996, the Antiterrorism and Effective Death Penalty Act further expanded the detention of illegal immigrants, nearly doubling 1996 rates by 1998.
Passed in 2006, the Secure Fence Act authorized building a fence along the U.S-Mexico border and the use of surveillance to protect the border.
The Obama Administration deported more immigrants than any other administration in history. By the end of his two terms, 5 million people had been deported, earning him the nickname "deporter-in-chief."
In the present day, the Trump administration is developing a reputation for ruthlessly enforcing immigration laws and using Immigration and Customs Enforcement (ICE) for deportation raids. Trump also signed an executive order banning immigrants from seven Muslim majority countries, which was later struck down by the courts. In response to Trump's immigration policies, the Democratic Party needs to craft a bold, progressive immigration reform agenda that lives up to the spirit of the Emma Lazarus poem.