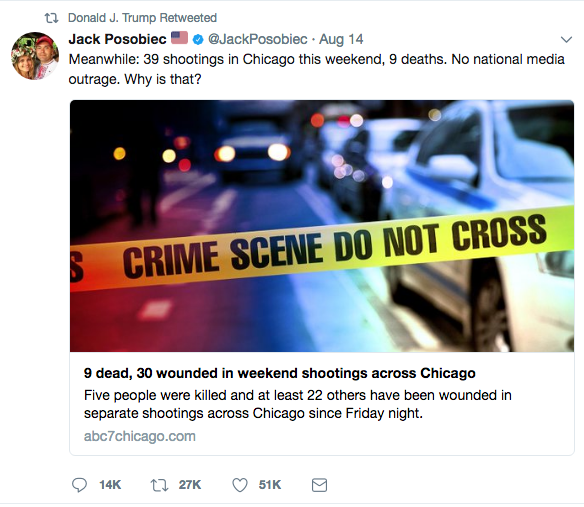 Last week, President Donald Trump retweeted a tweet of Jack Posobiec, a purveyor of the Pizzagate and Seth Rich conspiracy theories, that criticized the media for ignoring shootings in Chicago but covering the white supremacist rally in Charlottesville. Posobiec, who is a verified Twitter user with 184,000 followers, is a loyal Trump supporter. It is alarming that Trump's initial reaction to the tragedy was to retweet a far-right follower but it took him two days to specifically condemn the KKK and neo-Nazis at the rally. Unfortunately, Posobiec has a record of making blatantly false statements that make their into the hands of influential people before they are debunked.
In December 2016, Esquire reported that Posobiec was leading a pro-Trump smear campaign against the new Star Wars film, falsely claiming that they added "in Anti Trump scenes calling him a racist."
In January 2017, he was publicly accused of infiltrating an anti-Trump rally with "Rape Melania" signs to push a false narrative of the American left. The Southern Poverty Law Center wrote in a Facebook post in regards to the incident, "Jack Posobiec, one of the organizers of the DeploraBall inauguration party and a pro-Trump internet figure, is the head of a disinformation campaign intended to paint the anti-Trump rallies as 'violent and out of control.' His 'mission:' 'To discredit [Trump protestors]. Infiltrate with bad signs. I kept yelling 'assassinate Trump' until someone repeated it, then got it on tape.'"
In June 2017, he was fired from Rebel Media, a Canadian alt-right media outlet, for allegedly plagiarizing a video script from white supremacist Jason Kessler, who organized the Charlottesville rally. Despite the plagiarism, Posobiec has distanced himself from these groups but expresses similar sentiments. Before he was fired from Rebel Media, he managed to obtain temporary White House press credentials.
On August 16, Task and Purpose reported that Posobiec is a Naval Intelligence Officer in the United States Naval Reserve. This year he had his security clearance revoked for sharing classified information on Twitter. Posobiec initially denied the allegations, claiming his security clearance is on a hold status, though he admitted wrongdoing once the Navy confirmed the clearance was revoked.
"Posobiec, now a lieutenant junior grade, says his current billet out of Navy Operational Support Center Washington is 'administrative' in nature, handling personnel records. Previous officer fitness reports show Posobiec has had ancillary duties as a urinalysis officer and overseeing physical fitness testing in his units," Adam Weinstein wrote for Task and Purpose.