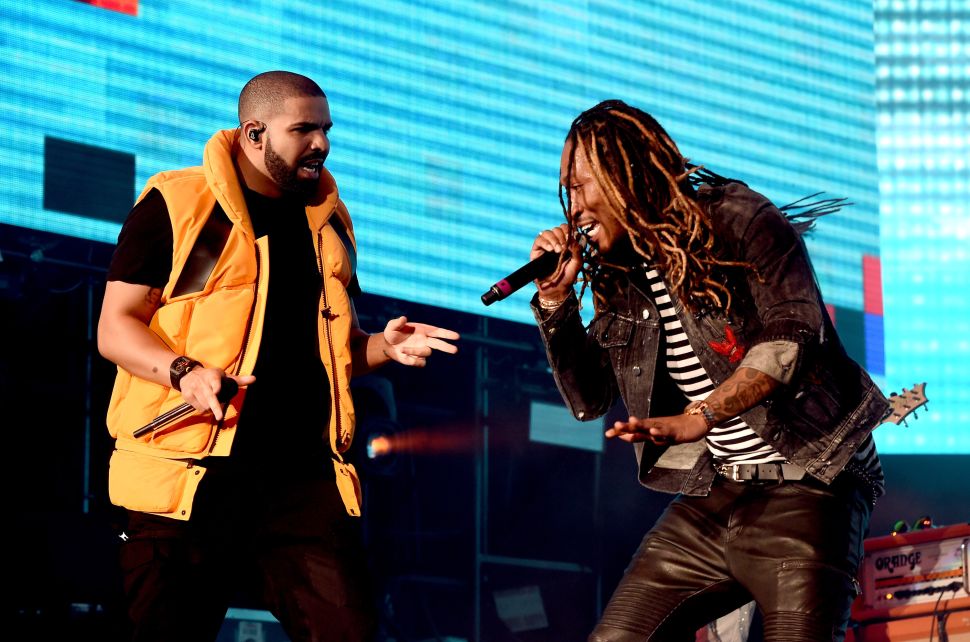 Rappers Drake and Future, along with others, are being sued for $25 million by a woman who was allegedly raped at the duo's concert in 2016, EW reports. The rappers are named in the suit over their negligence to prevent the attack.
The woman, identified only as Jane Doe in a lawsuit filed earlier this week in federal court, claims she was in attendance at Drake and Future's concert in in Nashville, Tennessee on August 12, 2016, per the outlet. According to her, a man approached her during the concert and claimed to be associated with the venue (Bridgestone Arena) and offered to take her backstage to meet the performers.
As she was following the man, who has been identified as Leavy Johnson, she claims he "suddenly…pushed Jane Doe to the ground and violently assaulted her, shattering her cell phone and causing severe physical and psychological injury," according to EW. The Tennessean reports that Johnson has been arrested and is currently awaiting trial on rape charges.
In the lawsuit, Jane Doe claims that Johnson had outstanding warrants for assault at the time of the concert. She argues that those involved with organizing and coordinating the event should have been aware of Johnson's criminal history and that his employment would "pose an unreasonable risk to others," according to the suit. Now, she is seeking at least $25 million in damages in addition to court costs.
Drake is currently working on a new album following last year's Views. Future joined Chance the Rapper this past weekend for a free concert in Chicago.