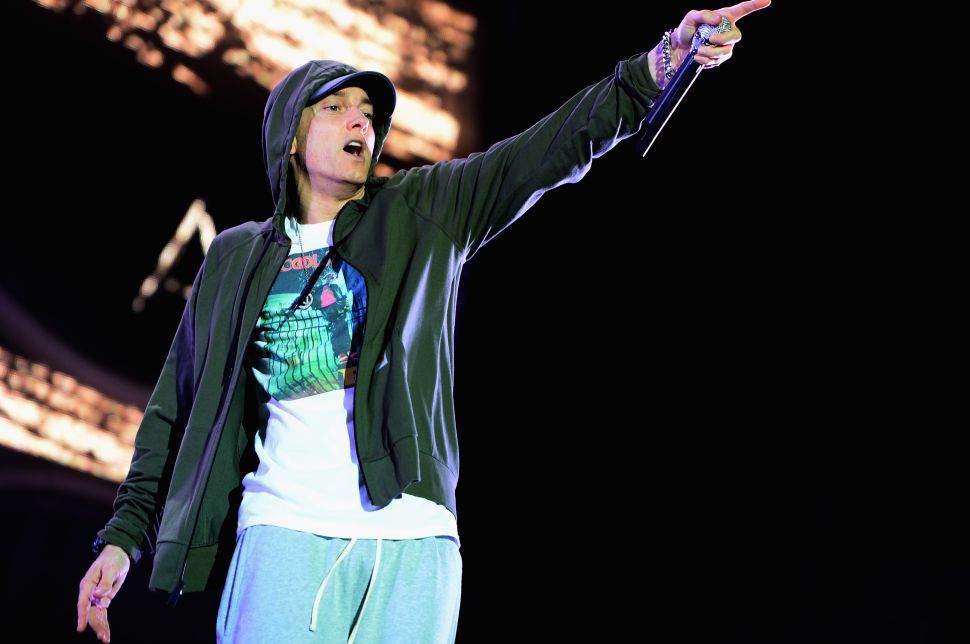 Eminem has never been afraid of sharing his strong opinions, so why would that change now?
On Saturday, the rapper performed at the Reading Festival in England where he called out President Donald Trump.
"So Reading," he began (per THR), "I'm not about to stand up here and use this fucking stage for some kind of a platform to be all political and shit, and I don't want to cause any controversy, so I won't say no names — but this motherfucker Donald Trump I can't stand!"
The audience then burst out into cheers and organized their own "Fuck Donald Trump" chant before Eminem interrupted and told them: "When I say 'Fuck,' you say 'Trump!'" That continued for several seconds before he said, "Cause he's got our country fucked up in America" before launching into his 2002 song "White America." There were roughly 90,000 people in attendance at the concert.
This isn't the first time the hip-hop artist has voiced his displeasure with the current Commander in Chief. Just last week, he wore a shirt that read "FACK TRUMP" during a concert in Glasgow. Prior to the 2016 election, Eminem released the song "Campaign Speech" last October where he rapped:
"You say Trump don't kiss ass like a puppet?/ 'Cause he runs his campaign with his own cash for the funding?/ And that's what you wanted?/ A fucking loose cannon who's blunt with his hand on the button."
In February, before the inauguration, Eminem was featured on the Big Sean song "No Favors" where he rapped:
"I'm anti, can't no government handle a commando/ Your man don't want it, Trump's a bitch/ I'll make his whole brand go under."
You can check out Eminem's full Reading Festival performance in the video below. His Trump comments come at the 11-minute mark.