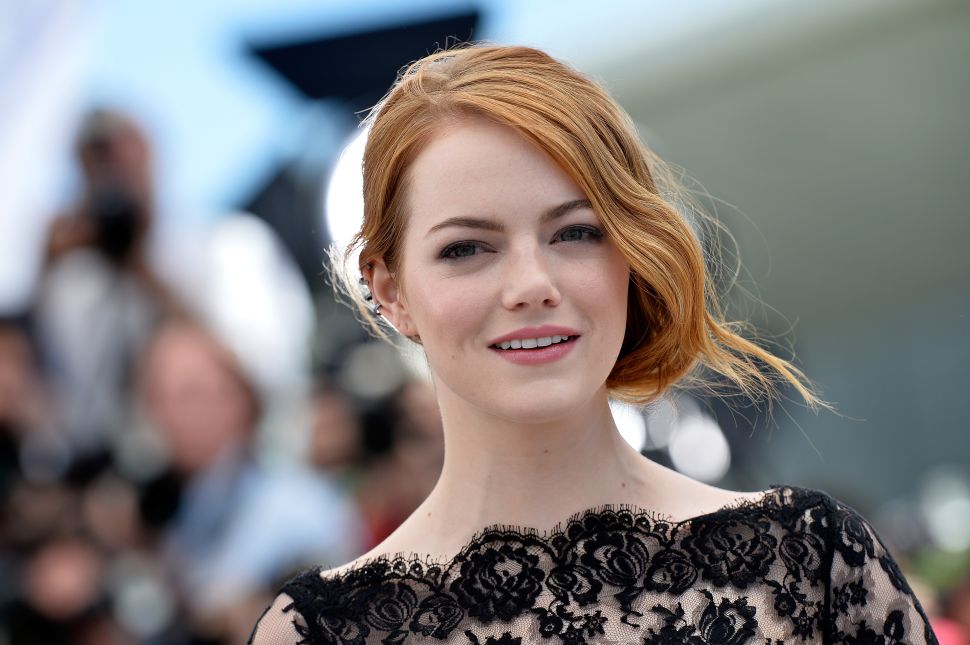 Given the on-going controversy surrounding the wage gap in Hollywood, being the highest-paid actress is more important than ever. Two-year reigning champion Jennifer Lawrence has been an outspoken proponent of equal pay and has helped raise awareness of the issue. Now that responsibility could be picked up by Emma Stone, whose $26 million pretax earnings tops Forbes' 12-month scoring period.
Jennifer Aniston was a close second with $25.5 million and Lawrence came in at third with $24 million (her horror film mother! comes out later this year). Last year, J-Law took home a whopping $46 million and yet still continued to work for some reason instead of sipping margaritas on a beach for the rest of her life. Curious. Rounding out the top five are Melissa McCarthy with $18 million and Mila Kunis with $15.5 million.
Aniston's dough comes from the upcoming movie The Yellow Birds and endorsement deals with Emirates Airlines, Smartwater and Aveeno, according to Forbes. On top of mother!, Lawrence also has a long-running deal with Dior.
Stone, meanwhile, topped the list largely thanks to her Best Actress Oscar-winning turn in La La Land, which grossed more than $445 million at the worldwide box office, according to Box Office Mojo. She will next appear alongside Steve Carell in Battle of the Sexes.
Stone has already addressed the concerning wage gap in entertainment and even admitted last month that she's had male co-stars who chose to take pay cuts to get everyone on the same page.
"That's something they do for me because they feel it's what's right and fair. That's something that's also not discussed, necessarily — that our getting equal pay is going to require people to selflessly say, 'That's what's fair,'" Stone said via TheWrap. "If my male co-star, who has a higher quote than me but believes we are equal, takes a pay cut so that I can match him, that changes my quote in the future and changes my life."
Combined, the top 10 highest-paid actresses earned $172.5 million between June 1, 2016 and June 1, 2017. This is down 16 percent from the $205 million they earned last year. This year also saw three women surpass the $20 million mark, one less than 2016.
We still have a ways to go until actors and actresses are earning comparable amounts. Anyone who says Stone didn't put as many butts in theater seats as La La Land co-star Ryan Gosling is crazy.