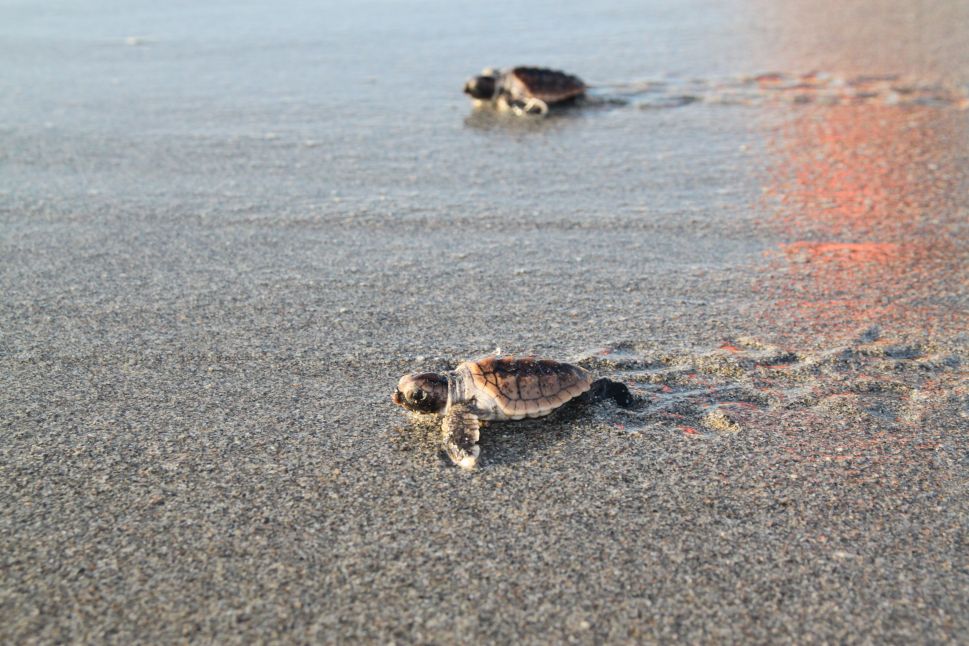 Along Juno Beach on Florida's east coast between March and August every year, thousands of sea turtle eggs lie buried in the sand above the water line, incubating for 45 to 60 days before they hatch. It's one of the most densely populated sea turtle nesting sites in the world, in part due to the gulf stream current bending toward Florida near the region and its close vicinity to the Sargasso Sea, where thousands of sea turtles live out the first few years of their lives. Their journey to get there is a difficult one: An estimated range of 1 in 1,000 to 1 in 10,000 hatchlings survive to full adulthood. They face predators ranging from fire ants to orca whales to humans. Three species of sea turtles—Green, Loggerheads and Leatherbacks—use the coast as their nesting grounds on Juno Beach. Each species is federally protected under the Endangered Species Act.
In the 1980s, Juno Beach resident Eleanor Fletcher noticed the threats sea turtles were facing and took the initiative to learn more about them. Despite having no scientific background, she conducted research on sea turtles at a time when very little existed. She earned a local reputation as "the Turtle Lady" from engaging her own curiosity as to why many sea turtle hatchlings became disoriented and traveled toward land instead of the ocean. Fletcher sought to educate local children on these creatures and the threats they face by teaching classes and establishing a children's museum in 1983. By 1990, the museum evolved into the Marinelife Center of Juno Beach. By 2007, the center moved and expanded into a state of the art facility, the Loggerhead Marinelife Center. Their conservation efforts include educational programs, an on-site hospital to care for sick and injured sea turtles, and tanks for disoriented hatchlings to stay safe before they are given a second chance to make it from the beach into the ocean. In 2016, over 50,000 students attended education workshops through the Center. Researchers with the Marinelife Center monitor a 9.5 mile stretch of beach on Florida's East Coast. Last year, they surveyed over 16,000 sea turtle nests, a record among recent trends, making Juno Beach a competitor for the most densely populated sea turtle nesting sited in the world. At the end of this year, the center plans to break ground on an expansion project that will nearly double the size of their current facility.
Though sea turtles are making some recovery gains in Juno Beach, the decline sea turtle populations have experienced globally is an alarming indicator of the deteriorating health of our planet's oceans. "They're a really good indicator species. They're like the canary in the coal mine that tells us about the health of our oceans. Our hospital staff works really hard to not just treat the patients, but if they see different patterns in the injuries or sicknesses, they take note of that and we study that and share those findings," Public Relations Coordinator for the Loggerhead Marinelife Center Hannah Deadman told the Observer. Deadman added that nearly every sea turtle that comes into the hospital has some form of plastic debris in their body and cites that scientists predict there will be more plastic matter than fish in the world's oceans by 2050. "All seven species of sea turtles are endangered. Certain populations are considered just threatened, so here in South Florida waters, loggerheads are considered threatened, not endangered, but globally they're endangered. With that being said, you might look and hear about the 16,000 plots of nests that we've had on the stretch of beach that we monitor and say, 'Well what do you mean sea turtles aren't doing so hot? It sounds like you had so many.' Yes and no. It's cool that we have so many. It's great we are at the center. There's a lot of other areas that don't have as many sea turtles."
Even before they hatch, the odds of survival are stacked against sea turtles. Raccoons, birds, plant roots, crabs, and fire ants are common predators of sea turtle eggs and hatchlings. In 2015, an entomologist with the University of Central Florida developed a method to kill fire ant colonies near sea turtle nests in Fort De Soto, Fla. by using a heated water pump, as hot water kills the ants. Excessive predation has been a significant conservation management concern in protecting and revitalizing sea turtle populations.
Additionally, poachers have targeted sea turtle egg nests to sell on the black market, with over 5,600 eggs documented as stolen since 1980. Earlier this year, two men were arrested with 500 sea turtle eggs they stole from nests on North Hutchinson Island, just over an hour's drive north of Juno Beach in Florida. Poachers in South Florida can make $3 to $5 an egg on the black market, where they are viewed as a delicacy or aphrodisiac, though there is no scientific evidence to corroborate this effect.
Each sea turtle nest contains around 100 eggs that will hatch and crawl into the ocean after 45 to 60 days if they manage to escape predation. The gender of the turtles is determined by temperature; females need a temperature of 88 degrees Fahrenheit and above to develop, while males generally need 82 degrees Fahrenheit during incubation. Anything in between these temperatures produces a mix of males and females hatching from a nest.
"From that point, the turtles have a swim frenzy, so they will swim for about 24 to 48 hours out to Sargasso Sea," Caroline Tapley, a science educator with the Loggerhead Marinelife Center, told the Observer. "The Sargasso Sea can range from five to 20 miles offshore. From there, they will live out their lives for five to 10 years as an estimate—we don't really know 100 percent on that. But they will live out in the Sargasso seaweed and feed on the various crustaceans, fish and shrimp there. Then they will circle around in the currents of the Atlantic, and then they'll come back inshore once they're mature." Sea turtle hatchlings imprint the beach they are born on until full adulthood, nesting within a few miles of their place of birth, a behavior known as natal homing. Scientists believe female sea turtles use a geomagnetic imprint to find the nesting grounds where they were born and rely on these signatures to increase the likelihood of survival for future generations.