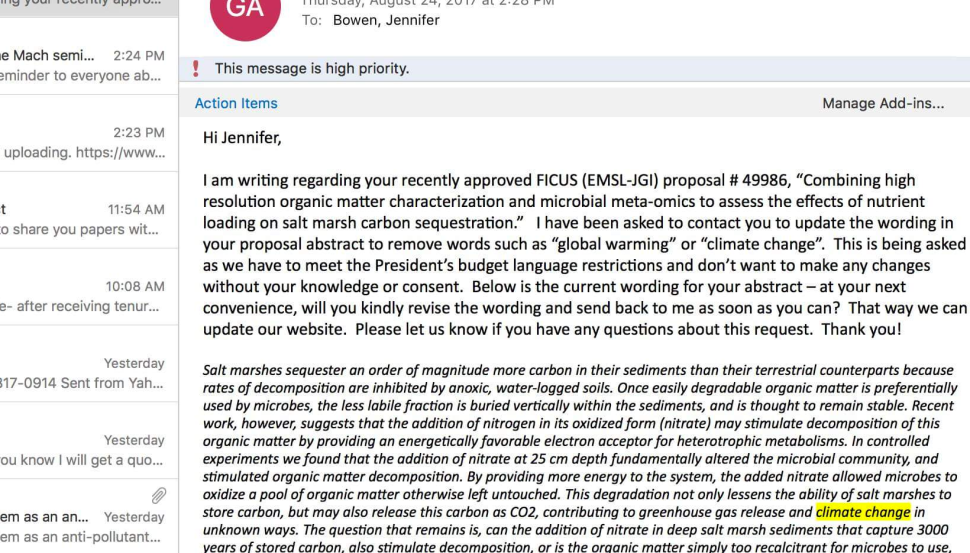 On August 24, the Trump administration's Department of Energy censored a Facilities Integrating Collaborations for User Science proposal from Dr. Jennifer Bowen, an associate professor of biology at the University of Massachusetts in Boston.
She posted a screenshot of the email on Facebook, writing, "This just happened. I'm just going to leave this here for people to ponder."
In the email, Dr. Bowen was told, "I have been asked to contact you to update the wording in your proposal abstract to remove words such as 'global warming' or 'climate change.' This is being asked as we have to meet the president's budget language restrictions and don't want to make any changes without your knowledge or consent. Below is the current wording for your abstract—at your next convenience, will you kindly revise the wording and send back to me as soon as you can? That way we can update our website." The words "climate change" and "global warming" were highlighted for removal in the proposal.
Dr. Bowen wrote that the email is "totally real and terrifying."
On the Department of Energy's website, a press release was issued on August 23 announcing the acceptance of 14 Joint Genome Institute proposals, including the one Dr. Bowen submitted. The press release notes the following:
"Jennifer Bowen of Northeastern University and co-PI Jonathan Sanderman of Woods Hole Research Center will combine high resolution organic matter characterization and microbial meta-omics to assess the effects of nutrient loading on salt marsh carbon sequestration. They will analyze sediment samples from three-meter-deep cores, where the deepest sediments are approximately 3000 years old, that have been collected as part of a multi-investigator project studying the long-term nutrient enrichment of salt marshes at the NSF initiated Plum Island Ecosystem Long Term Ecological Research site. Their goal is to obtain new insights into the forces that control carbon storage in salt marsh sediments and how exposure of those sediments to a critical global change driver, nitrate enrichment, alters carbon storage capacity, a critical ecosystem service."
In March 2017, Politico reported that "a supervisor at the Energy Department's international climate office told staff this week not to use the phrases 'climate change,' 'emissions reduction' or 'Paris Agreement' in written memos, briefings or other written communication, sources have told Politico." It appears that censorship has permeated into other aspects of the Department of Energy, including censoring scientists who contribute research and data to the government agency. The action came shortly after Trump signed an executive order repealing several of Barack Obama's climate regulatory initiatives.
The Guardian reported earlier this month that the U.S. Department of Agriculture's Natural Resource Conservation Service (NRCS) has been censored from using the term "climate change." They have been directed to use the phrase "weather extremes" instead.
Scientists have feared the Trump administration's efforts to scale back and undermine climate change initiatives. On August 7, The New York Times reported that scientists from 13 federal agencies leaked a climate change report for fear it would be censored or its findings would be prevented from release. The Trump administration is politicizing and manipulating scientists' work and research to better fit its own political agenda, which favors industries that profit from suppressing climate change science.
The Department of Energy's Joint Genome Institute has not yet responded to a request for comment.