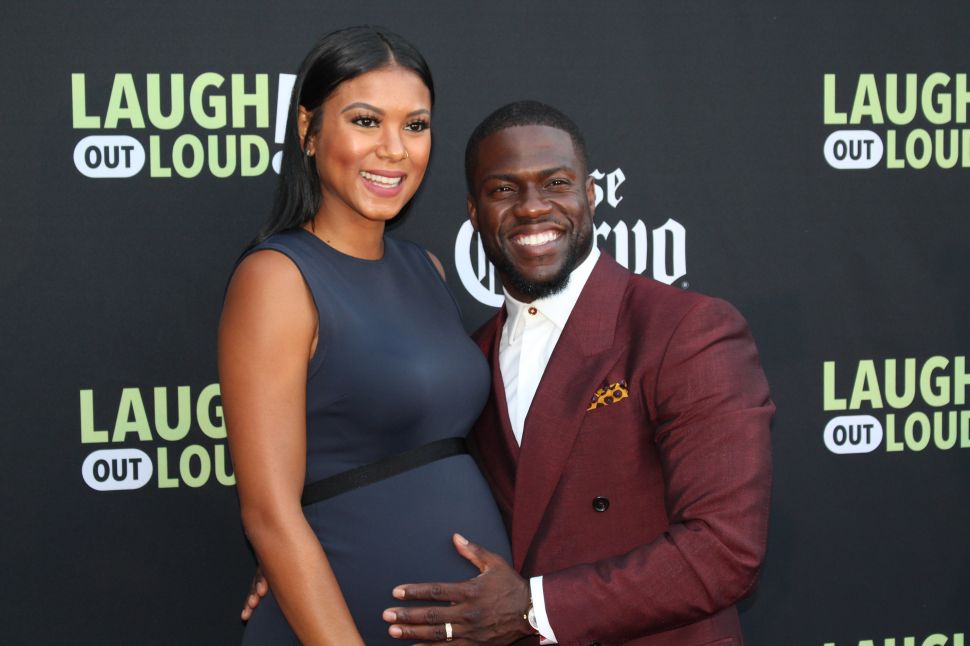 Creating a lifestyle blog, collaborating with a well-established fashion designer, releasing your own scent or starting a charity was once the domain of only a certain level of celebrity. But the prestige of being a hyphenate actor, singer, designer, philanthropist, and producer is no longer so unique. Now, it's almost unusual if a celebrity doesn't have their hand in multiple money making outlets. Following in the steps of Oprah Winfrey, queen of the self-branded universe, we've seen celebrities such as Jessica Simpson, Jay Z, Jessica Alba, Ellen DeGeneres, Kanye West, Lauren Conrad, Danny Trejo and Gwyneth Paltrow create their own mini empires. And with the launch of Laugh Out Loud, the new multi-platform streaming network which offers an entire slate of scripted and unscripted comedy straight to your phone, Kevin Hart joins that list.
The actor, stand-up comedian, best-selling author, and producer has the backing of Lionsgate CEO Jon Feltheimer, who fully funded the venture, offering Hart 50 percent ownership and full creative control. It was an opportunity impossible for Hart to turn down. Laugh Out Loud was launched last week in a star-studded kickoff party at a private residence in Beverly Hills.
38-year-old Hart seems to be taking on his new role with both excitement and ease. At the launch party, looking healthy and fit in a custom maroon suit, flashing a megawatt smile while posing with pregnant wife Eniko Parrish, he slipped right into stand-up mode while explaining the passion for his latest venture.
"I don't want talk about me, the comedic rockstar that sells out theaters and stadiums around the world," Hart said. "The me that has the highest grossing stand up tour ever. I don't want to talk about that. Or me, who does TV and blockbuster movies, or the entrepreneur me that has a sneaker with Nike. Or me, that his own underwear line coming out with Tommy John. Or the me that's a best selling author. I don't want to talk about that," he joked.
Harkening back to the early days of his budding career Hart said, "I was posting on Youtube, Facebook, Twitter, Instagram, and Myspace, when Myspace was still a thing, because I was trying to get as many eyeballs to see me do my thing as I possibly could. With hard work, I've been blessed with a successful career, and now with Laugh Out Loud, I want to make it easier for the wave of that young, funny talent to do the same. We want you to have one destination to see all that hot new talent, and [provide] a vehicle for the world to see them. This is dope, loud, unfiltered comedy delivered to you daily. This will be the destination for stand up, sketch comedy, original sitcoms—365 days a year."
After watching a sizzle reel of Laugh Out Loud's current slate, which includes Kevin Hart: Lyft Legend, Dead House, Black Geo, Inglorious Pranksters, originals shorts by GloZell, in addition to back catalogues of all-star stand up specials, what stood out was actually an absence: not one was politically fueled.
I didn't hear one Trump, Clinton, or Putin joke, which in today's oversaturated politically satire climate, was actually refreshing. I'm a huge fan of Stephen Colbert, Samantha Bee and Last Week Tonight, but it takes just one glance at Comedy Central's lineup to know shows like that are multiplying by the week. That brand is covered, and by highly capable, hilarious people. So while much of the original content on Laugh Out Loud can seem mindless and silly, it's actually refreshing.
During the kickoff party, I got to speak with another celebrity turned CEO, Snoop Dogg, who seems to have been inspired by Hart's initiative and considering creating a niche network of his own.
"Mine would be strictly for weed," Snoop said. "A twenty-four seven weed network. Coming to a hood near you. Anything that's weed relevant. Weed commercials. Infomercials TV shows. Game shows. Everything."