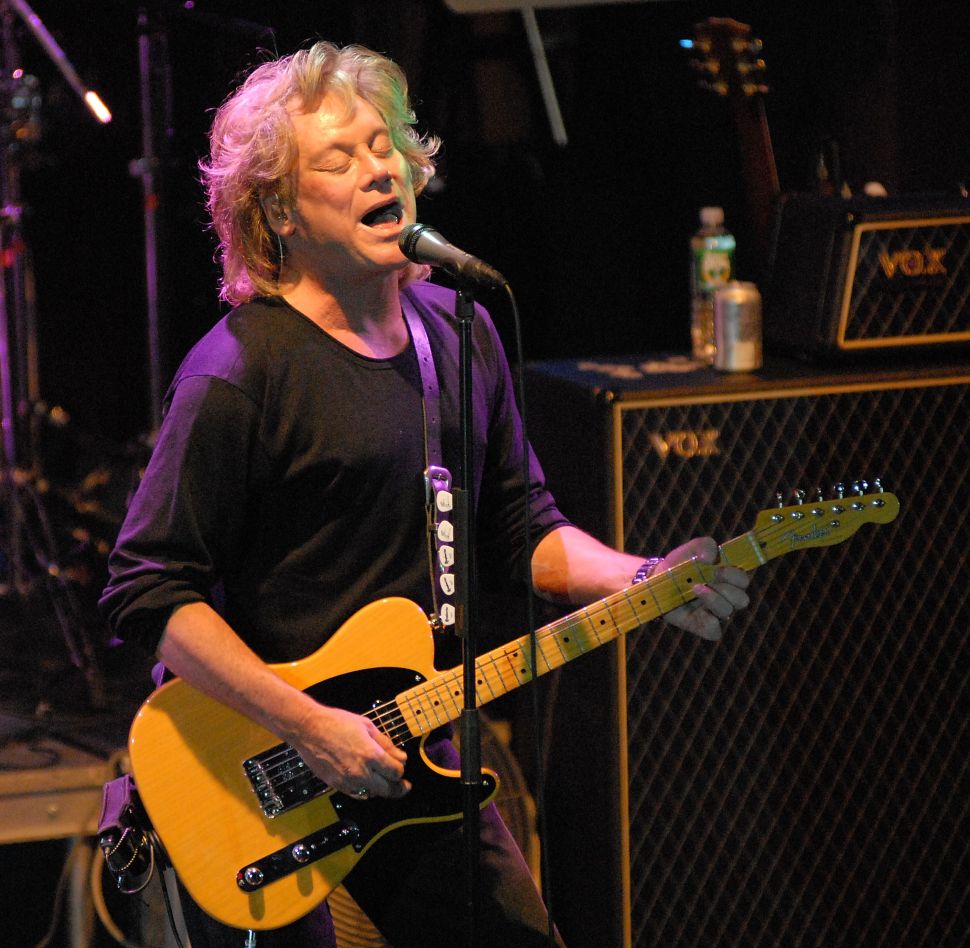 Those who know me now find it hard to believe that I was ever involved in rock 'n' roll. But it's true, I was. And I used to think that all the hearing loss, crummy bars, overdue bills, disappointed relatives and missed college would be worth it if I could only write a single perfect song. 
Eric Carmen has written dozens of good songs, a handful of great songs, and at least two perfect songs: "Go All the Way" and "All By Myself." As the founder of Cleveland's greatest band (forgive me, fans of the Michael Stanley Band and Pere Ubu), Carmen's Raspberries were the Midwest's answer to the Beatles and the Beach Boys. "Go All the Way" took about 15 seconds to get to its soaring and improbable chorus
Carmen's songs have been covered innumerable times, from Shaun Cassidy's versions of "That's Rock 'n' Roll" and "Hey Deanie" to "All By Myself," covered by Celine Dion, Babes in Toyland, John Davidson, Jewel, Tom Jones, and Hank Williams Jr to Motley Crue's cover of "Tonight" to John Travolta's rendition of "Never Gonna Fall in Love Again." He's written hits for others ("Almost Paradise" for Ann Wilson and Mike Reno, who wore a headband). And he's had hits with others' songs, too—that's him crooning "Hungry Eyes" for the Dirty Dancing soundtrack.
I wrote the words above almost 20 years ago, when I first met Eric Carmen. I interviewed him for Green Magazine and we became sort of friendly—our shared interest in investing and in Cleveland, where he still lives and where my dad was born and raised, sustained several IM chats and an occasional phone call. I remember him telling me that he went to his broker at PaineWebber and said, "Why would I own Rubbermaid when Cisco Systems (Nasdaq: CSCO) exists?" He went on, "I bought a bunch of Cisco and did real well with it. The people surrounding me at the time were more conservative than I was. I mean, the future was Intel (Nasdaq: INTC), Cisco and Microsoft (Nasdaq: MSFT)—the tech world."
The fact that Carmen happened to select, months before the dot com crash, three tech names that endured amid the thousand that didn't speaks to some eternal quality in the work of this thoughtful songwriter and A-plus singer.
And now he's got a new reason to talk.
In November, 2004, the Raspberries played together for the first time in more than 30 years. This year, on August 18, Omnivore Recordings will release a 2-CD set called Pop Art Live that captures the infectious still-got-it energy of founding members Carmen, Wally Bryson, David Smalley and Jim Bonfanti power-popping through 28 songs including all their hits and some deep tracks, as well. Cameron Crowe contributes the liner notes and you can trace the DNA through the artists who acknowledged their influence, from Bruce Springsteen to Paul Westerberg to Jon Bon Jovi to Paul Stanley. (John Lennon was also a huge fan and one of the best ever photos of Lennon shows him wearing a Raspberries t-shirt).
With the record coming out, Eric is doing some publicity and he asked me to interview him. I did so, at a length befitting a couple guys who love to talk.
Observer: I know so much about your musical career and even your personal life and I know you, but in preparing to do this I was going over some of your old interviews and the scene where you first met Ringo as he was forming the All-Starr band and you say, "You're Ringo Starr…"
Eric Carmen: … and he says, "Yes, and you are Eric Carmen." And then we actually talked about the songs I was going to play. A bunch of us were wandering into a press conference announcing the band that would be put on by Century 21 in New York, and the band members are all kind of wandering in individually. Jack Bruce came in and Ringo came in and I just looked at him and I thought, "You're Ringo Starr aren't you?" "Yes, and you're Eric Carmen." We talked about the songs and everybody had received a CD in the mail of everybody else's songs and Ringo's just tells us to kind-of get familiar with them and maybe even learn them ahead of time. When Go All The Way came up he said, "I'm going to be taking a break on that one. It's much too frantic for me."
Far be it from me to correct you, but I heard a version of that story where it's actually Tonight, not Go All the Way.
I actually wanted to do Tonight, I hadn't planned to do Hungry Eyes live, and at some point I think Mark Rivera said something to Ringo about it and Ringo said, "How big a hit was Tonight?" And I said, "Top 40," and he said, "How big a hit was Hungry Eyes?" And I said, "top three." He goes, "We're playing Hungry Eyes." And that was the end of that conversation. 
How does a song like Hungry Eyes, a giant hit that's so perfect for your sort of lounge-y style … how did you not write that one?
Jimmy Ienner, the Raspberry producer who also produced my first album, called me up one day. I hadn't actually talked to him in probably 10 years. Jimmy said, "I'm working on this film called Dirty Dancing with RCA Records and I think that you ought to sing this one song." I said, "Do you have a demo?" and he said, "Yeah." And I said, "Well send me the demo, I'll take a listen to it." Normally don't do other people's songs, but I listened to this song and he says, "The director loves this song …" and that said to me Jimmy owns the publishing.
There you go.
It turns out he had signed this band called Franke and the Knockouts back in the 1970s or '80s to his Millennium label, and Franke and a guy named John DeNicola had written both I've Had The Time of My Life and Hungry Eyes. Once Jimmy said, "No, no, no, the director loves it," I thought about how I could rearrange it and add some spunk. The demo kind-of sounded like Air Supply with John Bonham on drums.
You've got to let me use that quote. Come on Eric. That's a great one.
I didn't know it at the time, but it turns out one of my very best friends played drums on the demo. His name is Tommy Allen and he's actually the guy who mixed the new album Pop Art. He and his brother used to own a record store in Syracuse, I think, or somewhere in that area, and his mom even used to send me postcards, and it was like if you weren't a Raspberries fan, Tommy wouldn't be friends with you. I told Jimmy, "Okay, I will do it if I can produce it." I hired a bass player and a guitar player and I went into a local studio in Beachwood, Ohio on a shoestring budget. In about five days we recorded, sang and mixed the whole thing, and off it went to Jimmy in New York. The next thing I knew the movie had come out, and a month or two later I got a platinum plaque in the mail.
Jesus.
I want to say, it's the 13th biggest-selling record of all time in front of "Sgt. Pepper," which is really crazy. I read the list of top albums of all time, and somewhere just behind that is Celine Dion's "Falling Into You" album which contained All By Myself. At 21 was "Abbey Road." I thought, "I've got two songs in the Top 15 albums of all time, that's not bad."
The Raspberries, and your songwriting in general, were often sort-of dismissed. You all dressed the same and stuff, and yet you influenced all these bands that had all this cool credibility, John Lennon being the most obvious example. But to me, listening through it again, I'm hearing all kinds of Mott the Hoople and Lou Reed that took your stuff and ran with it. Speak a little bit about how it felt to sort of be dismissed as this teenybopper band when it's clear so many were influenced by you.
Well, I designed the band to be a certain type of band, and the reason we ended up dressing alike is because we were trying to attract attention, because every other mode of dress had been done and prog rock had just taken over FM radio in 1970. Almost every band had hair down to their waist and beards and ripped jeans and they looked like a bunch of hippies, and I wanted to get as far away from that as I could. And, frankly, we actually had black suits first and the white suits were kind-of an afterthought. But those got all the attention because they weren't a good idea. I will readily admit I had some really good ideas for that band—the white suits was not one of them.
On the other hand, people did remember us. I remember we opened for the Doobie Brothers in Atlanta back in the early '70s and when we walked on stage people kind of scratched their heads and went "who the heck is this? Are they like a lounge act?" And unfortunately, Capital Records, bless their little hearts, they didn't get that "Raspberry" was the Bronx cheer. It was not four little fuzzy red fruits, it was somebody poking progressive rock in the eye. Rock critics got it and 16-year-old girls got it, but you know, the 18-year-old guy who liked Megadeth was never going to like the same record his sister did. So people tended to dismiss us at the time. But over the years … The first time I met Bruce Springsteen, I walked in his dressing room before a show and he was writing out the set list and we both looked at each other for a couple of minutes—I was very uncomfortable being on the fan end, so I felt a little stupid. But Bruce looked at me and he goes, "You know, while I was writing "The River" all I listened to was Woody Guthrie and the Raspberries' greatest hits. I must have worn out three copies of that record," and I went, "That's so cool, because while I was writing the "Boats Against the Current" album all I listened to was "Born to Run" every day." You know, the two don't sound anything alike. I remember listening to "Born to Run," because I could hear every rock and roll trick that I knew and Bruce used them all. I knew that we were listening to the same records. Matter of fact, we worked in the same studio in New York. He came in right after the end of the Raspberries at the Record Plant in New York.
At the Record Plant on 44th Street, where I worked at the Observer. That's where the Observer was until we moved.
That's amazing. That's where Battery Studios is now, and where Mark Wilder remastered all our records in the actual space where Record Plant used to be. Bruce came in and he worked with Jimmy Iovine who, if you can believe this, was our second engineer. He went for pizza. The guy who sold Beats for $3 billion and now works at Apple used to go for pizza.
But from what I heard Bruce kind-of listened to the Raspberries and said "that's good." And when I heard Jungle Land for the first time I thought, well that bears a striking resemblance to the piano part that opens Starting Over. So it's been an amazing awakening for me to hear that Axl Rose and Slash are huge Raspberries fans, so are Poison, Courtney Love, Cherie Currie from the Runaways, Paul Westerberg, Mike Mills, Dave Grohl and Taylor Hawkins from the Foo Fighters.
I love it.
Motley Crue recorded Tonight and it's great fun to hear other people do my stuff. The only problem with it is it's so damn hard to play. When I was rehearsing with Ringo and the All-Starr band, there's Jack Bruce, who is a classically trained cellist and the bassist and lead singer and songwriter of Cream, not exactly a lightweight, and Dave Edmunds on guitar, and Simon Kirke on drums, and Mark Rivera the sax player to Foreigner, and Billy Joel, and Ringo. We were rehearsing in Atlantic City and some rock writer came backstage one day and was interviewing the band, and at some point asked, "Whose songs are the hardest?" and the entire band swirled around and pointed at me and said, "Eric's!"
All those key changes.
People thought the Raspberry stuff was real simple. I remember I was trying to teach the band Go All The Way and Dave Edmunds looked at me at some point and he said, "For God's sake there is a fucking chord for every word! I've never seen anything like this."
You're not even hitting on the hardest part. What I have been most frustrated with you about is how damn hard your songs are to sing. The vocal range is crazy for rock songs.
It really is, and I didn't do myself any favors. When we re-formed in 2004 and I was then 54 and I had to go back and try to sing some of these things. For the most part I was fine. But I remember trying to sing Let's Pretend live, even when I was 23 and we had just released it, and after four or five nights on the road it was damn near impossible to hit those high notes. I look back on it now and I think why in the world did I do that to myself? And the reality was that I actually desperately wanted a falsetto voice because I wanted to sing like Brian Wilson, and for years I just couldn't figure out why I couldn't do that. There's this little break in voice that Brian does. I love the sound of it and I kept writing these songs in ridiculously high keys wanting to sound like Brian. One night in about 1977 or 78 I was in Los Angeles and I was at a party on New Year's, and I was sitting at the piano in this house and Brian came over. I was playing and he started to sing and he immediately broke from this great baritone into a falsetto and I looked at him and I went, "Dammit, I've been trying to do that my whole life. How is it that you, with this great profound baritone voice, can just like pop right into a falsetto?" and he said, "Well of course you can't do it, you're a natural tenor. Tenors can't have a falsetto voice."
I played your first solo record the other day and when you get to All By Myself, That's Rock & Roll, Never Going to Fall In Love Again and Sunrise, I'm just like, this is a career right here.
I think the fifth song was Last Night, which you need to buy the Essential Eric Carmen to really hear. It is so much clearer and it sounds now the way I had hoped that it would sound in the studio, and it just didn't.
I'm headed to Amazon right now to do that. But how did these pour out of you? What was happening in your songwriting heart that these songs were just coming out of you so clean?
I think a lot of songwriters, writers ever, if you've made it through your teenage years with all that angst, you start to write their really good stuff around 21 or 22, and somewhere around 27 or so is the peak. My favorite author is F. Scott Fitzgerald and I actually looked it up because I was curious, he started writing The Great Gatsby at 26. That's the peak, then they either die, or if they can get through 27 they're okay.
Yeah, that's a famous dying age in rock—Jimi Hendrix, Kurt Cobain, many others.
Jim Morrison and on and on and on. I don't know why that is. But what happened to me is that basically when I formed the Raspberries I handpicked these guys, because they had been in a bar band called the Choir that I used to go see. They were one of the first mod bands in Cleveland that was really, really good. I had actually heard in high school that there was this band called the Choir, and they had this bass player people called "The Squire." His name was Dave Burke and he was supposedly just unbelievably great. So a friend of mine and I went out to Chagrin Armory one night to see these guys, to go see The Squire play, to see if he really was as good as people said. Lo and behold, he was. He was like a savant on the bass. He was like John Entwistle in your local band. So I went and saw these guys and they became my heroes, and at one point I actually tried to get an audition with them to join their band, because I thought boy, I saw Wally Bryson playing guitar and I just sort of instinctively realized the yin and yang of the two of us together would be really powerful. It's that same kind of dynamic that Steven Tyler and Joe Perry have, and Mick and Keith and Robert Plant and Jimmy Page. He's the dark evil one and I thought boy, if I could get in a band with that guy we could do some damage. I tried, and they just didn't want to audition me. And that was that. So I said all right, well I'll just have to go form a band of my own and they'll be sorry. So I joined a band called Cyrus Erie that already existed. We got rid of a couple of guys, and one day the Choir threw Wally out of their band and he came to hear my band, which by that point had become pretty popular, and after the show he walked up to me and he said, "You were right, we should have got you." I called the other guys and I said, "How would you like Wally Bryson do be in our band?" The next day he came in and joined the band and we were off and running and quickly became the most popular band in town.
So I handpicked these guys because I had a certain idea, which is that I loved the Who more than anybody, and I loved the Beach Boys' harmonies and the Beatles' songs, and so I wanted to really form a band that could play beautiful melodies like the Beatles wrote, sing backgrounds like the Beach Boys but with the power of the Who. When we played locally, before we started writing our own material, we played everything the Who ever recorded, and we played probably half of the Beatles catalog as well. So I knew what everybody's strength was, and I knew what they weren't great at. So all the songs that I wrote for the Raspberries were written to accommodate the styles of each guy in the band. I knew Jim could play like Keith Moon when I pushed him and Wally could play like Pete Townsend and we could sing certain kinds of harmonies, and so I crafted those songs to take advantage of all of our strong points.
Well, when the Raspberries ended in early 1975 suddenly I didn't have to write to anybody's strengths or weaknesses. I was completely wide open and I thought wow, I can write anything I want now. I can use session musicians. I can find another band that sings like the Beach Boys, I can do all kinds of things. Unshackled from having to write for three specific guys and myself, my brain just kind of opened up. Also, I didn't want to make a record that sounded just like the Raspberries, because I thought Jesus, everybody will go, "Oh, here he goes again, he's just repeating what he already did." Hence, All By Myself, which was certainly as far away from Go All The Way as you could get. The only two people who wanted that to be the single were Clive Davis and me. It bucked all the rules as to what a single should be, which was three and a half minutes and up tempo. I wanted it to be the first single because it was the furthest thing from the Raspberries, and I wanted people to understand that's not all I can do. The Raspberries had recorded some ballads on every one of our albums, but after Go All The Way was successful Capital pretty much wanted to hear nothing but Go All The Way. Unfortunately, after All By Myself all Arista wanted was son of All By Myself, so I was just in a different box, and that created a lot of friction between me and Clive because I was at heart a rocker. But the thing about the Beatles that I love most is that if you listen to Abbey Road you hear all kinds of different songs. Most bands play one style of song. If you listen to Metallica it all sounds exactly like Metallica, and if you listen to Black Sabbath it all sounds like Black Sabbath. I like AC/DC a lot but you can pick those sounds out on the radio in a heartbeat because they all have certain things in common. With The Beatles, you would hear Polythene Pam and Golden Slumbers and Come Together and they could all be from different bands. You know the common denominator was they were all good, and all fabulously produced by George Martin. But it was the variety of the stuff that always attracted me. Brian Wilson, to some extent, did the same thing. He would write Wouldn't It Be Nice, but on the same record wrote God Only Knows and Caroline No. And so he could write not only up-tempo things like Dance Dance Dance and Fun Fun Fun, but he could write beautiful ballads. The problem is most record labels are much more comfortable fitting you into a certain slot, which is why Capital decided that the Raspberries were always going to be Go All The Way, and Arista decided that I was going to be another romantic balladeer like Barry Manilow.
I think Boats Against the Current is a great, great song.
That was always my favorite one. It was when I wrote it and it was for many years afterwards. It's from the second last paragraph of Gatsby. Gatsby believed in the green light, the orgiastic future, that day-by-day recedes before us. Tomorrow we run faster, throw out our arms farther like boats against the current receding into the past, or something pretty close to that. But people who have moved forward in time are trying to recapture something in the past that is can't be recaptured, which is the story of Gatsby, and pretty much every other thing that Fitzgerald wrote. I had written everything else for the second album, but I didn't have, at that point, what I consider to be the title track yet. At that time, I was thinking nowhere to hide would be the title track, but I didn't like it. I didn't love that as the title or the lead track, and one night I went to bed and I literally woke up at 4 o'clock in the morning and I dreamed the song. And I wrote it down—wrote the first two verses down on that piece of paper. I heard it so clearly in my bed that I didn't even get out of bed and go to the piano to try it out. I just knew what it was going to sound like. So I wrote the words down, went back to sleep, and the next day I got up and played it and I went "that's just what I thought." I wrote the second two verses and that was it.
I got my copy of that album out, and not only is your chest hair awesome, but the musicians on it are like a Ringo Starr All-Starr band. The band you put together for that, Burton Cummings, Jeff Porcaro—I think you've got one of the Beach Boys singing on it.
Yeah, Bruce Johnston. I actually had Brian Wilson in the studio one day.
So, you did this reunion show 13 years ago and now you're putting out the record, so go back and tell me how it was to be with the guys again.
It was a little nerve-wracking in the beginning, because there were a lot of tensions in the band. It's an age-old story. A friend of mine who I've known since the fourth grade and went all through school and high school with ended up now working for Irving Azoff out in Los Angeles. His name is Tom Consolo and I invited him to the New York shows to see what he thought. He came backstage afterwards and we talked for quite a while. He said basically all bands, when they form, are democratic. Everybody is going to be equal. But he said in reality there's never an equal distribution of talent and there's never an equal distribution of drive, and eventually one or two guys come to the front, and they become the ones that the public key in on. Then the rest of the guys in the band have a choice, and the choice is to support these two guys, whether it's Mick and Keith or Steven Tyler and Joe Perry. I read one of the funniest interviews ever with, I think it's Tom Hamilton, the bass player of Aerosmith, and he calls himself and Joey Kramer and the other guy "the three less interesting guys."
Like Brad Whitford or something, I'm straining …
Honestly, by the third or fourth Stones album if Charlie Watts or Bill Wyman had come in and said, "Hey, I want more of my songs on the album and I want to sing lead," that would have been the end of the Rolling Stones. They would have either thrown them out of the band and replaced them, or the band would have broken up and Mick and Keith would have gone off and done something else. So Tommy said that's basically what happens in all bands. The other guys either decide to support the two front guys or they don't, in which case they are challenging the front guys for leadership and the band breaks up and the front guy goes solo. That's pretty much the story of the Raspberries. At a certain point, it's my concept for the band and when Tonight didn't do as well as the previous singles some of the members of the band blamed me, and things started to get heated and there was a discussion about the direction of the band. Harsh words were exchanged and eventually Dave Smalley left the band and Jim Bonfanti left with him because they were best friends. Jim and I have been friends for 45-plus years and he said, "I wish I had that choice to make over again."
So, it was difficult on a number of levels, but I think we all went into it trying to put bitterness aside. I'm the eternal optimist, so I said, "Let's just get out there and have fun. Our lives don't depend on this anymore. We weren't like, "Oh this gig is going to restart our careers are the age of 54." We said, "Let's just play for the fans. Pick up a guitar and have fun." It was only supposed to be one show, for the House of Blues grand opening in Cleveland. The booker's wife had said, "You want to do something special," and she said, "Why don't you see if you can get the Raspberries to get back together?" And so he called our drummer and the drummer called me, and I had played the Chicago House of Blues and the L.A. House of Blues during the Ringo tour. We called Wally and Dave and they said okay. Wally was a little reluctant, but I said we won't play any of my solo stuff because I don't want anybody to think that the focus of this is me. It's going to be the Raspberries and I want this to be strictly about the band.
You said it perfectly with the Charlie Watts thing. Bands have always tried to do this. Dave Davies or John Entwistle or Bruce Foxton get a certain number of songs and everyone has to go "okay, we'll get through this until we get to the real songs" and it's ridiculous.
Obviously in Aerosmith and in the Rolling Stones the other guys were smart enough to realize hey, we've got a good thing going here. Mick and Keith are the shit and so are Steven and Joe. Let's just stand here and be the best rhythm section they could possibly have, and in so doing we get to make a whole lot of money and have fun. In the Raspberries that wasn't exactly how it went. It was constantly a struggle. To this day Wally Bryson says, not more than a year and a half or so ago he was talking about the Go All The Way intro,  and he says, "That's what a real band sounds like until the Bing Crosby part comes in, until the singing comes in." He never really got it. He didn't get the concept. It was that back and forth between a rock band part of it and then it went to Don't Worry Baby for the verse, you know. Or Walk Away Renee for the chorus and then back to the Who. It was the contrast of all those sections, and to this day he doesn't really get it. He just thought we should have played like the intro straight on through, and he would have liked that better.
That's so disappointing. There's a Chicago band called the Smoking Popes who started to get a little bit big. They had a couple of songs in movies until the leader became this heavy-duty Christian and left it all, but they do that thing, I'm sure they took it from you, but they were this really hardcore punk band with this sort of Frank Sinatra-ey crooner, and it's so good.
Yeah, when I heard that Tim Burton had asked the Killers to do a remake of Go All The Way [for the film Dark Shadows] I thought well, that's going to be darn interesting. And I went to see the film and here it was, and they've got the same kind of lead singer, you know, he's a crooner. I actually thought it was pretty cool, and they didn't even play the intro, which Wally refers to as "my intro." I have to rather pleasantly remind him that "you know Wally actually I believe Dave, Jim, and I also played on the intro and I wrote it on the piano, so what you did is you played guitar on my intro."
That's so funny. I love it. Bands are the best.
So the show that was recorded and that's coming out was the very first show, so it was probably the one where everybody was staying in line the most. By 2009 things had begun to completely come apart at the seams, and I remember we played one show at the Rock Hall for Terry Stewart who, it was right before the 2009 induction ceremony. The night before there was a big VIP party and Terry asked us to play in. There was one point where Wally played some stuff on stage and Jim and I looked at each other and without saying anything we just both knew this is it. We're done. It's the last time we're ever going to play, and that was it. So, there you have it.
Eric, what a treat. What a pleasure and honor to talk to you. You've enhanced my life so much. I feel so grateful. I mean it, you have enhanced my life immeasurably, from the time I was five or six years old. I'm 48 now, it's like 40-plus years of me yelling Hey Deanie at the mirror.
I look at your posts. I see you playing in your band and it's so cool, and I see you and your kids with the yarmulkes and I'm proud. It's so awesome. Reading your stuff and watching you on Facebook has enhanced my life as well, and I'm 20 years older than you are. And by the way, I'm a fan of Jared's. God knows what he got himself into here.