We've all heard that the road to mindfulness is through minimalism, sure. But every now and then, we all need a little matter over mind. A ritzy roster of destination spas opened anew this year, following extensive additions and renovations heavy on the glitz and glam. Lather up at these five lavishly refreshed spas, now well-equipped for those who enjoy a heavy dose of luxury in their relaxation routine.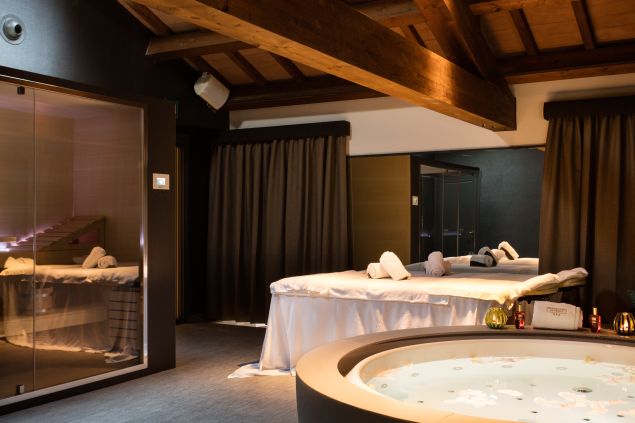 Not all spas stop at private treatment rooms as their highest luxury—some begin by setting their services on a private island. The Merchant of Venice Spa is the latest gem at San Clemente Palace Kempinski, a retreat tucked in the Venetian Lagoon, on its own island. The spa is the first of its kind, partnering with the local perfumery, The Merchant of Venice, to create an aromatic experience based on ancient recipes, using notes like bergamot, jojoba, and sandalwood. Two floors include everything from a Finnish sauna to a Turkish bath, but the most striking indulgence is the signature facial treatment; wherein eleven sheets of gold leaf are layered one by one, over a base of vitamin E. The treatment allows micro-active particles to absorb into the skin before a final serum is applied to lock in the benefits. Custom-made by Mario Berta Battiloro, among the last remaining ateliers in Europe that still sells gold leaf for cosmetic use, the facial softens, relaxes, stimulates, and mints a 24-karat golden glow.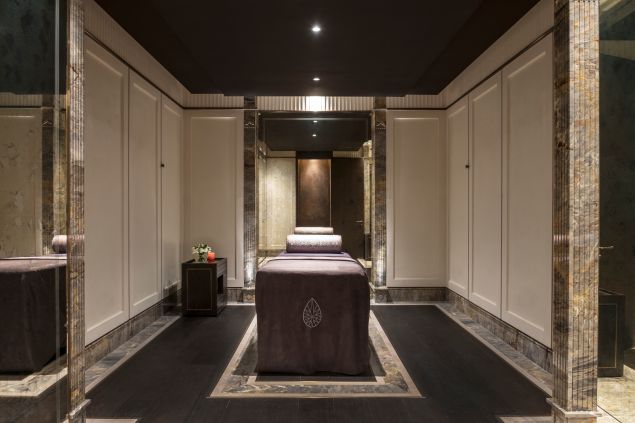 If ever there was a crown jewel in this London heritage-listed landmark, The Lanesborough hotel's recently opened Club & Spa is it. Making the most out of 18,000 square feet, it's slick with antique mirrored walls, polished brass accents, plush leathers, and immaculate patterned tile. The facilities, which include a glittering Painting Room and separate thermal suites for men and women, connecting to a hydro-pool, are seamlessly integrated into this Regency heritage building. Treatments range from full body massages with creams made with caviar extract—a £220 ($283) meal for the skin—to exfoliating scrubs made of pearl and jasmine designed to bring clarity to not only the skin, but the mind as well. However, it's the service itself that's not to be overlooked: As an extension of the hotel's top-notch butler program, a suite of spa butlers wait on guests hand and foot—keeping in mind that, as one of London's most expensive bookings, it can run you about £700 ($900) per night just to get your foot in the door.
After its dramatic face lift—a four-year, €200 million endeavor—the lavishly renovated details of Paris's Hôtel de Crillon were almost too numerous to name (almost—we actually did it). And at its recently reinstated spa, the level of attention to minute luxuries is no exception. While the floor of the pool is embedded with 17,600 golden fish-scales, the surrounding spa glints with steely surfaces backdropped by gold-painted, metallic finishes. A fixture of its services, the series of treatments called "lost remedies" are inspired by great French grandmothers—grande dames indeed, costing as much as €290 ($344). A handful of packages on offer allow guests to celebrate the property's renovation with a face lift of their own: Applied radio frequencies stimulate the renewal of collagen, a high-tech finish for the classic landmark.
If fairy tales had five-star hotels, they might all take place in Gstaad of Switzerland, a haven for royal escapes in the mountains. The oldest palace hotel in the village, Le Grand Bellevue, just unveiled an expanded spa that swelled to 30,000 square feet and ranks it among the largest in Europe. The treatments are filled with Swiss techniques, while the bathing rituals are particularly indulgent—dip into water enriched with jasmine oil, goat milk and honey. A clutch of relaxation areas are all new, as well as a private Alpine Spa Suite that includes its own Rasul chamber—perfect for couples, with room-tailored treatments running as much as $420 per person. But an array of thermal rooms featuring 17 different heat treatments are the experience worth exploring, from a royal blue Turkish Hammam to a domed herbal steam bath awash in a golden glow.
Just in time for September's annual yacht show, a shimmery new spa has arrived at Hotel Metropole Monte-Carlo in Monaco to buff and shine toes into yacht-ready trotters (remember, no shoes are allowed on those precious decks). After a lengthy renovation, Spa Metropole by Givenchy debuted as the French brand's third iteration worldwide. Drenched in marble, opulent interiors are edgy with black and gold lines, while ten treatment rooms are textured in creamy white walls embossed with ornate patterns. Luxury is in the air, literally: A pocket square doused in each guest's desired scent (Givenchy did release eleven distinct fragrances exclusively for the spa) is tucked into his or her robe, allowing the aroma to permeate. A handful of exclusive treatments launched, too, including a Le Soin Noir line, an age-defying product made with live algae extracts to bring back a youthful glow—with a glitzy 400€ ($475) price-tag.