Phil Murphy's proposed tax increases would raise roughly $1.3 billion a year, his spokesman told Observer on Thursday, releasing for the first time a cost estimate of the Democratic gubernatorial nominee's plans to pay for a multitude of campaign promises.
A separate $80 million to $100 million would be generated through savings from reining in out-of-network health care costs for public workers covered by state plans, the spokesman said, for a total annual gain of $1.4 billion in revenue.
Injecting $1.4 billion to New Jersey's revenue stream would provide significant budget relief for a state that has suffered 11 credit-rating downgrades since Gov. Chris Christie took office, all of them largely due to a failure to collect enough money for schools, pensions, health benefits for public workers and other rising costs. The extra revenue Murphy seeks would represent nearly 4 percent of this year's $34.6 billion budget.
The new taxes would fall on the state's wealthiest residents — and on pot smokers.
Murphy campaign officials said the state could raise $600 million by enacting a "millionaire's tax," which Christie vetoed five times over the years when it was proposed in one form or another by Democratic lawmakers. Under the most recent version of that plan, the marginal tax rate on income above $1 million would rise from 8.97 percent to 10.75 percent.
The Murphy team expects that the state would gain $300 million from legalizing and taxing marijuana, and $290 million from closing a tax loophole that allows corporations to shift profit made in New Jersey to lower-taxed states. In addition, the Murphy campaign says that taxing "carried interest" — or performance fees earned by hedge fund and private equity managers — would generate $100 million a year and that the state could free up between $80 million and $100 million through reforms that lower out-of-network health care costs currently borne by public workers on state plans.
On top of all that, New Jersey's natural state revenue growth for its existing tax base is roughly 3 percent a year, or $1 billion.
"Phil has put forward a responsible plan to restore New Jersey's fiscal standing while ensuring we meet our obligations, fund public education, and provide property tax relief," said Murphy campaign spokesman Derek Roseman. "It recognizes that our deep-rooted issues need immediate attention and puts the state on a firm path forward. It is based on realistic accounting and benchmarks, and a means of meeting both."
Murphy's estimates are in line with projections on several pieces of legislation from the nonpartisan Office of Legislative Services or reports from policy groups such as New Jersey Policy Perspective and New Jersey United for Marijuana Reform, although that group estimates that legal weed would bring in $60 million the first year and $300 million starting in the third year under their proposed tax rates.
The Democratic nominee's proposal does not include reversing a recent cut signed by Christie to New Jersey's sales tax, and it does not reverse a gradual repeal of the estate tax that Christie enacted with Democrats, Roseman said. "They are not part of our proposal," Roseman said.
It also does not include a tax increase to fund transportation projects, which Murphy once mused about at a news conference. And even though his website proposes a new tax on gun sales, Murphy's campaign does not consider that revenue significant enough to factor into the plan.
Over the course of his campaign, Murphy has pledged repeatedly to drive up funding for schools and public worker pensions and other programs that Christie has kept at bay in order to balance his budgets without major tax increases. (The Republican governor did agree to raise the gas tax by 23 cents per gallon last year to cover transportation upgrades.)
But the costs of Murphy's sweeping package of liberal priorities has been unclear. Even with an added $1.4 billion in the state budget and an extra $1 billion in natural revenue growth, Murphy could be cutting it close — or come up short — as he seeks funding for all the items on his wish list.
Republican gubernatorial nominee Kim Guadagno has argued that Murphy's policies would cost the state tens of billions of dollars a year. She has pledged to drive down New Jersey's property taxes — the highest in the nation — and adds that she wouldn't stand for re-election if she failed to do so in four years.
Murphy has pledged to comply fully with the education funding requirements in the School Funding Reform Act of 2008, which Christie has shorted for years, and also has vowed to meet the state's public worker pension obligations and to expand preschool to all families. He's promised more money for Planned Parenthood, increased investments in transportation and higher education facilities, and a host of other proposals ranging from student loan forgiveness to providing affordable high-speed Internet to all New Jerseyans. Other ideas — such as the creation of a new public bank, a new consumer financial protection bureau and an opt-in retirement plan for small-business employees — would likely come with increased government and administrative costs.
But campaign officials acknowledge that some of those steps would be taken gradually over several fiscal years. For example, a full actuarially determined contribution to the pension system would be more than $5 billion next year, twice the $2.5 billion sent in this year. That by itself would eat up all of the $2.4 billion in new revenue in Murphy's plan — the entire pie of new taxes, budget savings and economic growth.
Instead, Murphy plans to continue the 10-year ramp Christie and Democrats have been following to reach full pension payments in fiscal 2023, meaning he would pay only 60 percent of the actuarially determined contribution in his first year in office, or $3 billion, if elected. That would add a more manageable $600 million or so in pension costs above the current budget.
Fully funding schools under the SFRA would add another $1 billion in annual costs. But Murphy's advisers said that increase most likely would be phased in over several years. Senate President Steve Sweeney (D-Gloucester) and Democratic lawmakers reached a deal with Christie this year that begins to ramp up to full funding in the SFRA over five years, and Murphy may choose to continue that schedule.
The Democratic nominee's campaign website carefully says a Murphy administration would be "working to expand" free preschool to all families, not to institute it right away.
Michele Siekerka, president of the New Jersey Business and Industry Association, said that her group hasn't seen an official tax proposal from Guadagno or Murphy but that any discussion of raising taxes should be "sharply viewed through the lens of regional competitiveness."
"It's paramount that New Jersey does whatever it can to stem the exodus to Pennsylvania and New York, which are our number one and number two outmigration states," she said. "In Pennsylvania, for example, there is no millionaire's tax. That said, we also feel strongly that addressing out-of-network health care costs is a long time coming. These costs trigger higher premiums and out-of-pocket expenses for large and small employers in New Jersey."
Steve Baker, a spokesman for the New Jersey Education Association, praised Murphy's plan and said "it's about time we have a governor who is going to be fiscally responsible."
"For the last eight years, we have had a governor who talked fiscal responsibility but drove our state into a deep, deep budget deficit," he said. "We have a structurally unbalanced budget under Chris Christie and what we need is an honest assessment of New Jersey's needs and obligations and an honest plan to responsibly meet those obligations."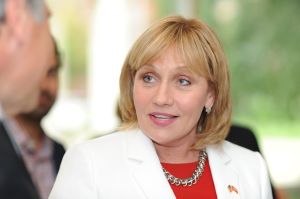 Others had a mixed view. "This is a step back in the right direction and toward more equity, but bolder action is required to begin the crawl out of New Jersey's deep fiscal crisis and start to meet the needs of struggling working families across the state," said Jon Whiten, vice president of the liberal think tank New Jersey Policy Perspective.
"We are advocating for a stronger reform to the income tax — which is modeled on California's plan and would raise rates on the wealthiest 5 percent of New Jersey households, raising over $1 billion in new revenue each year alone," he added. "In addition, restoring the estate tax at a slightly higher threshold, reversing the unnoticeable-to-most sales tax cut and expanding the sales tax to services used predominantly by well-off families must be on the table." (Christie and Democrats as part of a transportation funding deal cut the sales tax from 7 percent to 6.625 percent over two budget years, a modest decrease.)
On the campaign trail, Guadagno has claimed Murphy's proposals would increase state spending by $75 billion. But a cost breakdown by her own campaign attributes $68.5 billion of that total to single-payer health care, something Murphy has only endorsed at the federal level.
He has said it should be "on the table" at the state level, but notes it would be costly and emphasizes he prefers a federal Medicare-for-all program. Single-payer health care for New Jersey is not mentioned on his campaign website.
"He has promised billions more in additional taxes and spending that would hurt middle class families already struggling to pay their bills," Guadagno campaign spokesman Ricky Diaz said.
Murphy has called Guadagno's $75 billion figure "alt-math," and Roseman, his campaign spokesman, said Guadagno's figure is based on "invented numbers and, in one case, confusing Phil with another candidate altogether." Assemblyman John Wisniewski (D-Middlesex), not Murphy, was the one who advocated single-payer health care during the primaries.
Guadagno's numbers also assume Murphy would restore Christie's cuts to higher education and transportation, and continue to follow specific Christie administration proposals to invest in government technology and launch a pubic awareness campaign on opioid addiction. Murphy has promised funding for those areas, but has been vague on how much he would actually spend.