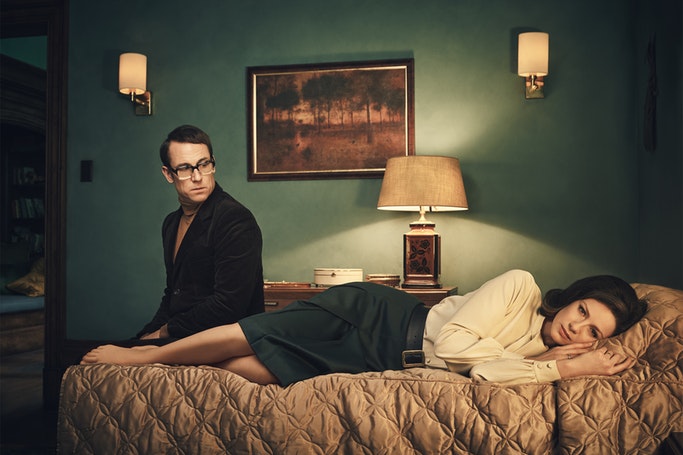 The fall TV season is upon us and a whole slew of new and returning shows are about to fill the void left by Game of Thrones and Twin Peaks. The season promises a number of revivals and reboots. This means period costumes. 
Season 3 of Outlander provides plenty of vintage knitwear inspiration. Returning to Starz on September 10, this season begins by explore Claire's time apart from Jamie, raising their daughter in America during the 1950s and 1960s. Her husband, Frank, has got the whole turtleneck and corduroy blazer academic look down, and cord looks set to make its comeback this fall. For Claire, a familiar style icon is clearly having an influence. It's hard to ignore the Jackie Kennedy connection in her cream ensemble at Brianna's 1966 graduation. Keep an eye out for tweeds, plaid and high-necked blouses that deliver autumnal flair with an Outlander twist.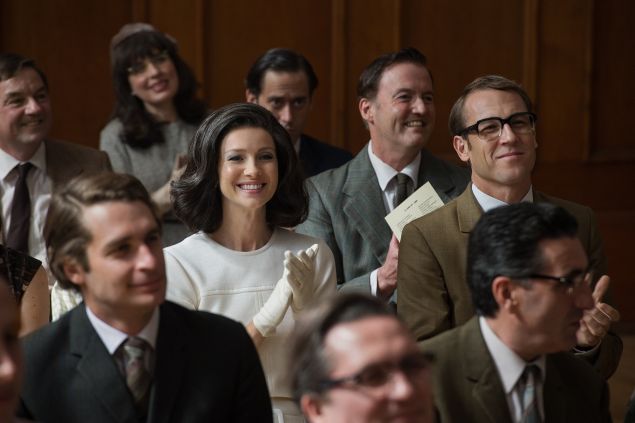 Another show spanning across several points in time—although more condensed than Outlander—is This is Us (September 26). Even though it is sometimes hard to see the TV screen through the tears, there are plenty of outfits to covet. Particularly Rebecca's 1970s/'80s closet and Jack's preference for double denim. Plus, if you're looking for something that is less vintage and more department store, This is Us also has you covered with their present-day storyline.
For a very different take on the 1970s, there's David Simon's new HBO drama The Deuce debuting September 10. Starring James Franco and Maggie Gyllenhaal, the series is set in New York and explores the rise of the porn industry. The shorts are short, the heels high, and almost everything is made from synthetic materials. Leopard print continues to reign supreme.
Skipping ahead to October one of the most anticipated returning TV shows is Stranger Things. The first season was a love letter to both teen and sci-fi/horror movies of the 1980s, and was dripping in Steven Spielberg and John Hughes nostalgia. Pop culture references come thick and fast in the promo that debuted at Comic-Con. This season looks set to offer up some last minute Halloween costume suggestions when it lands on October 27, plus some T-shirt suggestions that would look right at home in Threadless' pop culture range.
For modern-day offerings, Broad City (September 13) and You're the Worst (September 6) mix clothes from a realistic budget with more splurge-worthy pieces. These shows are set on opposite coasts, but there is a similarity in the style choices; Gretchen wouldn't look out of place hanging out with Abbi and Ilana. When it comes to underwear, both Broad City and You're the Worst do visible bra straps and bralettes better than any out there. A lot of these are easily available (and affordable) brands like Free People, Urban Outfitters and Brandy Melville. 
That isn't the case on shows like Scandal (October 5), The Mindy Project (September 12) and Empire (September 27) which all feature closets dripping with designer threads and this is aspirational dressing at its best. Whether is Olivia Pope's Prada purse, Mindy's love of bold patterns or Cookie's take on animal prints, these shows bring the pages of fashion magazines to life. Both Scandal and The Mindy Project are entering their final seasons, so savor their super stylish costuming for one last time.
Returning to the TV fold on September 28 is Will & Grace. Karen Walker is another character who tends to wear head-to-toe labels. The style of the early aughts wasn't always the best, so it will be intriguing to see how much has changed for these characters in both wardrobe and humor. 
Keeping it simple on Mr. Robot and Angela's penchant for wearing sleek and clean lines to the office make her appear neutral and in control. The new promo for season three suggests that Elliot won't be the only one wearing his signature hoodie when Mr. Robot returns Wednesday, October 11. Plus, Bobby Cannavale is joining the cast and a first look photo has him wearing specs that wouldn't look out of place as a disguise on The Americans.
It is harder to incorporate a Starfleet uniform into your everyday clothing rotation, but the new Star Trek: Discovery (September 24) uniform has a strong 1970s athleisure feel and sports luxe is another way to play with vintage. And what better way to nod to this 2017 trend with a show set in the future, but with roots in the 1960s. Everything old looks new again. Fall TV is here to give sartorial inspiration from shows set in the past, present and future.