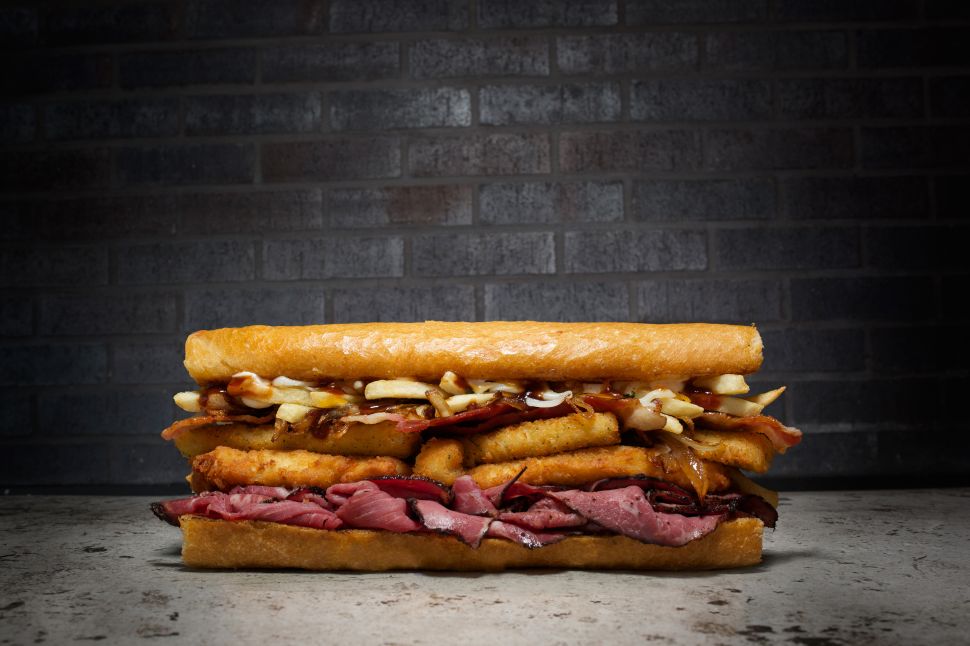 Last Tuesday, L.A.-based sandwich shop Fat Sal's sent out a short and sly tweet, hinting that its new Encino location might have its soft opening for the public on Wednesday.
On Wednesday morning, there was a line around the block. And it's been there every day since. It was 92 degrees in the Valley when I visited on Friday, but that didn't stop dozens of sweaty people from waiting half an hour to get a sandwich.
Fat Sal's is known for insane sandwiches that are loaded with deli meats, French fries, chicken fingers, mozzarella sticks and other gut-altering ingredients. The restaurant's most popular sandwich is the Fat Texas, which contains BBQ pastrami brisket, chicken fingers, mozzarella sticks, bacon, grilled onions, melted cheddar and mozzarella, fries, mayo and honey BBQ sauce on a garlic hero. I really dig the second most popular sandwich, the Fat Jerry, with thinly sliced rib eye, grilled onions, melted American cheese, chicken fingers, mozzarella sticks, bacon, fried eggs, fries, mayo, ketchup and salt and pepper on a hero.
"What I always tell the customer is that you read the ingredients in the sandwiches and it sounds overwhelming and messy," Fat Sal's co-founder Sal Capek says. "But at the end of the day, it's not."
The restaurant's famed Fat sandwiches are wonders of engineering. They hold together astoundingly well. It might sound crazy to say they're nicely balanced, but they're actually not as heavy as you might think—they come on extra-wide bread with a light, fluffy interior that absorbs all the proteins, Capek points out.
"If you look at the cross-section of our sandwiches, it almost looks like a burrito," Capek says.
All this said, though, it's remarkable to think about a lot of people pounding this kind of food on a sweltering summer day in the Valley. But the pent-up demand for Fat Sal's in Encino has been building for years.
Fat Sal's establishments are open until at least 2 a.m. every day. When the mini restaurant chain debuted in Westwood in 2010, customers from the Valley drove over late at night. During rush hour, it can take an hour and a half to make this trip. But go at 10 p.m. or later and it might be 15 minutes to cruise down the 405 and make it to Westwood.
"The Valley people have been asking for a spot of their own since we opened in Westwood," Capek says.
After Capek and his team spent two years scouring the Valley for real estate, and another 18 months finalizing all the permits and construction, Encino is home to its own location, and the first in California with a beer menu as well. (Fat Sal's in Austin also has a license.) Capek might add wine cocktails in the future.
Fat Sal's, of course, is perfect drunk food. In Westwood, the restaurant attracts UCLA students who come by before, during or after a night of partying. But as the crowd in family-friendly Encino proves, this type of food works well at 11 a.m., too. Capek is excited to have a restaurant where kids and their parents can come after soccer practice and Little League games. Mom and Dad can have a well-earned adult beverage with their grilled chicken sandwich or albacore wrap, while their hungry offspring dig into Philly cheesesteak fries.
"A lot of our restaurants are in areas where we attract single people late at night," say Capek, who also has outposts in Hollywood and San Diego in addition to the Westwood and Austin spots. "In Encino, we want to provide convenience for families."
At Fat Sal's, convenience comes in the form of pepperoni-pizza burgers, buffalo chicken cheese fries and thick milkshakes. Add a salad and you've got a balanced meal.