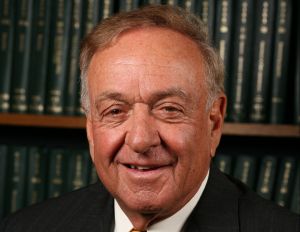 John Russo, a longtime leader in state politics who authored more than 200 laws and rose to become state Senate president, died Saturday after fighting cancer. He was 84.
Russo, a Democrat from Ocean County, died surrounded by his family, his daughter, Caryl Russo Signer, told Observer. He died from complications from throat cancer.
"It was a true honor to have been raised by such an amazing human being," she said Monday.
Russo spent 18 years in the New Jersey Senate from 1974 to 1992 and led the upper house as Senate president from 1986 to 1990, after having served as majority leader for several years. He was known for writing the state's death penalty law, which was later repealed. In 1985, he finished second out of six candidates in the state's Democratic gubernatorial primary, then went on to co-chair former Gov. Jim Florio's winning campaign in 1989.
Those who were close to Russo said he had a unique ability to get competing sides to compromise as a legislator. Singer — whose husband is state Sen. Bob Singer (R-Ocean) — said some of Russo's closest friends were Republicans, including former Gov. Donald DiFrancesco, who was Senate minority leader while Russo was Senate president.
"It was a testament to his ability to connect with people," she said. "They would be able to hammer out legislation for the benefit for the residents of the state of New Jersey."
Russo joined the lobbying firm Princeton Public Affairs Group after leaving the Legislature in 1992. Dale Florio, founder of PPAG, said Russo was a down-to-Earth colleague despite having been a former legislative leader. Russo was a friend and mentor often watching out for less experienced co-workers, Dale Florio added.
"John was competitive. He did not like to lose. We watched him as a legislator and were amazed at his ability to bring competing sides together in order to get a bill to a governor's desk," Dale Florio said in a statement. "Lobbying, skiing or playing golf, John was always focused on the goal line as well as his beloved Giants."
Russo was born in Asbury Park in 1933 to Italian immigrant parents and grew up "dirt poor," Singer said. She said he was the only one of seven siblings to attend college, graduating from Notre Dame University in 1955 and getting his law degree from Columbia University in 1958. He was Ocean County Democratic Chairman during the 1970s and a former first assistant prosecutor in Ocean County. He was an avid skier and pilot, Singer said. "He didn't just live his life; he mastered it," she said.
Several state lawmakers issued statements praising Russo.
"Sen. Russo was an accomplished legislator and a strong leader for the New Jersey Senate whose priority was always to move the state forward," said Senate President Steve Sweeney (D-Gloucester). "He displayed a commitment to public service, to the needs of the people of New Jersey and to the effective work of the New Jersey Legislature. He was inclusive and always willing to work in bipartisan cooperation with members of both parties to make real progress."
"On behalf of the Senate Republicans, I would like to offer our condolences to Bob, Caryl, and their entire family on the passing of Senate President Russo," said Senate Minority Leader Tom Kean Jr. (R-Union). "He was a dedicated public servant, a loving father, and a leader committed to improving New Jersey for all its residents."
"New Jersey has lost one of its most distinctive and successful political leaders in the passing of former Senate President John Russo. He was one of a kind and he left his mark," said Sen. Richard Codey (D-Essex), a former Senate president and acting governor. "John used his political skills, his breadth of knowledge and his strength of character to address the issues that defined an era and that continue to shape the quality of life in New Jersey."
A viewing will be held from 4 p.m. to 8 p.m. on Friday at Anderson and Campbell funeral home on 703 Main Streets in Toms River. A funeral mass will be held at 10 a.m. Saturday at St. Joseph's Roman Catholic Church at 685 Hooper Avenue in Toms River.