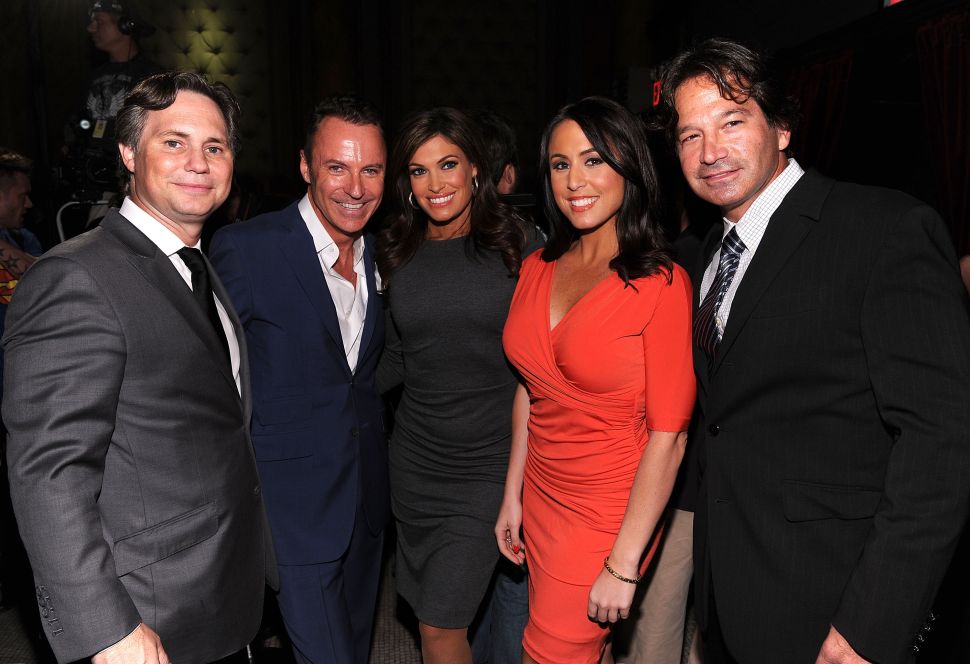 Judd Burstein, the lawyer for former Fox News host Andrea Tantaros, is accusing the network of directly funding cyber attacks against his client. In Tantaros' lawsuit, Fox News and Fox Business Channel on-air commentator Pete Snyder, who has a background in technology investing, is accused of helping the network set up dummy social media accounts to harass Tantaros.
According to THR, Snyder is paid roughly $180,000 per year. In Tantaros' suit, her legal team believes that number includes payments for online harassment of the former on-air personality.
"Those sums would be astronomical standing alone," Burstein said (via THR). "However, perspective is gained by comparing them with the fees reportedly paid to Bo Dietl, another on-air contributor for Fox News, and one who is far better known than Mr. Snyder. In June of this year, the New York Times reported that Mr. Dietl is paid only $700 for each appearance. In other words, Mr. Snyder's average appearance fee for the years 2014-2016 is more than 16 times greater than the fee paid to Mr. Dietl."
Snyder has demanded dismissal of Tantaros' lawsuit, or at least, arbitration of the complaint, per the outlet. He also insists that he has not done any social media work for Fox News since selling his company, New Media Strategies, five years ago.
According to the opposition brief, his considerable payment "gives rise to a fair inference that the Snyder Defendants were compensated for their cyber attacks on behalf of Fox News through padded paychecks ostensibly for Snyder's limited on-air contributions."
Burstein continued: "There are numerous media reports about slush funds maintained by [Roger] Ailes and Fox News for just the type of nefarious purposes alleged herein. It could easily be technically accurate that the Snyder Defendants were not compensated directly by Fox News, but substantively dishonest in that they were paid indirectly out of a slush fund that could not be readily traced to Fox News."
Snyder's attorney, Randy Mastro, responded:
"This case brought by Andrea Tantaros and her attorney is ludicrous and sanctionable. Months after trying to shake down Pete Snyder for a massive payout with the threat of litigation smears, Ms. Tantaros has yet to provide an ounce of evidence supporting any of her outrageous claims. In fact, she predicated her case on reckless accusations that a fictitious twitter account was used to target her when, in fact, the real, live account holder has come forward, belying her false claims.  And now, she has doubled-down on her conspiracy theories, claiming Mr. Snyder must have been doing more for Fox News for the money he received per appearance on Fox cable shows, based on what even her counsel admits is incomplete information. In reality, Mr. Snyder was a well respected and frequent on-air contributor for Fox News and Fox Business Channel over 15 years and paid a monthly retainer to be "on call" to make appearances at Fox's request.  But this is the game Ms. Tantaros and her lawyer are playing, smearing a good person like Pete Snyder who has nothing to do with their blood feud with Fox News. We are 100% confident that we will prevail in a court of law and get her and her counsel sanctioned for what they have done to Pete Snyder."
In Tantaros' original lawsuit against the network, she claimed she was "tortured" by her superiors as they provided negative information about her to social media "sock-puppet" accounts. This was allegedly in response to legal action she was taking against Fox News in August 2016 where she accused both the late Roger Ailes and Bill O'Reilly of sexual harassment.