Geraldo Rivera just sold his Upper East Side apartment. Scroll through to see inside the home the Fox News personality is leaving behind.
Corcoran
He bought the apartment in 2015.
Corcoran
Saying bye to this view can't be easy.
Corcoran
He and his wife, Erica, are moving with their daughter to Cleveland.
Corcoran
This space is the result of a three-unit combination of a one-bedroom and two studios.
Corcoran
They previously lived in apartment just four floors below this one.
Corcoran
The apartment is comprised of four bedrooms and three bathrooms.
Corcoran
They're keeping their New Jersey residence.
Corcoran
One of the bedrooms could be converted into a separate media room or study.
Corcoran
The kitchen is newly renovated.
Corcoran
The views are definitely one of the unit's greatest attributes.
Corcoran
There's a separate windowed dining area.
Corcoran
Fox News personality Geraldo Rivera is officially trading in the Upper East Side for Cleveland.
Rivera is moving to his wife, Erica's, hometown of Cleveland—they want their daughter to "have the same nurturing childhood there her mom had," he previously told the New York Post.
That means saying farewell to their four-bedroom, three-bedroom abode at 45 East 89th Street, which they first put on the market in November 2016 for $7.2 million. There were apparently no takers, and the price steadily dwindled—first to $6.9 million, then $6.95 million and finally to $6.35 million, at which time they snagged the attention of a buyer, who has now doled out $6.1 million for the 2,500-square-foot unit.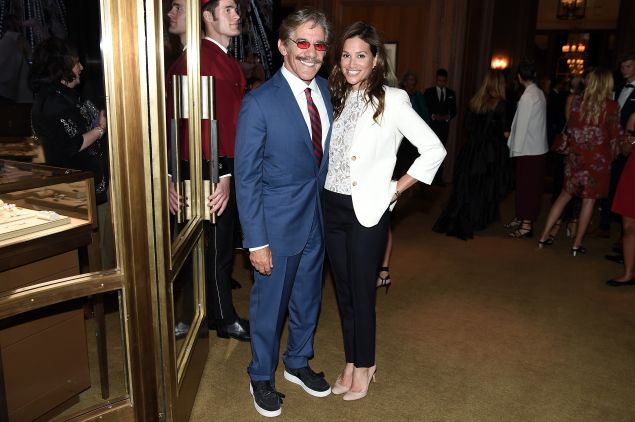 Sure, it's not exactly the haul the Riveras were hoping for, but it's still a nice profit from the $5.6 million they purchased the home for in May 2015. They must be sad to leave behind the Carnegie Hill doorman building, considering they moved to this apartment on the 40th floor from one just four stories down, on the 36th floor. They also spent quite a bit of time creating the home—it was a four-month renovation process, as they combined a one-bedroom and two studios.
A large entry opens up to the living room, where one can take in views of Central Park and the Jacqueline Kennedy Onassis Reservoir, says the listing shared by Corcoran brokers Robert Browne, Chris Kann and Claire Ingrassia. There's also a glass solarium, renovated windowed kitchen and separate dining area, as well as a full wet bar.  The double master suite is a two-room combo, complete with a wall of windows.
Rivera will still have plenty of screen time at Fox, though. He signed a multi-year contract with the network that begins in January 2018, according to the Post, and will broadcast from both Fox studios in New York as well as an in-home television and radio studio he is apparently constructing in the family's new Cleveland residence.