Just a few months after getting engaged to Bee Shaffer, Francesco Carrozzini is ready to sell his Beverly Hills house. Scroll through to see inside.
Dia Dipasupil/Getty Images For Entertainment Weekly
He bought the house just two years ago.
Westside Estate Agency
The living room has floor-to-ceiling glass windows.
Westside Estate Agency
The master suite has incredible views.
Westside Estate Agency
There's a movie theater and a gym.
Westside Estate Agency
The home was built circa 1982.
Westside Estate Agency
He's listed the home for $6.95 million.
Westside Estate Agency
There's a pool and cabana outside.
Westside Estate Agency
It's on one of the most celeb-filled streets in Beverly Hills.
Westside Estate Agency
Photographer and filmmaker Francesco Carrozzini is preparing to say farewell to the West Coast—or at least to his Beverly Hills residence.
Carrozzini, who got engaged to Anna Wintour's daughter Bee Shaffer in March this year, has listed his four-bedroom, 4.5-bathroom home, per WWD. Carrozzini, the son of late Vogue Italia editor-in-chief Franca Sozzani, purchased the 5,446-square-foot abode for $5.4 million in 2015, back when he was still dating crooner Lana Del Rey.
It appears, however, that Carrozzini already accepted an offer on the home, which was on the market for less than two months—the house is now listed as a pending sale.
The property is on a celeb-beloved private and gated street in Beverly Hills. Past and current residents of the neighborhood include Jessica Alba, Jennifer Lawrence and Harry Styles.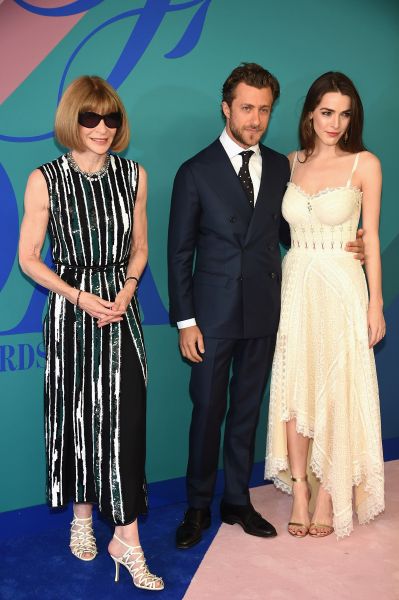 The Marshall Lewis-designed home was built in 1982, and has an open floor plan with high ceilings and hardwood floors throughout, as well as glass walls from which one can take in the canyon views. It's not clear if Carrozzini completed any major renovations on the house in his short time living there.
There's a chef's kitchen, separate dining room and a living room with floor-to-ceiling windows and a fireplace. The master suite is equipped with two walk-in closets, per the $6.95 million listing Carl Gambino of Westside Estate Agency is sharing with Steve Frankel of Coldwell Banker Residential Brokerage. The home even has a private movie theater and a gym, as well as a three-car garage and a pool outside.
Shaffer, who reportedly left her gig at Late Night With Seth Meyers for a position at Ambassador Theatre Group in March, resides in an apartment in Chelsea. Carrozzini sold his Greenwich Village townhouse for $12.5 million in 2016, but we wonder if he regrets that at all now. It was, after all, in the Macdougal-Sullivan Gardens Historic District, as he did tell the New York Times there's nowhere else he'd rather live in Manhattan, describing it as "a bit of an island within the craziness of New York." Plus, it was just across the street from Anna Wintour's own townhouse there, which she's owned since 1992.