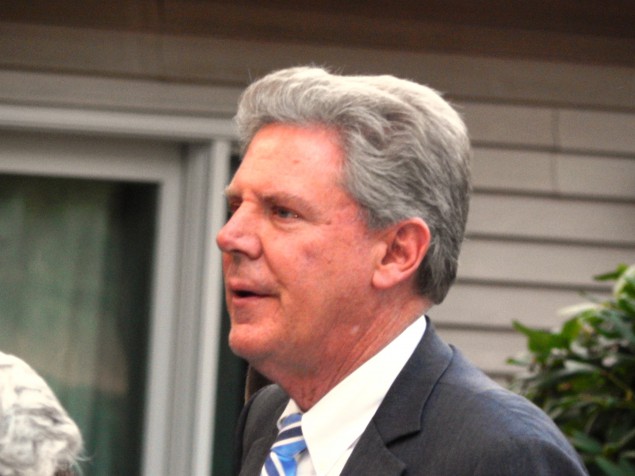 Rep. Frank Pallone (D-6) on Tuesday called on President Trump to fire three White House aides — chief strategist Steve Bannon, senior policy adviser Stephen Miller and staffer Sebastian Gorka — following a violent clash between white nationalist protesters and counter-protesters in Charlottesville, Va., this weekend.
A group of white nationalists protesting the city's decision to remove a statue of confederate general Robert E. Lee was met with many counter-protesters over the weekend, and the episode descended into violence that resulted in the death of 32-year-old Heather Heyer, a counter-protester.
"The tragic events of last weekend were an inevitable result of President Trump's willingness to harbor white nationalism within his administration," Pallone said in a statement. Bannon, Gorka and Miller have been accused of associating with white nationalist individuals or groups or promoting their views. Bannon is the former head of Breitbart News.
"These advisors have normalized racist, sexist, anti-LGBT and anti-Semitic views at the highest levels of government," Pallone said. "President Trump has so far failed to lead our country in a dignified manner that we expect from our president. He must now fire these men and demonstrate that those who support white supremacy no longer have a place in the White House."
Pallone joins Rep. Bill Pascrell (D-9) in calling for the dismissal of Bannon, Gorka and Miller. On Monday, Pascrell held a press conference where he asked for their dismissal and said that it is "inexcusable" for taxpayers to pay the salaries of individuals with such ties.
In April, Pallone signed on to a letter asking for Bannon's removal from the administration. While Trump denounced white supremacists and the outbreak of violence on Monday, the president was criticized for an initial response that blamed the violence on "many sides." Trump then renewed his argument at a news conference at Trump Tower on Tuesday afternoon that both the "alt right" and "alt left" shared blame for the chaos in Virginia.