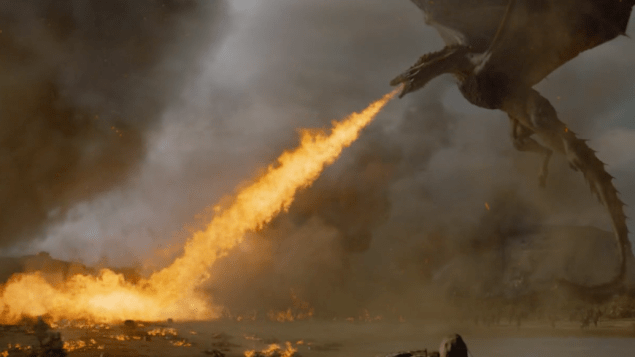 Season 6 of Game of Thrones ended on one of the series' most iconic images: Daenerys, flanked by Tyrion and her allies finally sailing for Westeros at the head of an armada of Dothraki, Unsullied, Martells and Tyrells. For over a year, fans have been at the ready for the resulting mayhem. Now, halfway through the Season 7, and GoT still has yet to meet the high bar it's set for itself.
After the off-screen sacking of Highgarden and a sloppily put-together siege of Casterly Pebble last week, we're given a dragon action-heavy episode filled with pyrotechnics and so many Stark reunions we don't know what to do with ourselves…but is it enough to add some spark to what many are finding to be a rushed highlight reel of a season?
Not only has Team Daenerys been getting slapped across the map thanks to Euron and his magic fleet, but the shortened season's out-of-control pacing has left many dissatisfied. An expansive world that used to require episodes, if not seasons, of traveling to get characters from Point A to Point B, now finds an entire hoard of Dothrakis warping from Dragonstone to the Reach in a single scene. This pace feels so out of sync with the 60 plus episodes we've watched thus far that we can't help but raise an eyebrow.
Still, there were many things to praise in "The Spoils of War." (Maybe not the Daenerys-on-Drogon special effects.)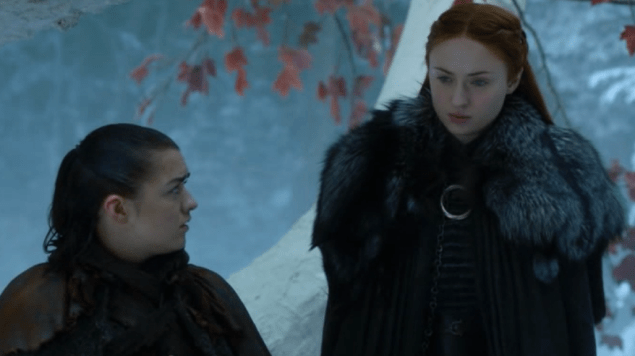 MOST APPROPRIATELY LUKEWARM REUNION: THE STARK SIBLINGS
After so many years alone in the world, the Stark kids' reunions have been matters of diminishing returns. We all ugly-teared when Sansa and Jon met at their lowest last season, but now that all remaining Starks have found their way to Winterfell, there's a tragedy to the fact that they are ultimately meeting unrecognizable strangers. One of them is a mystic assassin, the other is a borderline catatonic asshole and Sansa has—to put it lightly—been through some trauma. While they love and trust one another, those siblings are no longer the close pack of wolves we were expecting—something that does not go unnoticed by Winterfell's creep-in-residence, Littlefinger. Speaking of…
LITTLEFINGER SMIRK SCALE:  7 OUT OF 10 SMIRKS
For someone who considers himself a master strategist, playing all sides at all times, and "climbing up the ladder of chaos," Littlefinger has been firmly locked into Winterfell purgatory this season, which limits his scheming to whispering into the ears of two children, and hoping to get into Sansa's pants.
With Cersei, Tyrion, Dany and Jon Snow all in the throes of war, it's disappointing to see one of the show's best strategists so completely sidelined, as if the plot itself can't bear the weight of his scheming with the roughly ten episodes it has left.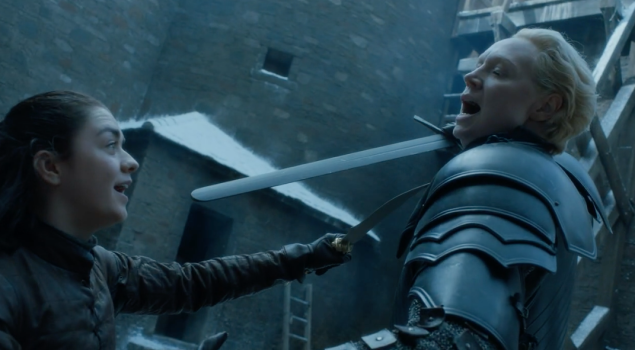 STARK OF THE WEEK: ARYA
From her new outfit to her newly acquired heirloom valyrian steel blade (and a bag of faces somewhere, presumably), everything about Arya at Winterfell feels right. She's always been a girl at her happiest fighting with swords and Maisie Williams' giddy smile sparring with Brienne made us very happy. Her internship with the Faceless Men was an uneven mess of a storyline, but she learned to take a kick to the chest like a goddamn champ!
'BEST LEFT UNSAID' STARK: RICKON STARK
If you'll remember, last season Jon ordered that the arrow-ridden remains of Rickon be buried in the Stark crypt, next to Ned Stark's…So, you'd think his sisters would take a moment or at least acknowledge his existence given that they were standing RIGHT NEXT TO HIS GRAVE!

RIP, Rickon: The North only remembers characters who have the sense to zigzag.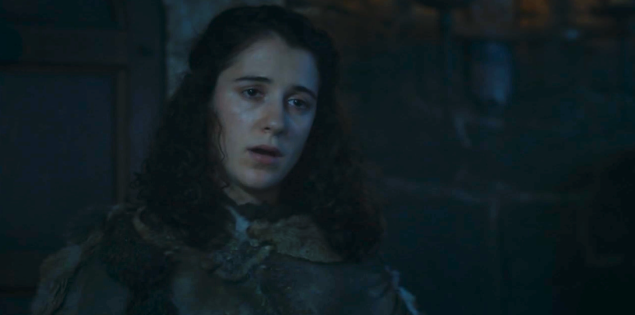 WORST STARK: BRAN STARK
I'm already done with Bran. The Wall couldn't protect us from his boredom, but at least kept it at bay. Having him interact with his richer, more interesting siblings (and Littlefinger) feels like a waste now…and that's without mentioning the Meera situation.
DONE IN DIRTIEST: MEERA REED
Daaaamn, Meera. This is why Bronn always insists on getting paid; you can't count on these High Lords to show the slightest bit of gratitude. Bran didn't even offer her a horse, or Jojen's tote bag on her journey home. I don't care if you have visions now. She has dragged your post-pubescent, unwashed body for four years. Four years! That was some cold sh*t.
BEST WINTERFELL PARK ATTRACTION: KICKING THE POD
Just like Maesters and ravens; every castle in Westeros should have a dedicated Podrick to practice-with-but-really-just-kick-around-when-you-have-nothing-to-do-for-a-few-episodes.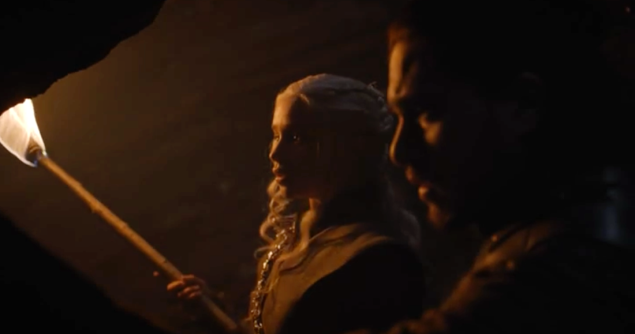 MOST BASIC FIRST DATE: JON & DANY
Let's be frank: Jon took Dany to a goddamn museum on their first date—in her own basement! Jon Snow has a history of seducing love interests in grottos, so we were expecting that scene to lead to something steamier.
Now, is it gosh-darn convenient that Jon would accidentally find irrefutable proof of the White Walkers' existence at Dragonstone? Sure, but then again, the show has embraced convenience for its last leg.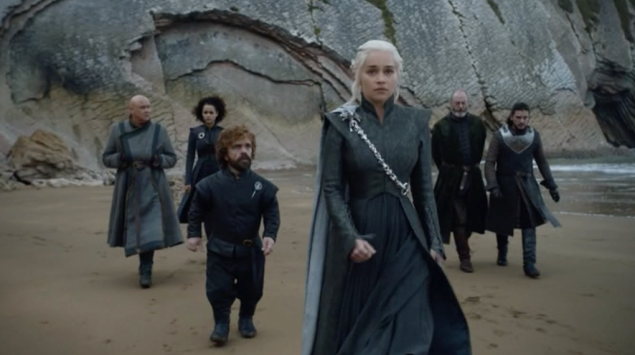 MOST AWKWARD PERFORMANCE REVIEW: TYRION LANNISTER
So, Daenerys is turning out to be the sort of CEO that belittles disappointing employees at department meetings and then asks the nearest freelancer for advice before promptly ignoring said advice and doing things her own way.
Still, the idea that Tyrion didn't know that decimating his family would, y'know, actually involve the decimation of his family is interesting to witness. He might have hated every moment of it but had Bronn not jumped in, he would have still let Jaime burn in the end.
MOST SURPRISING CHARACTER GROWTH: DICKON TARLY
Leave it to a guy named Dickon to not only show surprising depth by reflecting on having just slaughtered former friends now that the Tarlys are essentially turncloaks, but Dicky also managed to save Jaime Lannister from certain death at the hands of a Dothraki! The little Dick that could, I tell you!
LIVING THEIR BEST SELVES: THE DOTHRAKI
You're a Dothraki. Your life is all pillage and rape until a petite white-haired woman burns all your leaders and makes you cross the sea to go sack castles…and then you're basically her glorified handmaids on a cold island. How do you turn that frown upside down? A good old-fashion open-plane melee, bitches!
They're jumping on horses! Riding through fire! They've got archers now! Those messily-braided bros are at long-last having a grand old time in the west.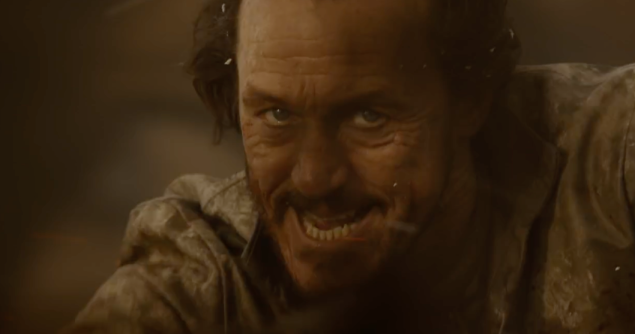 EPISODE MVP: SER BRONN OF THE BLACKWATER
Yes, he's giving us second-rate Jon Snow at the Battle of the Bastards, but the man still almost took out a dragon! You know who's to blame for that "almost"? Sloppy Qyburn for designing a giant crossbow you have to reload every single time.
WORST TV SHOW FOR HORSE LOVERS: GAME OF THRONES
Good God, y'all. I really hope that three-legged horse makes it.
And so, endeth 'The Spoils of War'.
For the first time all season, we have to give the advantage to Daenerys Targaryen on this one. Her strategy of "Burn now, work on PR later" is proving a lot more effective than anything Tyrion has done so far… and she almost took out Jaime!