A lot of jokes have been made about this episode, which finds seven of Westeros' ragtag-iest bros (Jon Snow, Gendry, Tormund, Toros of Myr, Beric Dondarrion, Jorah Mormont and the Hound) being the "Ocean's Eleven" of Game of Thrones, but let's face it: a gang of ne'er-do-well guys go on a journey to find a dead body and conversation and growth ensues? C'mon… this is pure Stand By Me.
POUTIEST BABY BROTHER ON A ROADTRIP: GENDRY
Gendry is still a big sourpuss about having been sold off to Melisandre and had a live leech applied to his happy place—which is a very fair stance. However, a flask of travel wine goes a long way in sating his whining. Three years later, my favorite unspoken plot line remains Gendry's genetic alcoholism inherited from Robert Baratheon.
Still, I don't quite know what makes him the best foot messenger when things go predictably wrong considering that unlike Tormund and Jon, he doesn't know the terrain and has never even been north of the wall, but I guess he's the lightest physical specimen of the bunch? Maybe hammer swinging for four years only builds lean muscle.
RANDIEST ROAD BROTHER: TORMUND
Between scandalizing Gendry with innuendo about how men keep warm north of the wall and his endless amusement at teasing the Hound with his gingerdom, I think it's safe to say we would all gladly live in a world where Tormund makes sweet love to Brienne, Gendry and The Hound while a bunch of bears watch.
MOST HONORABLE FOOL: JON SNOW
Of course, it's Jon Snow. Leave it up to good old goober Jon to consider a risky mission to the land of ice zombies the correct setting to unbuckle his sword and offer it to Jorah because, honor. That couldn't have waited until you were on the boat back to Dragonstone, you drama queen?
And is it me or did Jon get Jorah's implicit consent to mate with Dany and pass the sword on to their offspring there? Or, was that in fact an implicit nudge for Jon to sow his oats elsewhere since Jorah presumably knows that Dany cannot have any more children? It's honestly hard to tell. For all of Iain Glen's polish and Jorah's chivalry, Mormont has a history of shade-throwing.
MOST UNGRATEFUL STARK SISTER: ARYA STARK
Honestly: what is Arya's damage? When Sansa's letter first arrived in Winterfell back in Season 1, even slow-witted Robb (don't @ me: you know I'm right) knew that its content had been coerced out of her. So, for Arya to acknowledge this and still be ready to go to war over it is just bizarre. Sansa is right: Arya should be on her knees thanking her sister for having been able to just stroll into Winterfell while Sansa had to survive a trial by Ramsay for two seasons.
There is something interesting about Arya being unable to shake off her rage at the world even back home, but this letter business just stretches credulity. Perhaps if this plot had been allowed to simmer for a few more episodes—or if Arya had witnessed the early tension between Sansa and Jon in ruling Winterfell—this vendetta would be more easy to buy. As of right now, Arya is just the little sibling in dire need of a mood-stabilizer and a weekly session where a Maester can ask her just what she is so angry about?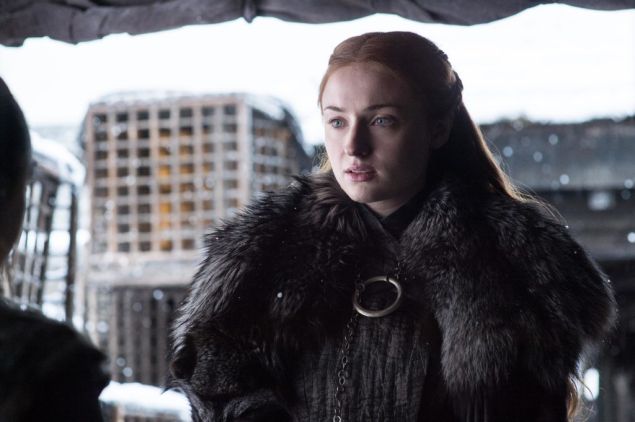 OTHER MOST UNGRATEFUL STARK SISTER: SANSA STARK
What can I say? It's a tie. Both sisters sucked this week. While I am firmly on Sansa's side in the Arya debacle, I will not stand for her pulling rank on Brienne of Tarth. Are you kidding me, Sansa? You watch your goddamn mouth, "Lady of Winterfell!" Do you know where you would be without Brienne? Because we surely do.
MOST BLATANT BUDGET CUT: ARYA'S FACELESS MASKS
Setting aside the fact that previous Faceless Men's masks always seemed to disappear for narrative convenience, those were some B-roll Michael Myers props right there. Now, considering we saw a dragon's fiery chest cavity implode in mid-flight and the poor bastard drown, it's understandable that there would be budget cuts elsewhere in the episode.
LITTLEFINGER SMIRK SCALE: 10 OUT OF 10 SMIRKS
Sansa has been stonewalling Littlefinger all season but at the first sign of trouble she pulls him aside and locks both doors for his dear counsel? You can bet that Littlefinger's very soul is smirking.
Again, if the season was less of a highlight reel, this mentorship might have been given more nuance this season but as it stands, it all feels hurried and headed for an overly convenient wrap-up next episode. In any case, you're doing wonderful right now, you sketchy bastard. Hope it lasts!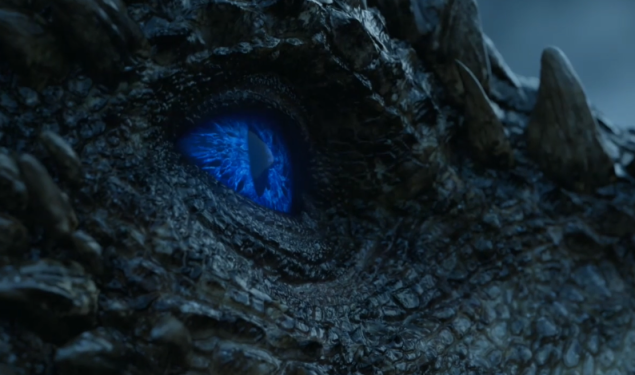 MOST DEARLY DEPARTED: NON-DROGON
RIP, non-Drogon. You were a dragon that was not Drogon. Hey, remember that scene where you did some cool dragon stuff, and Drogon was in another frame—with Daenerys—doing much cooler dragon stuff? We'll always have that.
Honestly, becoming the undead steed of the Night King is the most interesting thing to happen to one of those dragons in quite a while. It is finally time for that wall to come down into the glorious puddle that it was meant to be.
LEAST DEARLY DEPARTED: TOROS OF MYR
We knew there would be some casualties on this journey north of the wall—your face having been covered by a hood might have been a hint—but with so few characters left on the field and each of them being significant enough to warrant a "big moment," it was always unlikely that we would see much carnage. That era of the show, where good guys could be wiped out wholesale is over. Only one named (human) character actually died on this trek, which is a fairytale as far as this show is concerned.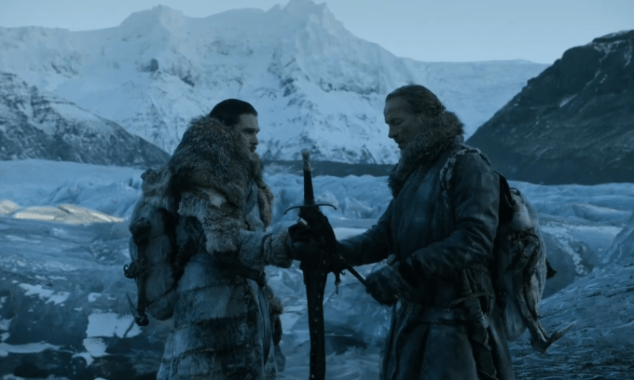 BEST NORTH OF THE WALL WARDROBE CHANGE: JORAH MORMONT
Well, well: we got ourselves a fancy boy north of the wall with Mormont, don't we? Jorah wears what can only be described as a fur-xedo on his journey north. Jorah definitely is the guy that brings a leather toothbrush carrier camping.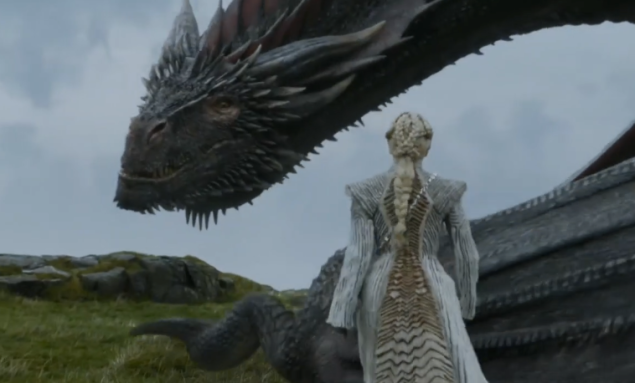 WORST NORTH OF THE WALL WARDROBE CHANGE: DAENERYS
You're riding a giant, fire-breathing dragon; I don't think the camouflage is doing you much good, Dany. Speaking of…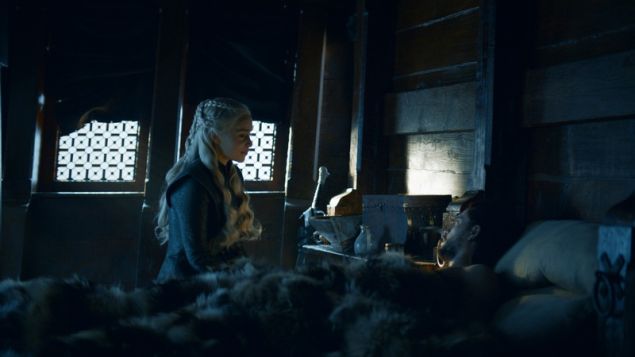 MOST AWKWARD NICKNAMING CEREMONY: 'DANY'
It's not that we're not buying into the incesty-but-they're-attractive-so-it's-okay romance of Jon Snow and Daenerys. The scene itself was quite endearing…it's just a stretch to imagine Jon Snow giving a nickname to anyone? It's not like Davos is 'Davy', y'know? Ygritte was Ygritte until she took that arrow to the throat. It just seems like an artificial way for a character like Jon to show affection. Wouldn't he be the kind to forge her a very thin sword she places a lot of emotional value onto?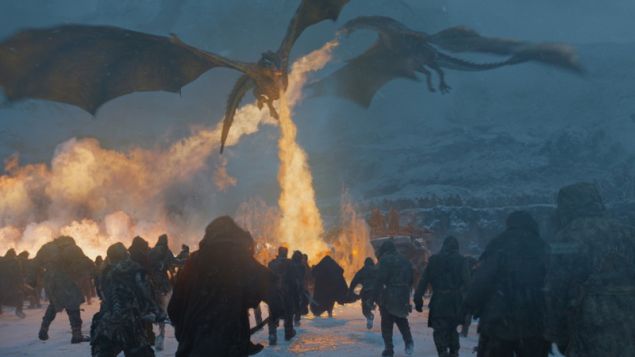 MOST JAM-PACKED SEASON FINALE…NEXT WEEK'S
Three episodes short of a full season and with more plot to cover than ever before, next week's Season 7 finale will find our three current monarchs (Daenerys, Cersei and Jon Snow) and their respective inner circles meeting around a corpse. Not to mention there's now a zombie dragon floating around and an ice wall that's just begging for a melting. It's going to be a packed one!