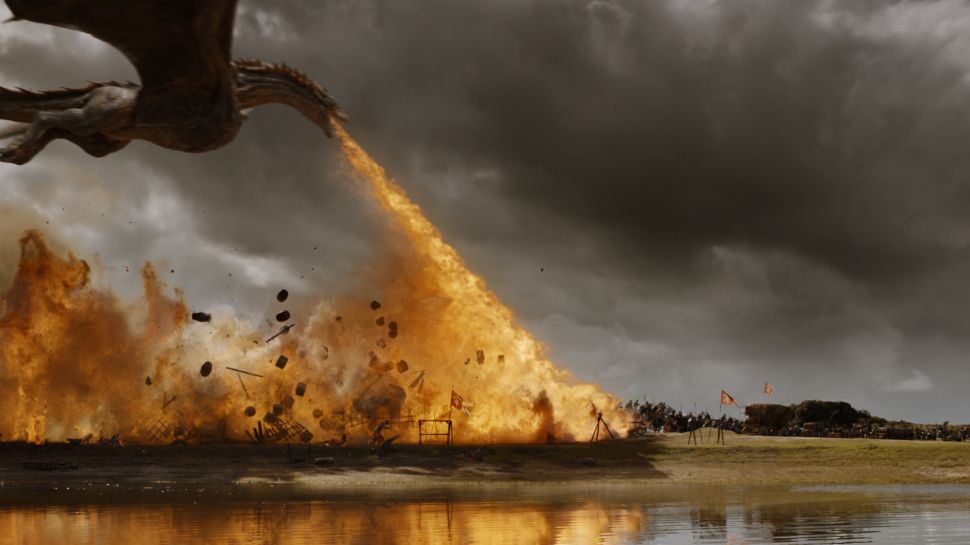 Last week, HBO was dealt a serious blow when hackers released a handful of scripts and unaired episodes of current original series. Last night, the cyber attackers released a second wave of stolen data that included Game of Thrones scripts and a ransom note. Until now, the group's motivation had been unclear.
The hackers claim to have stolen 1.5 terabytes of data, roughly seven times more than the Sony hack. All of the documents they released were watermarked with the hackers' motto, "HBO is Falling," according to Wired. In addition to episode scripts, the anonymous group also released internal documents from HBO, emails, financial information, employment agreements and marketing documents. Also included in the cache is a month's worth of email from HBO's vice president for film programming, Leslie Cohen.
In a video letter set to the Game of Thrones theme song, the hackers demanded a ransom (redacted from the published version of the letter) from HBO CEO Richard Plepler or else they would continue to leak information.
"Our demand is clear and Non-Negotiable: We want XXXX dollars to stop leaking your data," the letter read, according to Wired. USA Today reported that the hackers implied their demand was at least $6 million and that they wanted it paid in bitcoin installments. "HBO spends 12 million for Market Research and 5 million for GOT7 advertisements. So consider us another budget for your advertisements!"
The note was signed by "Mr. Smith," who set a deadline for the ransom of three days, according to the outlet. The hackers went on to threaten that "Leakage will be your worst nightmare. So make a wise decision!"
The massive hack began last week when the group stole a trove of data, and Plepler sent a companywide email to his employees notifying them of the cybersecurity breach. The FBI and other cybersecurity authorities quickly became involved as the network worried that emails and customer information had been compromised as well. Executives did admit that the hackers had gained access to "proprietary information," though it remains to be seen how extensive the hack is.
"We continue to work around the clock with outside cybersecurity firms and law enforcement to resolve the incident," HBO spokesperson Jeff Cusson told Wired. He did not address the hackers' ransom demand.
"Mr. Smith" and his group added a detailed plot summary of next week's Game of Thrones episode along with photos from the show. They also hinted that they possess unaired episodes of Room 104, Insecure, Curb Your Enthusiasm and a new show from Silicon Valley creator Mike Judge.
Though they are demanding financial compensation, the hackers insist that they're actually "white hats" and not criminals, according to Wired. "It's a game for us. Money isn't our main purpose," the letter read. "We don't want to endanger HBO's situation nor cause it to lose its reputation. We want to be your partner in a tiny part of HBO's huge income."