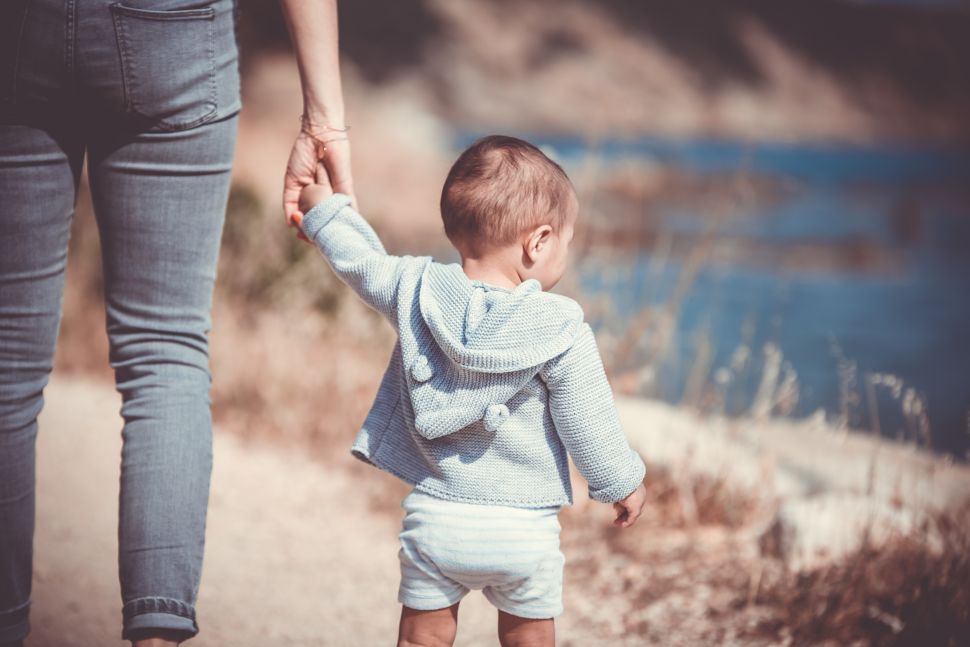 I wouldn't recommend this as the primary reason for bringing another human being into the world, but one of the greatest perks of having a kid has been having every single social norm I had internalized dragged out into the cold light of day for fresh examination. It's fun to look at something that had previously been background noise in your life and think, "This doesn't make sense! Why are we doing it this way?"
"That doesn't make sense!" was basically on a loop for the first few years of my child's life as I tried to find affordable, durable clothing that wasn't stridently gender-typed. The color palettes and mascots (firemen for baby boys, ballerinas for baby girls) crept up and down the age brackets. Even pajamas for newborn babies were bedizened with baseballs or bunnies. A parent who wanted to avoid all the mass-market gender typing on her kid's clothing had to sink a lot of time and money into the venture, often at a stage when one or both resources were at a premium.
(Why would you want to avoid dressing a baby girl in pink bunny prints? I can't speak for other parents, but my number one reason was a deep-seated desire to minimize the number of opportunities other people would have to impose gender stereotypes on a baby. I'd rather avoid a scene than make one.)
In 2015, two former Diapers.com executives, Galyn Bernard and Christina Carbonell, launched a site called Primary.com. The premise was simple: They'd offer a variety of simple, reasonably-priced durable cotton clothing items in a basic palette of primary colors, neutrals and saturated pastels. While some items were often associated with a specific gender (like a sundress), the majority of the clothing items—T-shirts, shorts, pants, hoodies—were devoid of gender signifiers. A year later, they had raised $8 million in funding and, having established proof of concept, begun focusing on scaling the business.
Imitation is the sincerest form of flattery: in the past few months, children's clothier Hanna Andersson rolled out its own "Bright Kids Basics" line, which is offering clothing very similar to Primary.com's line at prices that are within range of theirs, too. Toca Boca, a Swedish company known for its bright children's mobile game apps that tend to eschew gendered roles and topics, just rolled out a "gender inclusive" line of clothing and toys at Target. That means the merchandise features items labeled clearly for boys and girls and unisex items.
If a portion of the $30 billion children's apparel business is going to go toward clothing that can get passed down from big sister to little brother, clearly it behooves more vendors to get in to this space.
So what?
The rise of gender-neutral clothing means that trying to avoid gender baggage for children's goods is no longer a luxury spending category; the price points are moving closer to mass market. Bear in mind that neither Primary.com nor Hanna are positioning their clothing as designed to avoid gender typing—they're pushing the idea of bright, flexible, affordable basics.
So when the next line of plain, non-gendered clothing hits a mass retailer, expect it to be positioned as "basic" with a sales pitch aimed at the convenience-minded consumer who spends an average of $600 per year on his or her child's clothing. The allegiance of parents who want to strip out the gender baggage from a kid's T-shirt is just a bonus.
Who cares?
A lot of people, for a lot of varied reasons. We are at a social inflection point where people are beginning to understand the difference between sex (assigned at birth based on biological signifiers like genitalia) and gender (traits and behaviors that are perceived as masculine or feminine depending on conditioned consensus within a society). Some parents may want to try and avoid imposing gender norms on their children; others may lean into it.
The rise of gender-neutral clothing—similar to Target's roll-out of toy aisles which stopped defining dolls as "girl toys" and blocks as "boy toys" a few years ago—is a reflection of our ongoing conversation about how we choose to define a gender traits and who has the right to impose gender on another human being.
And it is also—"basics for busy parents" positioning aside—a heck of a sales tactic. Both high-fashion retailers (Marc Jacobs, Hermes) and high street shops (Zara) have been rolling out gender-flexible lines, not to shock the normies, but because it's good business. As Glossy reported last fall, "According to a 2016 report by JWT Intelligence, 44 percent of Gen Z buy things aimed at their gender. 'This generation is more tolerant and are now growing up to be influencers,' said WGSN retail editor Sidney Morgan-Petro."
When explicitly-gendered clothing is landing with less than half of the people who will be eying baby clothes some time in the next ten years, it's in a retailer's best interest to follow their target customer base. We'll see if the push for gender-flexible clothing is a trend or if, like athleisure and its predecessor Casual Friday, it's a reflection of wider shifts in the world around us.