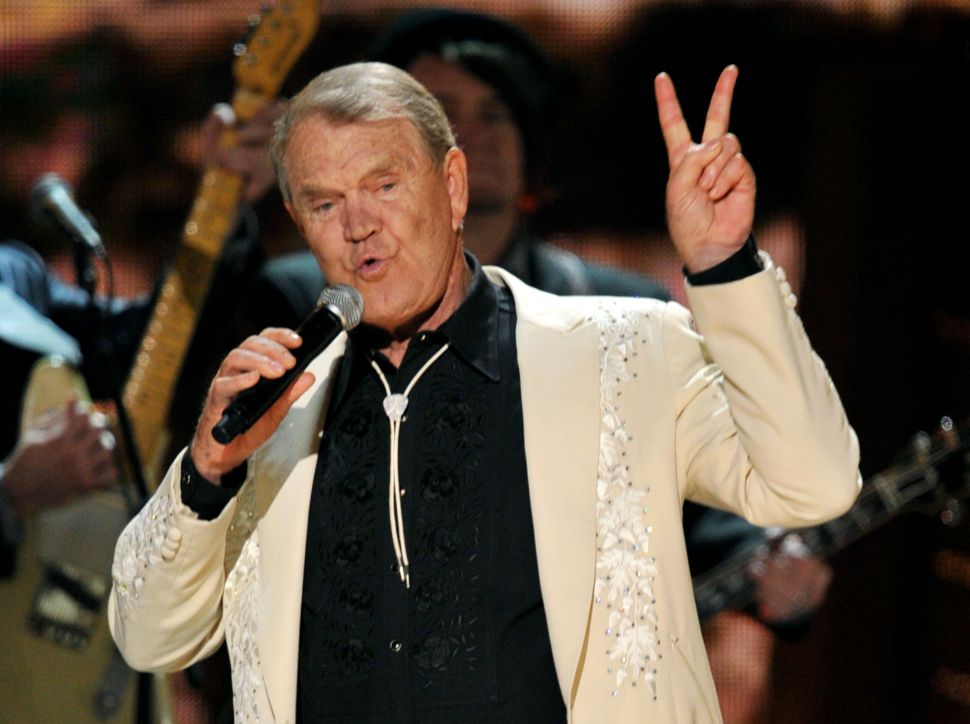 Beloved singer-songwriter Glen Campbell passed away on Tuesday. He was 81.
A representative for Universal Music Group, who represented Campbell, confirmed his passing to Rolling Stone.
"It is with the heaviest of hearts that we announce the passing of our beloved husband, father, grandfather, and legendary singer and guitarist, Glen Travis Campbell, at the age of 81, following his long and courageous battle with Alzheimer's disease," the singer's family said in a statement.
In 2014, Campbell and his family allowed a documentary crew to film his final tour for the award-winning I'll Be Me. Former President Bill Clinton later said it could one day be more defining than even his music.
Throughout his long and successful career, Campbell snagged 21 Top 40 hits including "Rhinestone Cowboy," "Wichita Lineman" and "By the Time I Get to Phoenix." In 1968, the performer managed the tough task of outselling the Beatles, according to the outlet. Many attribute his success to his versatility. Campbell earned praise as a sought-after studio guitarist, in-demand singer and even as a television host. The guy could do it all.
"He had that beautiful tenor with a crystal-clear guitar sound, playing lines that were so inventive," Tom Petty told Rolling Stone during a 2011 profile of Campbell. "It moved me."
https://www.youtube.com/watch?v=LMo3p17W10E
Campbell dropped out of school when he was just 14 and moved to Wyoming to live with his musician uncle. The two would play gigs together at local venues before Campbell moved to Los Angeles in 1962.
"I'd have to pick cotton for a year to make what I'd make in a week in L.A.," he told Rolling Stone. "I learned it was crucial to play right on the edge of the beat … It makes you drive the song more. You're ahead of the beat, but you're not." Fellow Wrecking Crew member Leon Russell called Campbell "the best guitar player I'd heard before or since. Occasionally we'd play with 50- or 60-piece orchestras. His deal was he didn't read [music], so they would play it one time for him, and he had it."
His big break came when the Beach Boys hired him to replace Brian Wilson in late 1964. In 1967, Campbell enjoyed his first individual hit with "By the Time I Get to Phoenix." Several big songs and acting gigs would follow, but the early 1970s saw Campbell's career slow to a crawl. On the verge of becoming a has-been, Campbell came out with the massive hit "Rhinestone Cowboy" in 1975 and launched an amazing comeback.
In 2011, at the age of 75, Campbell announced that he was diagnosed with Alzheimer's disease. He decided to end his music career with a farewell tour featuring three of his children backing him on stage.