Vehicles in the Denali line from the media caravan.
Kaitlyn Flannagan for Observer
Another Denali in our caravan, driving out of Manhattan on the way to the New Jersey countryside.
Kaitlyn Flannagan for Observer
Inside the cabin of the Sierra Denali 1500.
Kaitlyn Flannagan for Observer
The wheel well on the Denali HD.
Kaitlyn Flannagan for Observer
The rear camera engaged as we back up. That button on the end of the gear shifter engages the tow-assist mode.
Kaitlyn Flannagan for Observer
The bed of the Denali Sierra 1500.
Kaitlyn Flannagan for Observer
The rear beds of the trucks.
Kaitlyn Flannagan for Observer
The Sierra Denali HD's engine.
Kaitlyn Flannagan for Observer
There were still pickup trucks on the road that didn't have safety belts when I was in high school. They had been built before Ralph Nader published 1965's Unsafe At Any Speed and still running. I grew up in Kansas, where people used to buy pickups and run them until their chassis fell off the frame. My grandfather had a beige pickup truck accented with rust and dents that he drove around to properties he rented to college students and drifters. It had seats in it that had fake leather around the edges but something between canvass and velcro where a human actually made contact.
When I arrived at college in the east, a young woman I met commented that she couldn't imagine why anyone owned a truck. Trucks were so much a part of the background of my upbringing that their value was no easier to articulate than that of a telephone or refrigerator. Each were so ubiquitous that I never really considered them.
We pulled trailers, moved lumber, recreational gear, dead animals and lots of tools.
I grew up in the old style of pickups. Big, loud cabins with bare bones amenities inside. Tapping on the gas made a rumble like a snoring dragon, but I haven't driven a pickup for a long time. Then, last Friday, GMC let me drive its 2017 Sierra Denali 1500 (Starting MSRP: $52,505) out to a New Jersey horse farm in order to experience how pickups have changed. I was part of a caravan of media testing out different vehicles in the Denali line, trucks and SUVs outfitted with its highest end engines and features.
Long story short: driving this pickup in a lot of ways felt much like driving a sedan.
That's not to say it didn't feel powerful. It did. Additionally, you're sitting so much higher up in a truck's seat that you can't help but notice that your view has changed, but the difference was really in the gas pedal. On an old school pickup, it took finesse to ease out from a stopped position. With all that power under the hood and nothing hitched to the rear, you had to know what you were doing to make sure it didn't lurch forward once the engine engaged. Not so with the Sierra. It has that range of power so that it started easy for a normal drive, but you could tell that muscle was available if needed.
Obviously, writing about cars and trucks isn't my normal beat. I might have been invited on the caravan because I wrote something poking fun at a promotion for one of their chief competitor's trucks earlier this year. Nevertheless, I was curious to see how technology had been used inside the cabin of the classic workers' vehicle. So I joined the caravan to the ranch.
Denali vehicles have lots of special touches to make them more comfortable and useful. Our truck had a step that popped out every time we opened or closed a door. The tailgate lowered itself. The upholstery in the cabin looked and felt like it belonged on the furniture in the waiting area of a corporate law firm.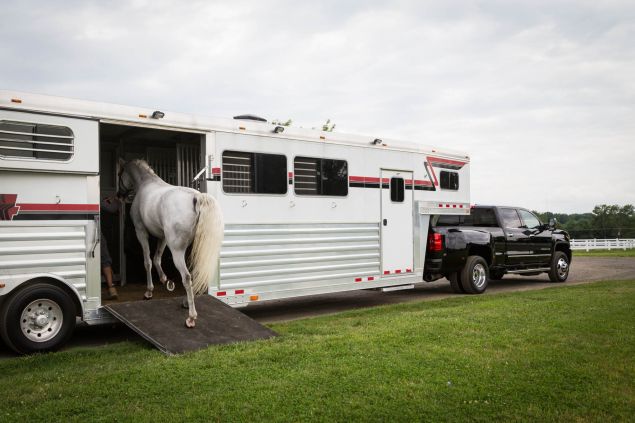 The first thing I wanted to try was the OnStar system. I've seen all these ads about how great OnStar is, and I had this idea that it was a pioneering internet-of-things application. It turns out that OnStar just means your vehicle can call the OnStar customer service number and a regular person will answer to help you out with whatever. We asked for directions. It took a while for them to find the horse farm we were looking for, but then our route was set and they beamed it to our truck. We watched it tell us which way to go on the tablet built into the dashboard.
GMC could benefit from new designers working on the their user experience from there, because the next time we used OnStar, we thought we had our route all set and switched out of that screen to do something else. Apparently we needed to do one more thing before making the switch, though, so our route was lost. Rather than call back, we just entered the address in with the touch screen. Some web style design thinking might be worth applying to this very real world device.
There's so much you can do on the dashboard of the truck that I can imagine a lot of eyes glazing over at the dealership as sales people walk them through it. For example, I had trouble finding the cruise control while driving (it was by my left thumb, on the steering wheel). I actually had found it, but there's so many lights on the dashboard that I didn't know where to look to confirm that I'd activated it. I found the relevant indicator on the trip back, but navigating all the vehicles' capabilities is less than intuitive.
On the other hand, GMC likes to bill itself as "professional grade." The dizzying array of features might be ideal for customers who plan to squeeze every ounce of functionality from their vehicle.
Eric Stanczak, the chief engineer working on full-size trucks at General Motors, joined the caravan to talk about the features of the Sierra Denali 2500 HD (Starting MSRP $55,595). He said the main reason people buy one of these trucks is because they have something they want to tow, and it's usually even more valuable than the truck itself. They might be towing a boat, show horses, a camper-trailer or a bunch of expensive equipment used on the job.
"We want to make sure they are towing with confidence," Stanczak said, which he said meant asking "can you accelerate when you want to? Can you slow down and stop when you need to? And are you not working too much when you're towing."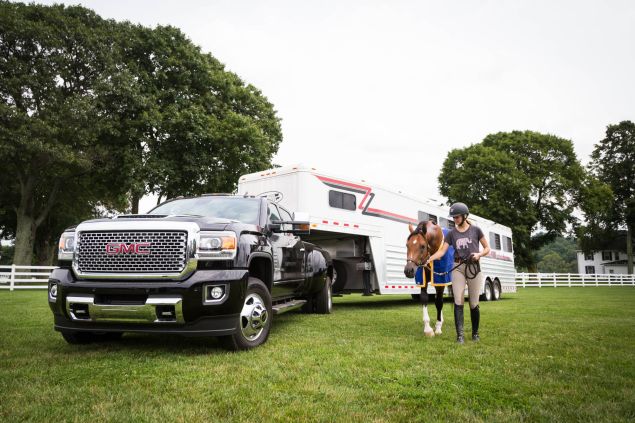 What's interesting about cars and trucks is that they are such complex pieces of machinery. Designers and engineers have been looking for tiny little tweaks that make a difference for decades now, and they've made lots of little updates to make this or that work better than they once did, features that didn't exist on trucks back when I used to help my family load and unload firewood.
For example, Stanczak explained how they've moved the seam where the door meets the chassis in order to find which one collects more air, causing more noise inside the cabin. They've also created this hill start assist feature, which gives the driver fewer surprises when pulling a load. With hill start assist, when the brake is fully engaged at a stop, it remains engaged even as the driver lifts his or her foot from the brake and goes to apply the gas. This is useful because, with a heavy load, a truck is likely to start rolling down as soon as the brake is released. A skilled driver can prevent this if they know to use both feet to make the transition, but the first time you experience that lurch as the brake gets released is unsettling.
It's a tiny moment that happens less than 0.01 percent of the time anyone's driving, but fixing it makes a big difference for that driving experience.
"One of the key technologies that we're very proud of is the diesel exhaust brake," Stanczak said. In other words, the Sierra HD can actually slow down use action inside the engine, saving wear and tear on the brakes themselves and giving cruise control another way to fine tune managing speed. "You add compression to the engine so the engine has to work harder to pump the air through the engine," Stanczak explained.
GMC is quick to point out that this kind of engine-based braking however is not the same as the noisy systems used on tractor-trailers, though it works on a related principle.
One piece of user experience was very impressive: lane keep assist. The truck keeps an eye on the road markings and lets the driver know if they are going too far one way or another. If the driver drifts too far to close to another lane, not only does your seat buzz to let you know, it actually buzzes on the side that you are drifting into. As we returned to New York City and made our way toward the Holland Tunnel, I got a little too close to the shoulder and felt a gentle buzz on my right hip. Not only did I know I was making a mistake, but I knew exactly what kind of mistake, without looking.
The luxury appointments on this truck are a little hard for me to wrap my head around. At some point in the 90s, trucks evolved from the bare bones, stripped down basic tool of the working man (seats in older trucks are little more than springy benches) to aspirational wombs for blue-collar class members that have made good. In 1994, Joe Diffie unleashed the biggest single of his career, "Pickup Man," and guys started taking pride in keeping these machines clean rather than in all the dings and scratches earned from tough work.
There was a guy on my college campus that people used to say was some kind of prince from the Mideast. I never met him, but I saw him driving around all the time in a vehicle much larger than anyone needed to navigate our tiny college town. More an SUV than anything, it had a sticker on the back that said, "A man and his truck, it's a beautiful thing." There was no way to put lumber in this truck, even if he wanted to, and it made me realize that a big engine and a broad chassis had somehow transcended its proletariat symbolism, somehow now appealing to a segment of a more rarefied class.
As we said when we reviewed the Cadillac Escalade, Manhattan will be underwater one day because people thought it was appropriate to drive vehicles with this much power across town to go to the movies. As I told my friend in college, there's plenty of good reasons to drive a pickup truck, but affecting virility is not one of them.
Stanczak was proud to let us know that with ever greater demand from feds for more fuel-economy, GMC had both managed to increase its fuel efficiency while improving performance—a rare feat. Still, at 15 miles per gallon in the city, anyone who believes they aren't wasting gas driving one of these for basic transportation is kidding themselves.
Trucks are (and probably always will be) gas guzzlers, but these beasts have gotten a lot cushier since we first rode them.