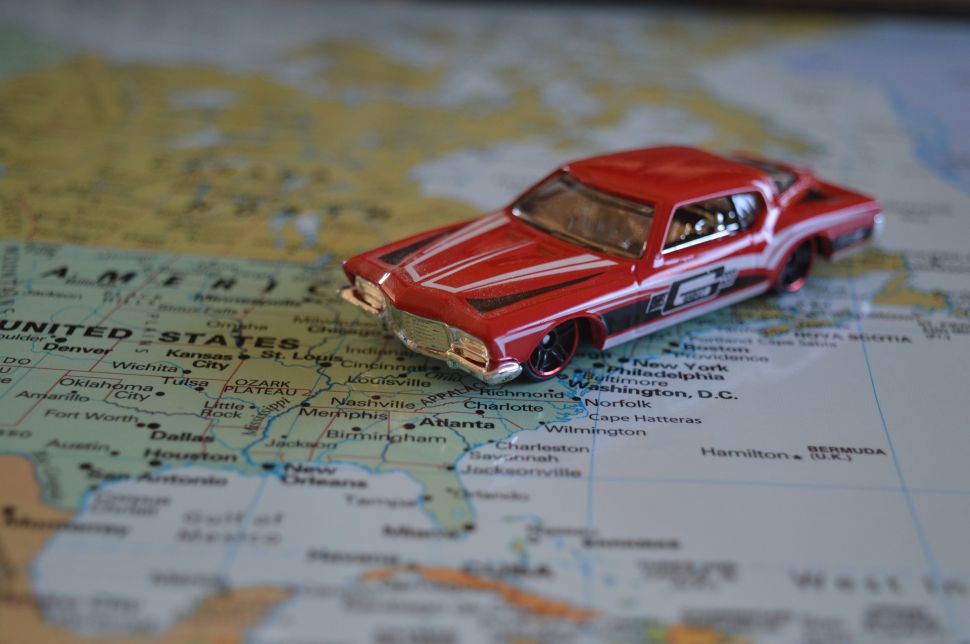 Back when I lived in Philadelphia I owned a bright blue compact car, a Ford Focus ZX3. I often drove around looking for parking and at every intersection I faced a painful choice: do I feel like I will be more likely to find a spot turning left, turning right or going straight? There was no way to know, and no way to check my guess later. It got so stressful that I used to do a little chant to the spirits that governed parking.
Those were pre-smart phone days, when GPS displays were attached with a suction cup to nearly every automobile's windshield. It always surprised me that Garmin never put a camera on the back to scan for open spots in order to help other users know where to look. They left money on the table, if you ask me (which nobody has).
There's another company that spies all the time, though, and it has come along with less precise assistance on the parking front: Google. As we've previously reported, Google Maps constantly logs users' location. In February, it described how it used machine learning to determine which users were tooling about looking for somewhere to leave their cars. Through 2017, it's been helping drivers decide how much time to allot to looking for a space.
Today, it announced access to parking difficulty predictions outside the US and a new "find parking" feature, for private lots and parking ramps.
Mountain View first announced the parking difficulty predictor in January, for 25 metro areas. When users ask Google to plan an auto route for them in an activated city, it includes an icon at the end to let them know how difficult it might be to find a spot.
Today, it also offers directions to a parking lot near your final destination, with walking directions from there.
This is obviously a useful feature for people who have cars, and the decision to own one or not gets especially complicated in urban areas. It's mildly crazy to own cars in cities like DC, San Francisco and New York, though millions of people do it. Other cities, though, like Chicago and Philadelphia, can be just easy enough often enough that car ownership isn't totally crazy. Still, they are just hard enough that sometimes a person deeply regrets trying to drive.
"Should I drive or should I not?" There's really no way to know. You think the neighborhood you're going to is fairly residential so it should be fine, but you forgot that it's Sunday morning and there's a huge church located there. People aren't just parked but double-parked. So a knock-on benefit of this feature may be more people who opt not to drive because Google remembers what they never knew and warns them.
"In a pre-launch experiment, we saw a significant increase in clicks on the transit travel mode button, indicating that users with additional knowledge of parking difficulty were more likely to consider public transit rather than driving," product team members wrote on the Google Research Blog.
So that's good, kind of?
Honestly, it would be great if Google doubled down on parking, because then maybe ever dumb startup trying to "disrupt parking" will call it a day in recognition of the fact that the true killer app for parking will be cars that drive themselves. Startups that view this post as an opportunity to pitch me on their parking app: please don't. I am deeply not interested in your ill-advised application. Google can afford to burn some hours on a sector with a shelf-life.
And Google has the kind of visibility that no startup can rival. But how does it have that visibility?
If you've downloaded Google Maps, you're probably giving it to them now. Its product team wrote in February:
Fortunately, we were able to turn to the wisdom of the crowd, and utilize anonymous aggregated information from users who opt to share their location data, which already is a vital source of information for estimates of live traffic or popular times and visit durations. 
Google watches how people move around using the popular Google Maps app. Its possible to delete this data, but few users do. So Google has millions of people whose location is constantly tracked. It has enough that it can not only reliably guess which of its users are tooling around looking for parking, but also to predict parking difficulty in urban neighborhoods at any time on any day of the week.
That's a very deep view into all the human activity on Earth. It's amazing that one company knows so much.
Google's not logging this data for the good of the empire. It's doing it so that it can show you burrito ads at lunch time when it knows there's a Chipotle nearby, but in exchange you get some so-so guesses about parking.
Google's product won't help drivers decide whether to turn left or turn right when they've found themselves in parking purgatory, but maybe this window into just how much Google knows about Americans' day-to-day lives will show some Google Maps users the way to turning location services off.