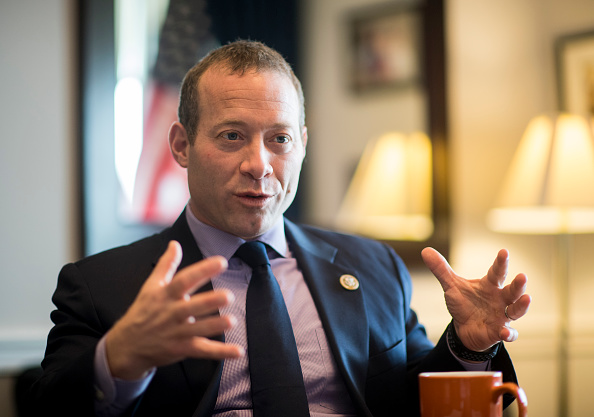 Until Rep. Josh Gottheimer (D-5) was elected  last November, his North Jersey district was considered a Republican enclave, one that had been represented in Congress by former Rep. Scott Garrett for 14 years.
With the district a primary target for the National Republican Congressional Committee in the 2018 midterm elections, Gottheimer has taken a moderate position on a number of issues as he aims to hold onto support from both sides of the aisle.
In Washington, he co-chairs the Problem Solvers Caucus, a group of Republicans and Democrats in Congress who have vowed to work together to find bipartisan solutions to divisive issues like health care. In May, the caucus led the effort in passing a moderate spending passage that averted government shutdown.
Last week, Gottheimer was the only Democrat from New Jersey — and one of only five Democrats in Congress — to vote for a security-themed spending package that will fund initiatives popular with many Republicans including defense programs, veterans programs, and the Department of Energy. Controversially, the bill also includes funding for President Trump's proposed border wall between the United States and Mexico.
Following the vote, Gottheimer's office released a statement noting that his decision to back the bill came in spite of the border provision, an inclusion that Gottheimer says he does not support.
"My top priority is keeping our families and communities safe," he said on Friday. "That's why I voted today to give our men and women in uniform the tools and resources they need to defeat terrorists and ensure our veterans receive the care they've earned and deserve. I don't support every provision, which is why I voted to prevent the boondoggle of a border wall from being included in the bill. The experts tell me that it will do nothing to keep our communities safe while costing taxpayers."
But some progressive groups have taken issue with Gottheimer's decision to back the spending package when it includes funding for the wall, even though he had earlier voted to exclude it.
"We expected more from the congressional representative who replaced former Rep. Scott Garrett, vowing to uphold the values of the voters in his district. This vote fails to represent our values," New Jersey Working Families Executive Director Analilia Mejia said in a statement. "Thursday's vote is a preview of the upcoming budget process. We will be watching Josh Gottheimer and advocating that he support a fair budget that puts the needs of the working families of his district first, instead of gimmicks to solve a problem that doesn't exist."
Rider University political science professor Ben Dworkin said that Gottheimer's decision to vote for the package and support other moderate causes likely stems from the moderate nature of his district, not just an attempt at political self-preservation.
"I don't think he is just doing this for just for an election," Dworkin said. "Josh Gottheimer is running in what has been a traditionally Republican district. For a number of years, until he was elected, voters overwhelmingly supported a very strong conservative. I think, as an elected official does, Representative Gottheimer is focused on serving the interests of his district. In addition, I think his own instincts are quite moderate as well."
According to reports filed with the Federal Election Commission, Gottheimer is already gearing up for a tough battle in the midterm election. As of June 30, Gottheimer had reported almost $1.6 million in fundraising, a substantial effort that mirrors the funds Gottheimer raised when challenging Garrett in 2016. It is still unclear whom he will face in next year's race.
When Garrett lost re-election to Gottheimer, it was partially due to Gottheimer seizing on reports that Garrett declined to pay dues to a nation Republican fundraising arm due to their support of gay candidates, an unpopular stance with the district's many moderate Republicans.